What's happened?
When staff join your Warp It portal, they apply and the admin gets a notification to approve the new member.
A while ago we added a feature whereby you can auto approve staff with a particular email suffix.
We have taken this one step further and you can now add any number of suffixes.
Thanks to Joel Evans, Internal Waste Reduction Officer at Aberdeenshire Council for pushing us to be better! He had numerous email suffixes from different schools across Aberdeenshire!
This is handy if you have numerous email suffixes in your organisation.
Staff who get auto approved then go into the usual sequence of welcome emails and training emails.
What is the the problem we are seeking to solve?
To maximise the reuse of assets around the estate you need to add as many staff as possible to the system.
Although approving staff only takes a few moments a day- the admin could be spending those moments dong something more meaningful.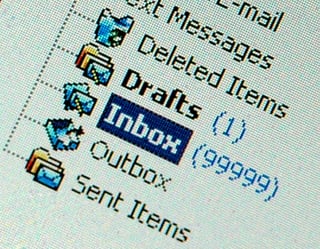 What is the new feature?
We have introduced a feature whereby you can download a template spreadsheet. Copy and paste in rows of contacts. Then upload this to your system.
This will then alert the staff members that they are signed up to Warp It and they log in in the usual way.
How does this help you?
This means that you can add 100 of staff members in one go. This in turn increase the participation in your reuse program by making it more accessible.
What do you need to know?
1) Go to admin
2) Click on "Settings"
3) Go to User Access
4) Add in the email suffix of your choice
5) Remember not to add the "@"
6) You will see that the email is added below.
7) If you need to add another then go ahead and add it in and click the button.
8) You are done! You have just made your life a bit easier.
Possible issues
You might need to customise the welcome email to reflect the immediate nature of the approval.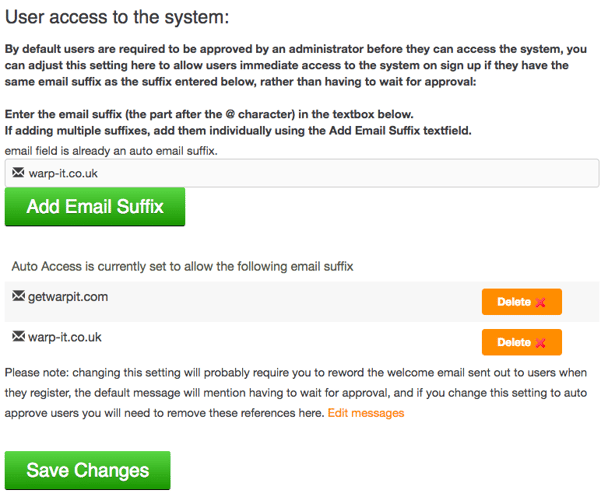 Let us know if you have any feedback!