We are very pleased to welcome Shaun Chatterton for this week's interview. Shaun is the CEO and Founder of Floreon, 'The No.1 Performing Bioplastic'. Ten years in the making, Floreon is now at the stage where innovators and early adopters are switching away from their old packaging materials and selecting this fully-sustainable option.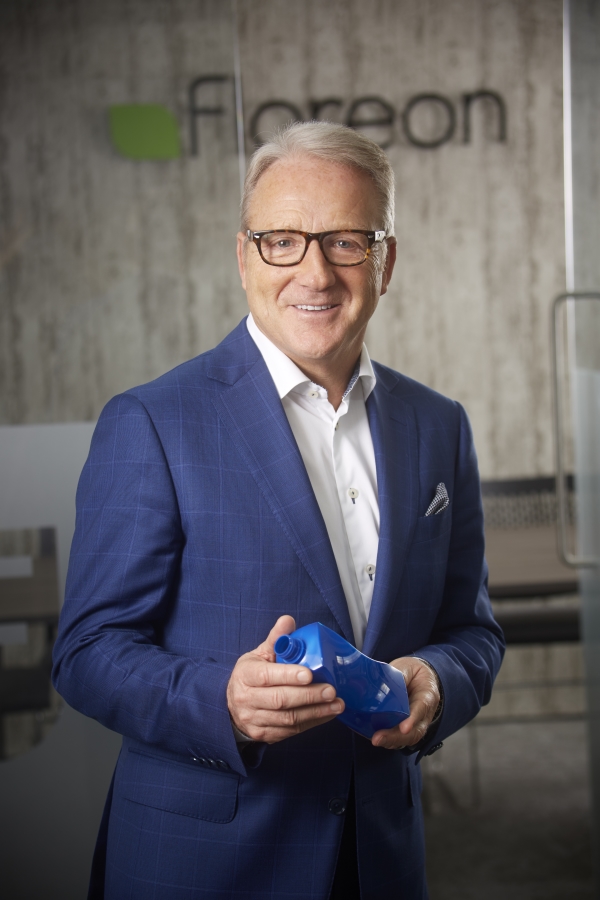 Hi Shaun, it's great to speak with you. Please tell us a bit about your business history and how you came to set up Floreon?
Floreon is an initiative that started as part of my previous company, CPD plc. CPD was the largest independent distributor of cleaning, janitorial, and hygiene products.
One of the product lines we distributed was single trip 15 litre PET water cooler bottles. I was concerned about where these were going once they had been used but nobody seemed able to give me an answer, so I spoke to the UK government and they put me in touch with Innovate UK. Innovate UK helped fund a two year 'Knowledge Transfer Partnership' (KTP) between CPD and materials experts at the University of Sheffield looking at more sustainable alternatives. We became aware of a material called polylactic acid (PLA) which was entirely made from plants, recyclable and compostable, but quite brittle and difficult to work with, so we set about finding ways to enhance it.
After two years of intensive research we had a breakthrough, retaining all the positives of PLA but making it far tougher and easier to use. We then decided to patent this discovery internationally and Floreon was born. We pursued a second KTP to develop the patented technology further and once we realised the potential, we separated the Floreon IP out into an entirely separate company in order to commercialise it. With the international patents granted, I decided to sell CPD to the management team and focus entirely on Floreon.
It's clear that you are determined to see the entire packaging industry move away from oil-based plastics and into bioplastics. Why do you think some of the big players are hesitant to make that transition?
One thing that's held us back is a long standing misconception about bioplastics being green but not really working as they should. A lot of people tried bioplastics like PLA when they first reached the market many years ago and of course there are a few scary stories.
We believe Floreon can really transform the market now as these historical issues about poor performance and difficulties in processing are completely fixed by our technology.
Floreon can actually offer better performance than competing oil based plastics, allowing people to lightweight their existing packaging by switching to a bioplastic. In one trial, we managed to lightweight a customers product by 33% whilst also making it more resistant to crushing and breakages.
The sustainable and environmental benefits of bio-plastics are quite clear to me, but if you had to summarise them for our readers, what would you say?
Bioplastics offer a range of benefits over the standard oil based plastics we use today. The first and most obvious one is biodegradability (compostability). Whilst this is a useful function, it has to be used in the right scenarios and the end of life solution has to be thought through in terms of collection and actually getting the product to a commercial composter. Products which are currently contaminated with food waste and are difficult to recycle are a good example, particularly if a collection system can be put in place.
What often gets overlooked is the low carbon footprint of bioplastics like Floreon. Our base material (PLA) is produced from plants, which take in carbon dioxide from the air and turn them into sugars. These sugars are then collected and converted through biological and chemical processes to make bioplastic. This means that you are effectively using carbon dioxide as a feedstock. According to publicly available figures, for every kg of PLA produced there are 0.6 kg of carbon dioxide (greenhouse gas) equivalents. That's six times lower than polystyrene which results in 3.6 kg of greenhouse gases per kg of plastic produced. As technology improves, the figure for PLA can only get better and it may even become a carbon sink.
The bioplastics market is going to explode over the next decade, with the market share increasing from 1% to 40%. You have good cause to be very optimistic. Why do you think that the next ten years are going to be so pivotal, and why wasn't technology like this being made a decade or two ago?
There are a number of reasons it's taken this long to get where we are. First of all, oil based plastics are very cheap and abundant, making them an easy choice for packaging. Plastics were a good alternative to things like glass as they are so lightweight and durable.
Public perception of plastics has changed massively in recent years. For a long time it was acceptable for plastic to be used, as it had a 'recyclable' badge on it and people just assumed that the right thing was being done. With greater scrutiny, we're all now realising that even if things were put in the right bin, often they would be shipped to developing nations with poorer infrastructure than our own where the valuable plastic was picked out and recycled, but the rest was just left in poorly sealed scrap heaps and often released into the environment. People have now realised this can't continue.
Another barrier as discussed earlier is that the technology just wasn't there. The bioplastics we are using today (like PLA) were available but didn't perform well enough. Technology has now advanced significantly and innovations like Floreon make them suitable for a far wider range of applications than before.
If we are talking about the energy used in the production of packaging, how does Floreon compare to traditional plastic or cardboard packaging?
Floreon has a very low carbon footprint to produce and as discussed earlier, even has the potential to become a carbon sink. There are very few useful materials that can make that claim. The carbon footprint of Floreon is far lower than any competing plastic and independent, peer reviewed studies have shown how PLA clamshell trays even have a lower carbon footprint than 100% recycled PET.
Comparisons with things like cardboard are more difficult as the range of applications is different, but if we assume we're talking about coated card as used in food contact applications then the comparisons are still favourable. It's important to remember that polythene coated card (as used in single use coffee cups) has been a major source of waste as the plastic coating makes recycling far more difficult. It's amazing to think that only 1 in 400 of the 2.5 billion single use coffee cups used in the UK each year have been recycled according to recent figures, where have the remaining 2.49 billion gone?
If you switch to a compostable lining like Floreon, the cup can be composted entirely without any difficult separation. A common objection is that there isn't enough of a UK composting infrastructure to handle this type of cup yet, but my response is that clearly there wasn't one for the old cups either!
'Fully compostable' is something that more and more companies are keen to get involved with. It's great to see that you've gone one step further than 'fully recyclable' and are able to offer the option to biodegrade packaging at home. Did you push specifically for compostable packaging?
Fully compostable packaging is something we support as we believe that it can make end of life solutions far easier. In many applications, recycling makes a lot of sense and represents the best way to preserve our resources. Look at PET bottles for drinks, the scrap is easy to identify, wash, and recycle, either back to new bottles or into polyester fibres for textiles. The problem is that a lot of plastic waste gets contaminated and is then difficult to recycle back into something of equal value, so you get constant downcycling, unless you spend even more energy separating and cleaning it up.
Imagine a tray in a fast food restaurant like McDonald's, you have a burger box and a drinks cup made from polythene coated paper, you have plastic cutlery made from polypropylene, polystyrene or PET, you have a sauce pot that's probably polystyrene with a foil lid, a polystyrene lid to your cup and a mixture of fatty food waste mixed in as well. All of those different materials need a separate recycling stream. All of the applications mentioned above could be produced from a bioplastic like Floreon, so they could all go into one bin and simply go to composting where the nutrients in the food waste can be returned to the soil. That's far better than the food waste ending up in landfill, where it will slowly degrade to methane, a greenhouse gas 4,000 times stronger than CO2.
You worked with the University of Sheffield to make Floreon a reality. How did this Knowledge Transfer Partnership function?
We had two consecutive 2 year KTPs with the University of Sheffield, both of which were rated outstanding (the highest possible rating) and our second KTP won 'Best Partnership' for 2014 which is an incredible achievement.
The KTPs allowed us to engage with leading experts and access cutting edge equipment to help us develop solutions for the opportunity we had identified. The programmes worked very well and are structured to ensure that all parties (University, company and researcher) benefit from the project.
You mentioned your Technical Director, Dr Andrew Gill, when we last spoke. Do you both share the same vision for Floreon?
Andrew joined us for the second KTP as the researcher and has stayed with the company ever since. We have a well balanced team as I bring the commercial experience from my time as owner and Chief Executive at CPD, whereas Andy is the technical brains behind Floreon. We're equally committed to Floreon and want to see it reach the level of success we now believe is possible whilst also doing something positive for the environment and the planet.
It's mentioned on your website that you weren't happy with some of the other bioplastics previously available in the market. Can you give any examples and explain their pitfalls?
When we first started exploring options prior to inventing Floreon we found that there were a number of materials out there claiming to be green. We first came across recycled PET but struggled at the time to find sufficient supply of food contact grade material at a price that was acceptable to our customers.
Many other bioplastic options were emerging but we struggled to find the performance we needed; a lot of solutions were developed around thin films for things like plastic bags etc.
There are also a number of additives for oil based plastics that supposedly make them 'biodegrade' such as the so called 'oxo-biodegradables'. When we looked further into this we found that the results are not conclusive and these can actually be far worse for the environment as they simply make items fragment into microplastic without degrading any further. At the end of the day Floreon is the solution which ticked all of our boxes for sustainability, performance and cost.
2019 is going to be a big year for Floreon. What does a perfect year look like for you Shaun?
We had some exciting results and customer trials in 2018 that we're now looking to build on. It's now vital to scale up this success so we have just appointed a new member of the team to take a lead the commercial development of Floreon. Joining us at director level from a major international plastics converter we hope this will be the first of many new additions to our team as we begin exploiting our patents across the globe. Floreon will grow through collaboration as we license our technology to compounders and producers in each region and we hope to enter into a number of strategic partnerships with people who we can support in using and further developing our technology.
What advice would you give to other sustainability entrepreneurs who want to start a business or project of their own?
The advice that I would give to anyone considering setting up their own business would include the same basic principles irrespective of the business type or sector they intended to operate within.
In 2011 I had a business related book published titled 'Think Big & Make A Difference'....if anyone is to be successful as an entrepreneur, my book title is as relevant now as it was back in 2011.
If we are to see change that benefits the huge issues affecting the environment and sustainability, we must all take action to make a difference. There is a great quote from Ray Kroc (former CEO of McDonalds and the man attributed with creating its global success), "If you work for money, you'll never make it, but if you love what you're doing and you always put the customer first, success will be yours".
Budding sustainability entrepreneurs share a passion for the environment and with the clear changes in customers' awareness and expectations, companies that are passionate about being green will become the preferred suppliers of choice.
Have you joined up to our "6 Week Welcome Email Series" yet? This takes you incrementally through setting a vision and generating ideas. Click the button below.