What resources are required to embed Warp It?
Many customers say that Warp It takes less time than business as usual!
Consider your current practices
1) Disposer Dan wants to dispose of a desk. Fills in a disposal request. Porters come and remove item and either store it or spend time and money scrapping the desk.
2) Procurement Pam wants a new desk and buys one. Fills out the purchase order. And the new desk arrives, via the porters.
That is a missed opportunity to reuse.
1) Dan the disposer adds the item to Warp It. Same time taken. See here for how to add an item.
2) Procurement Pam finds the assets on Warp It- maybe immediately via the wishlist or just by a normal search. She completes a transport request- no need for PO. Time saved. (See here

for how to search for and claim an item. )
3) Instead of a disposal and scrapping request- the porters move the asset from A to B. Same time taken because they also prevent the delivery of a new item.
How long does this take to set up?
It is important to emphasise that this should be a cross departmental effort- although one person usually leads. Activities can be split across departments. Procurement, sustainability, waste, facilities management.
You get out what you put in. We estimate it takes about 5-10 days to get Warp It piloted and embedded over the first few months. We then suggest about an hour a day for the following 1 month. Then an hour or two a week for the next 9 months. Then you are looking at an hour a week ongoing.
Some parties may be concerned about more work.
1) Business as usual is responding to disposal requests. Moving the assets into the yard. Taking time (and exposure to injury) scrapping the assets.
2) Business as usual is also move newly purchased assets from a central delivery point to the point of use.
3) The alternative is instead of scrapping (very manual and time consuming) is moving the asset to new point of use.
4) When you start external donations there will also be a time saving on disposal request and scrapping.
What it might look like....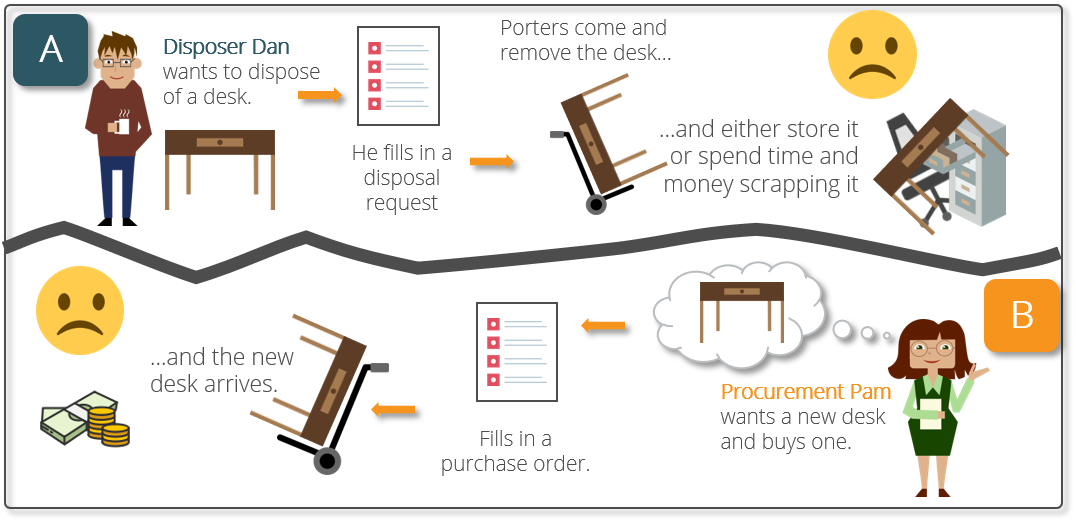 What it can look like....

Some evidence from our customers:
Warp It has been absolutely fantastic for our Trust - we made our money back easily during our pilot. Our admin function takes an hour a week or less, and we have had a lot of positive feedback from users. They have been pleased with how simple it is to use and they are grateful that WarpIt is there when budgets run dry! Nick Fayers, Nottinghamshire Healthcare NHS FT
"Once it is set up it takes an hour a week!" Tracey Donovan, Rotherham and Doncaster NHS Trust.
How do you get to this point? Follow our reuse implementation plan!