Let's set the scene. You implement a project and you start seeing the first benefits. The first early adopters start taking part. You start getting those benefits you were talking about right at the start.
You go on a massive journey with the implementation team. You go through the highs and the lows with the implementation team. And finally, your project's been released into the wild, and you're getting those promised victories.
Take a bow
You and the implementation team should take a bow, share some group hugs and slap some high-fives all around, because you have taken an idea and a concept, you've gone through a strategy, and you've delivered it, and you have made change in an organisation. That's admirable, do you know that? It's something that just isn't easy. It takes a lot of skill, guts and determination to bring about change in an organisation.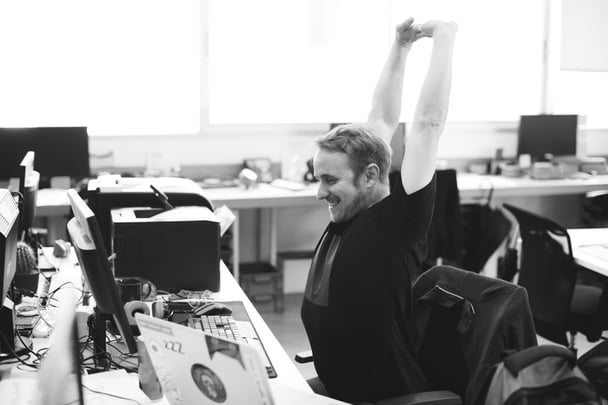 It's OK to be impressed
So, what I say to you is, make sure you congratulate yourself. You should be impressed with yourself, because other people will be impressed with you too. Your boss, your colleagues, your LinkedIn connections! Once you start getting those big gains from changing the behaviour, there will be a lot of impressed people, especially the figures who really know how hard it is to enact change.
Make a note to congratulate yourself in your professional development folder. Please put it on your LinkedIn profile. Please tweet about it. Please tell your grandmother. You've got to celebrate the fact that you've taken an idea and made it into a real thing.
Hard times could be coming
Enjoy that feeling while it lasts, because there are still going to be hard times ahead. You're still going to hit blockers and obstacles. You might be going through the honeymoon period at the minute, and in the future, it might stumble, it might stall. Just remember that feeling where people are going to look at you a little bit differently and go, "Hey, that's that person who brought about that awesome project."
What if you don't want to congratulate yourself?
Here's what might go down if you don't stop to congratulate yourself.
You fail to enjoy the victory, making it harder to motivate yourself in future

It makes you more open to negative criticism

It opens yourself to self doubt

It makes it harder to be assertive and make strong decisions

People will question how you use your energy and inner strength

Your confidence drops and your stress level rises
Words from an expert
I was speaking to the Alan Peddie at the University of Edinburgh, and he's brought in their reuse project- using Warp It- at the University of Edinburgh. People say, "Hey, that's the Warp It guy". He is the face for reuse.
You're now going to become known as this person who's rolled out this project. So, enjoy that feeling. Make sure you high-five each other in the implementation team. Make sure your boss and your senior management know the journey you've been on. Tell them the story in the committee room. Tell them the journey you've been on. Tell them the challenges you faced. Tell them how you got over those challenges, and then, tell them about the impact that your project has had!
Use your gains
Make sure that it's noted and that you bring it up in your next one-to-one with your manager, that you saved the organisation £20,000, £50,000, however much it was. Use this gain and milk it. Make yourself look good. Make your colleagues feel good. Make your boss appreciative. You're going to be admired and respected for bringing an idea to life, and changing the practise in an organisation.
With all of these good feelings going around, you're going to be remembered as the right person for the job when the next project rolls along!
Project finished, but you're undecided on how to celebrate? Here are a few ideas!