The article is about getting people on board with your project and maximising time efficiency by presenting your ideas as flow or process diagrams. We talk about a furniture reuse project but it could be any project or idea you want to convey.
We talk about how process diagrams can help you and we also give you access to a number of process diagrams that you will find useful when talking about reuse, waste and disposal processes.
---
Caveat! Process diagrams can stil be boring- so we have a jazzy one to show you at the end!
---
If you're rolling out behavioural or cultural change and you need to bring people on board with your project, you need to be able to explain the idea or change properly.
You need to present the change in a simple, easy-to-digest manner, so that people not only understand what will be happening, but can support it too.
You may opt to explain the idea verbally, through group explanations or one-on-one meetings, or you may decide to make your case with visual stimuli, like a picture, PowerPoint or a video (Great customer video here). You may host a workshop, or a Toolbox Talk, or maybe you will embed your idea into emails or newsletters.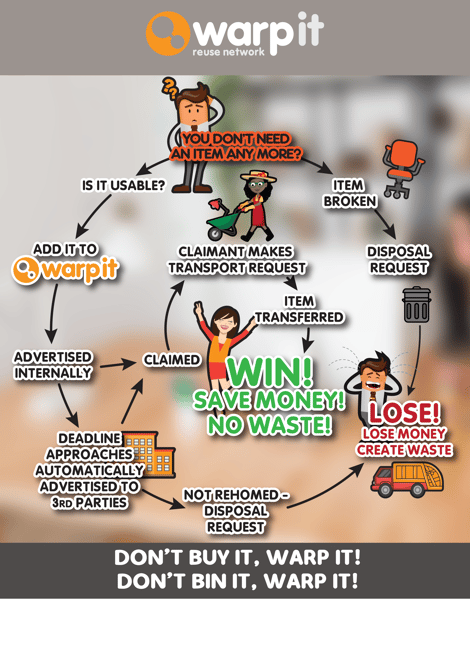 What is a process diagram?
One thing which is a very powerful tool, and is massively underused by project managers is a process diagram (flowchart). This shows a chain of key activities and the flow between those activities. This is a very visual representation of a project, and allows staff to perceive it personally and look at the different aspects, to assess where their role will be needed, and doing what. The team will be able to study the process diagram and understand the movements that will take them from where they are now, to successfully making a change in the organisation.
Embedding new reuse practices
What we see a lot with our customers is that when they are proposing new reuse practices, the development of a process diagram helps to visualise and understand what is going to be happening. They can actually see the benefits through this diagram, and that encourages them to support the initiative.
Benefits of a process diagram
There are an abundance of great reasons why a process diagram, will help you. Here are some of our favourites:
Visual clarity. Seeing the whole process in one place makes it obvious which stages can be removed or improved, and helps people understand their role better.

Instant communication. Some organisations have managed to a avoid a lot of operations meetings simply by emailing out a process diagram!

Coordinating team members. Project managers are able to unburden their team by splitting the workload up into stages. This reduces pressure and helps to maximise time efficiency.

Efficiency. Only steps that are relevant and benefit the process are included, whilst everything that isn't progressive gets cut. This means staff focus on what should be done.

Solving problems. By dividing up a task or process into small, manageable parts, the whole project seems far less challenging and problematic.
Process diagram apps
We've compiled our three favourite FREE apps for making process diagrams. Each of these will assist in the design stage of making a compelling diagram that connects with your team.
To download the above Warp It process diagram as a PDF and .EPS file click the image below.