It might be too early to put the Michael Bublé Christmas CD on just yet, but it's not too early for us here at Warp It to tell you that we are setting the target of £3m in charity donations through our platform by December 25th.
Where are we at now?
As of September 3rd, our donations to charity figure has just eclipsed £2,710,000. To help boost this figure and reach our festive target, we've enlisted the help of a new employee to work on increasing the charity performance of our members. It's very important to us.
A big thanks to our top donors!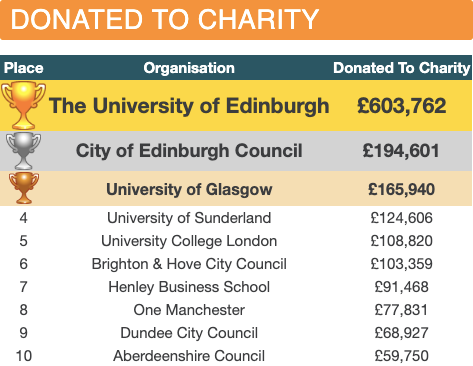 What can you do to help?
This goes to all of our Warp It members - we would like you to consider offering any assets that are going out of the door to local charities, through our platform of course. Giving assets to local businesses already feels good, but by introducing a philanthropic element to your reuse activities, you're going to get an even bigger sense of reward by helping those in need.
Who are those in need?
Warp It offers FREE membership to charities, schools, and not-for-profit organisation so that they can benefit from the thousands of members listing amazing assets on the platform every day.
One example is that of Ashley Scotland, Founder of the charity 'Thriving Survivors' - read our full interview here.
Well, you know that we couldn't possibly have afforded to be able to go and buy new. I think we got 30 desks and 18 swivel chairs as well, on top of all the filing cabinets. You know these things cost a lot. If we're saying a desk is £100, we're looking at thousands and thousands of pounds worth of stock that we couldn't have funded ourselves. It did us a massive favour, we were in the right place at the right time.
We got the property in October, and by mid-October I had it fully kitted out. It took less than a fortnight, and the cost of two days van hire! The support that we received from using the Warp It service was absolutely invaluable to us.
Would you care for some more examples?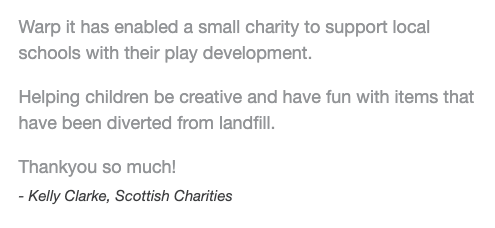 A message from Daniel, Warp It's Founder
My ambition is to make the reuse of items within organisations mainstream. I want to make reuse as easy as buying from Amazon. Warp It should be the first port of call for organisations when buying new, especially if they want to save on purchase costs, or for organisations that have anything that can be reused by charities.
We allow corporates to offer free stuff, such as office furniture, to charity in a legal and safe way.
Warp It is making the world a better and more sustainable place, improving resilience, reducing procurement costs and keeping assets and resources out of skips and bins. It's a powerful online system and you have proved that it works.
If you are a customer and you want to shout about your great achievement, you can download a template press release here.
If you want to get started...
Sign up for charities here
Sign up for schools here
Thank you for reading!
We hope you will support our £3m target by sending some extra assets the way of charity!
Contact Daniel@warp-it.co.uk if you want some personal support in increasing your charitable output.