If you are involved with resource efficiency, waste or sustainability within BIDs or on business parks then this is for you.
Welcome. In this article we are going to answer one question that we have been asked many times in the past - 'How can Warp It work within our Business Improvement District or on business parks?'.
What is the Warp It model?
Firstly, we must understand that Warp It is a marketplace which allows employees of an organisation to swap surplus assets between each other in internally and also outside of their organisation.
Warp It is basically a network to get and give surplus reusable assets.
It functions very well, saving millions of pounds and avoiding tens of thousands of tonnes of waste each year. Check out some of the savings here!
Business parks or BIDs
On a business park or within a BID, there are many different businesses who all have surplus furniture, equipment, stationery, shop fittings and more.
In many organisations, what will happen is that some emails will get sent out stating 'I have a spare chair and desk', and they'll start looking for new homes for them. This is a bit messy. See here.
With Warp It, we create an online marketplace for the business park and make it known across the entire business park that this is where people should go to get and give surplus items.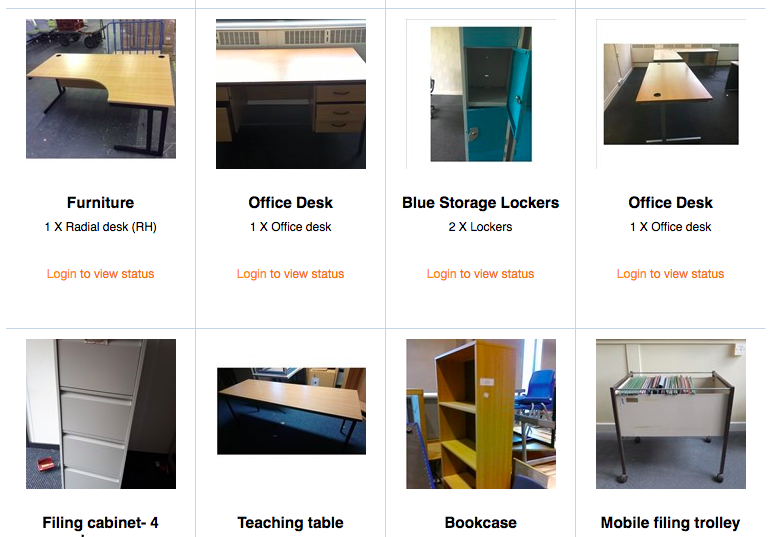 Warp It saves times, it saves money, and it frees up space.
No more spreadsheets, email rings, or trying to shift items one by one in a laborious way. We create a marketplace just for the businesses on the park.
The business park management company can brand the marketplace with their logos demonstrating leadership and value to their members.
Going one step further
Warp It allows members to link up and trade across organisational boundaries, if desired. Imagine you are BID ABC, and five minutes away is business park DEF, wouldn't it be great if you could trade assets with them too?
Or you can set it up so that your BID/ business park is linked with local charities and the businesses on the park, can donate their assets to charities and schools.
The partnerships are not just limited to other organisations of a similar type; your business park could make a trading relationship with a school, hospital or community centre.
If your business park is part of a larger network or chain of business parks, you can connect them all and keep even more assets moving around internally.
Benefits of Warp It to BIDs and business parks
Demonstrating leadership of sustainability
Showing they are pioneers of efficiency
Building relationships and useful partnerships
Making good decisions for finances and environment
Reducing waste disposal and procurement costs
Improved collaboration across the business park (which has so many benefits beyond reuse)
Using a system that tracks data that can be used for reporting and progress updates
Potential to get free items from a large network of organisations instead of buying new
Summary
The system is easy to use, items are easy to list, and connection requests are easy to send. Data is tracked, savings are made, and you gain a competitive edge over other business parks. It's a win, win, win, win, win, win situation. So what are you waiting for?
---
Trying to imagine how Warp It will work in your organisation?
See six examples here.