You're going to love this! We've invited Adam Connell from James Cook University in Australia to show us how Warp It is working on their campus, on the other side of the world!
In this article you're going to get expert insights into:
The first month of a reuse project

Gaining support from everyone, like general staff, contractors, delivery teams and senior management

Getting items onto the system to encourage participation at the start

Encouraging reuse around a large campus and collaborating with clearance teams

Why the Warp It team won the Facilities and Operations Award at the JCU TropEco Sustainability Awards
Hey Adam, do you want to bring us up to speed with what you're working on right now?
Well, we've had a huge amount of activity in the last month or so since launching Warp It and it's been noticed and commented on positively by senior management. It was brought up in a sustainability advisory committee meeting the other day, which has two of the Deputy Vice Chancellors on it and various other important senior management members. They were all praising what we've achieved so far, in just over a month!
So, what's in it for them, why do you think they're so pleased?
We talked about some of the savings we've made since the launch, which is already up to $85,000. They focused on that and since the university is always looking to save money and cut out waste, they thought it's doing really good things. A lot of them have been promoting it within their own areas and getting other people on board. Many people have started uploading their own items and sharing them, which is very positive.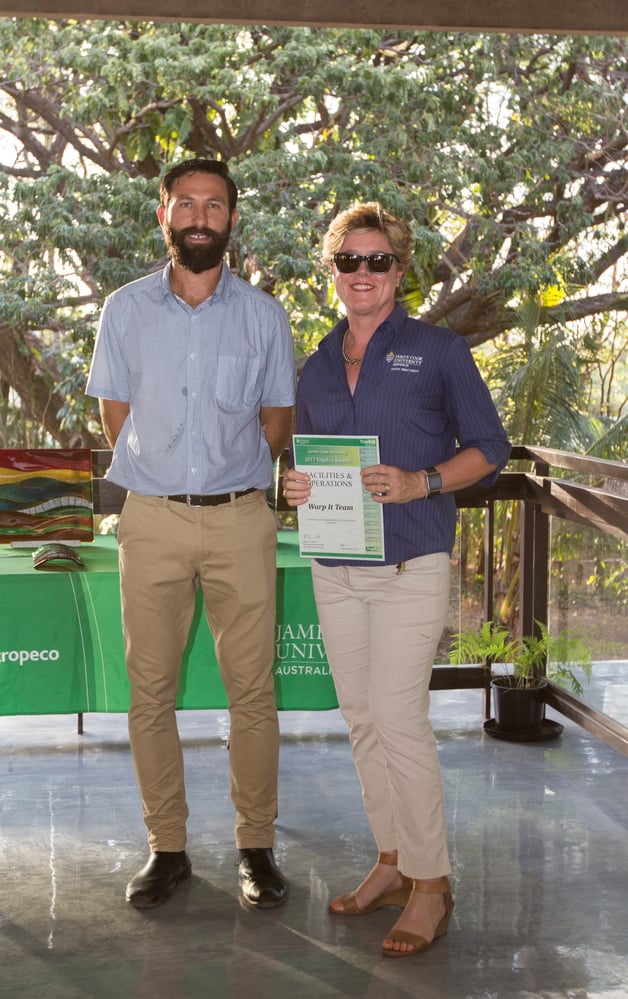 Adam Connell and Paula Rodger accepting the Facilities and Operations Award at the JCU TropEco Sustainability Awards
How did you encourage people to upload their own items? Was it through policy change or communications?
We did the chocolate thing and we sent an email out to all of the staff and then another reminder email which encourages a lot of people to join the system. So we put chocolate on the system to teach people how to use Warp It, and we also gave them away as rewards for listing items. So yeah, it has been really good! We are currently trying to get the charity stuff up and running now, so we've been playing around with that and testing it out. We think we can get a couple of charities signed up in the upcoming weeks.
Have you set up the charity portal already?
Yes, we've done that and at the moment I'm just playing around with it, looking at all the functions and ensuring that the items are all coming up without issue.
Have you had any issues in this department?
The only minor issue is that we want to split our charity system into two campuses, but other than that, plain sailing. I know you're working on resolving this for us, because we don't transfer items between the two campuses due to the distance (350km). There are two charities who are already on board so we're going to bring them in and trial the system to get feedback and build on the progress. If they're happy, we're going to promote it to other charities around the place.
What other challenges have you faced up to this point?
At the start, making sure all our estate staff were on board and making them aware of how easy it is to use the system. A lot of them thought it might be a bit of a headache for them to try and upload items. We're doing a lot of building refurbishments at the moment so there's a lot of furniture coming up from emptying out whole buildings, and that furniture is sitting there not being used, but also with nowhere to go.
Trying to get them to add stuff to Warp It initially and getting staff to claim items has been interesting. We did an early trial and didn't have anything on there, and so people went on there and lost interest in the program. Now there's a whole heap of items and assets from our empty buildings and now people go on the site and see them. It's helped us to clear out those buildings pretty quickly.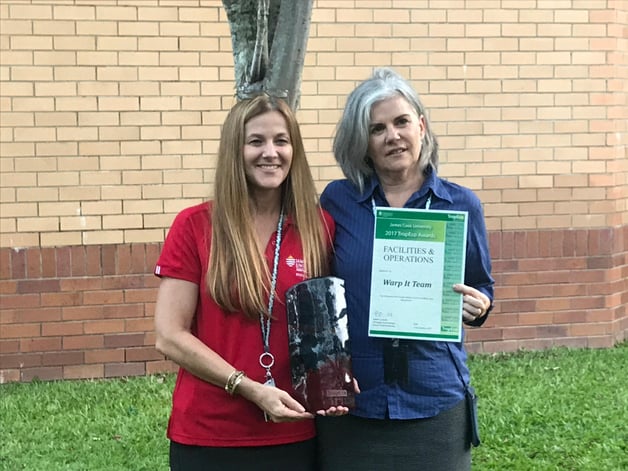 Loretta Castley and Kathy Mahaffey accepting the Facilities and Operations Award at the JCU TropEco Sustainability Awards
Tell us about the guys who do the physical clearances. Was there a bit of reluctance, and how did you get them on board?
We worked with them over a series of months and showed them the benefits of Warp It and there was a lot of stuff happening at the time anyway that wasn't going through the system. Now we're trying to get everyone to put stuff on Warp It and direct people there as the first port of call. Getting people engaged with the system and making sure they were tracking everything rather than missing out on the opportunity to capture savings. We use contractors for moving items too and we have to make sure the contractors are aware of the system. They're finding they're getting more work because there's more stuff being claimed and moved around campus, so it's good for them and they like the chocolates!
Were there any other hurdles you leaped over?
I think the key thing was getting legal work done and we did that first. We got that out of the way so there were no questions looming over us and we could just get going. If there are any questions we can direct them to the legal department, but they're really happy with the system, and the procurement department are very supportive.
Were procurement on board from day one?
Yes! I've got a great relationship with the Director there. When we first signed up I took it to him and he was happy with the whole concept and project. He's got a lot of experience in sustainability, procurement and minimising costs for the organisation, so he understood it straight away.
Charities is one ambition, what are some other ones, some targets for example?
At this stage we just want to focus on getting it running and popular and making the charities happy. I think we have a lot of interest from those we've been talking to. Right now we are taking it slowly and making everything functional and compliant with everyone's needs. Once we're happy we will expand it further.

Saving made through Warp-it to January 2018. For up to date metrics please see here.
What sort of time resource do you think this is taking you Adam? Has this slotted in well with your other responsibilities?
It's pretty good! If we have to do a whole building and put the furniture up it's only three or four hours to log everything, and I'll admit we all thought it would take a lot longer. Now people are on there uploading items it mostly runs itself, but we do a few bulk uploads here and there. When a new building comes up, we'll often move furniture and have a place for it to go already, so we're introducing that to the system and getting people to claim it straight away. So we've got the record that furniture has been reused through, rather than outside of the system. Admin is probably one to two hours a week.
What else are you working on?
We are trying to move to being storage-free other than a building being conveniently empty during a refurb. That's why we want to get charities on board because there's all this unclaimed furniture that we don't want to see go to landfill.
What do you think we can do to share the message with other universities in Australia, or in the public sector? We still experience some reluctance.
Just look at the $85,000 savings we've made in month one, and what impact it's had on senior management collaborating, most staff getting on board and all of the positive feedback. The individual feedback is great for our reputation and shows how much impact it's having.
Staff have to be happy with it, that's a huge draw, because if it doesn't work for them then they're not going to use the system. We've only had constructive criticism, but not much of it, and it was all resolved very quickly.
Great! Is there anything else you'd like to add?
I'm going to look into doing a loan function, as I've had quite a few queries from people who thought it would be a great idea. At the moment the feature is disabled but we're going to get it sorted soon.
Thanks for sharing Adam!
Here are our take-away key points:
Get items on the system before you launch to build initial interest

Use email reminders to encourage participation

Make senior management aware of key financial results

Work with key players in other departments to encourage support

Make sure people are not reusing outside of the system and missing data capture