In this short article we catch up with Jude Hughes the Environment and Energy Manager from the National Institute for Biological Standards and Control (NIBSC) and review their Warp It case study 2 years on. Check out the original here.
NIBSC are more than 2 years into their reuse project and they were hugely successful at the start, so we want to know what has happened since then, what have the issues been, what challenges were faced and how did they overcome any hurdles.
Jude, can you provide us with an update of recent events?
As you know we run specialist labs as well as office space so the items we swap and trade are highly variable and sometimes very niche- lab kit, measurement devices etc as well as the boring stuff like furniture and equipment.
I think one of the things I've been thinking about more recently is the fact that reuse is going so well in the institute thanks to Warp It. People have really gotten into it. Quite often, I'm switching things with people before I've even had a chance to put them onto Warp It, because of demand. For example, they're putting together an office for three people instead of two and they want smaller desks, so I'm helping.
I've had a lot of stock, I've got various bits of furniture all from within the institute. I'm finding that it's all getting claimed, by word of mouth almost, before I've even registered the fact that I've got a couple of desks that are available. People are starting to come to me first, before they even look at buying things.
It's good, but there's quite a lot recently that's not being captured on Warp It, and that cuts into my time.

Savings made in 4 years since joining Warp It. To see up to date Metrics please see here.
So this has a heavy impact on your time, by doing things outside of the system? Could you push people towards Warp It instead of facilitating claims outside the system?
Yes, I think at the moment people are just coming straight to me. I've got a lot of new emails saying, "Jude, have you got a lab chair?", "Jude, have you got a desk?", "We need some pedestals, we need a little table." I know what's coming up from people because they'll say, "Oh, we've got this to add to Warp It". It is a little bit time-consuming sorting people out all the time, taking them down to my lock-up, going to have a look at stuff and measuring desks, seeing what's going to fit and stuff like that.
Top tip from Warp It #1: Always advise staff to check the system for items before buying new. Then they won't have to bother you! Here are top tips for procurement.
It's a good thing for reuse, but I suppose because I'm the only person, it does mean that I'm doing that sort of thing, carting desks around and stuff quite a lot, as well. Sometimes I find that I don't have enough time to go onto the system and do it, really.
Top tip from Warp It

#2; Instead of staff ordering a disposal - get them to add the item to the system. These top tips will have your system automised!

Here is how.
How could we make it less challenging to list things on Warp It?
I don't know, I guess it's the same old problem. You have to prioritise what you do, and so if I can switch a desk out without using the platform it might make life easier for me. Sometimes I go back and put an item on Warp It and make the person claim it retrospectively, because I want people to use the system and the data to be accurate.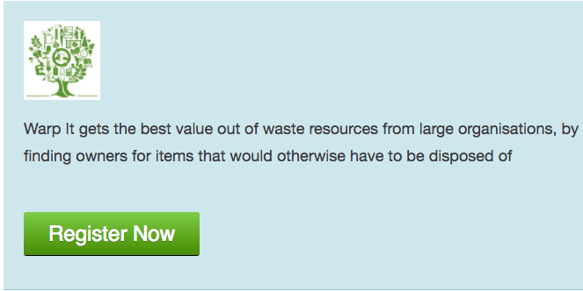 Having successfully set up your reuse system, could you give any advice to others who are trying something similar? What sort of challenges did you face, how did you embed the practise into the organisation, how did you get buy in?
Ok, well I would start by picking the key members of staff who you think would be good to have on your team. We have divisional resource managers who look after each division. They're the people I'm talking to all the time because it's their responsibility to find furniture for other staff. They're often covering more than one department too, which is good, as then you've got people in every department who know how to use the system. I think there needs to be a motion that new staff must learn how to use Warp It.
Award winning
Jude is no stranger to being recognised as a leader in her field and she is great at sharing advice for others to follow in her foot steps. In this article she talks about getting your organisation to embed sustainability:
The following is taken from this article on Edie.

"We've noticed that NIBSC have been working with Warp-It to promote the reuse of equipment. How is this collaborative approach working for you?

It's working amazingly. When I started here we were looking at recycling as well but I wanted to go a step further and introduce a waste hierarchy so that we could look at reuse options. We'd been looking for a more formalised system and creating a forum for unwanted items.

I came across Warp-It and, after speaking to its founder Daniel O'Connor, I found that we were both very passionate about waste management. I talked to senior managers and showed the business case for using this system and we implemented it about two years ago.

We had a big organised launch day for it and staff brought along stuff that could be physically put onto Warp-It to help populate it. It's really easy to use, it's a bit like eBay or Gumtree but there's no money involved. It's really taken off. We're an institute that tries not to spend too much, so things like furniture and lab consumables, it's ideal to be able to look through Warp-It.

We've just reached over £100,000 in savings through Warp-It as well as the waste and carbon cost savings. Although we're a big institute in terms of size, there's a relatively small number of 350 staff. Compared to universities this is small, so Warp-It are using us as an example of massive savings for a small-staffed institute. It's a great system and I've talking to Government bodies who have asked me to give a presentation of my experience in using Warp-It as they've just been granted a Government contract."

Thankyou!
Thankyou Jude for showing vision and determination to bringing reuse to life and make it easy for your staff!