Warp It are pleased to welcome Micaela Basford, Corporate Sustainability Officer at Bath and North East Somerset Council.
Micaela has kindly joined us to talk about a building decommission project that she was recently a driving force for. She is a fountain of knowledge and her advice will prove exceptionally useful to Charities, Facilities Managers, Sustainability Professionals and more. She will talk about :
How the planning and pre-planning stages are not always vital for a successful project, and that creativity can be more important
Why collection evenings outside of work hours will spark the highest engagement
How a stationery amnesty had people having 'an absolute field day'.
This is not our first interview with Micaela, in fact, it's the third of three value packed articles here on our blog. In the first interview, we covered building decommissions, using social skills to build a supportive team, and being reactive when faced with short-notice clearance operations. In the second interview we discussed the pros and cons of internal asset redistribution, changing mindsets regarding waste and putting together events to inspire more reuse.
Do you think that if you'd been involved in planning right at the start that reuse and priority for reuse might have had more consideration?
With this, I honestly don't think so. We had at least a year of lead-in time. And so many decisions have to go up and down the chain. What we did find however was that because of our restricted timescale we held open evenings that moved on 80% of the items, so they were very successful. We were given two weeks, one for the staff moving out and the next for organising collections for charities and not-for-profits.
How did you organise these collection evenings?
What we did, we advertised that people could come at either five o'clock, six o'clock or seven o'clock in the evening. They gathered in the foyer and then we basically escorted them around the derelict, messy office building and said to them, "Anything that's got a sticker on that says Warp It can be claimed."
We issued everyone with a pen and paper, and we asked them to write down what it was they wanted. Most people couldn't take away their desired assets as they'd come in their car. Then we asked people that if it had a Warp It label on they had to stick another label on with their name, their organisation, and their phone number. For example, they would have to write down first floor north, two filing cabinets, two bookcases, and a desk.
Then, as they were leaving, we took photographs of their credentials and we typed that up into an Excel spreadsheet at the end of the night. People contacted us and they made appointments to come and collect the stuff over the next few days. We had a record of where they'd claimed all of their stuff from, so we were then able to say, "Okay we need a bookcase from the second floor south, let's go over there and collect that." So we'd have to do escorted trips around the office with people, gather all of their items together. But we did it, it was very time intensive.
That's what got rid of the stuff, when people could actually see what's available and measure it up. Schools particularly liked this approach because they were more set up to do this, as they had caretaking staff, and often vans that they could use, as well as lock ups at their end. Some schools came back numerous times to get more stuff once they'd seen what was available.
You did a stationery amnesty too, right?
Yeah. Staff were having to clear out archives, files and all of their paperwork that had accumulated over time. There were around 100 stationery cupboards in the offices, with all sorts of stationery supplies. Whilst people were still in the office we set up our "Stationery Amnesty Room." We promoted that to staff a lot.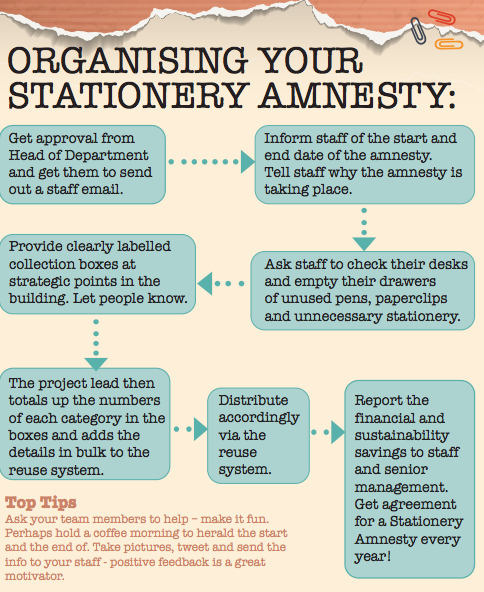 People were coming in and bringing in all those kinds of odd bits and bobs that they weren't going to take with them. Items like coloured paper, hole punches, empty folders and all sorts of weird and wonderful things that could all be mined by staff as they were going along. Actually that was happening for a month in advance. People were coming in and saying, "We use yellow paper, oh we should just take that." It was actually quite a good exchange even just for the council saving money for its own operation.
It sort of flushed out all of those things, like envelopes. People were saying "Oh we don't use those envelopes anymore" and another person would say "Oh but we do." They would never have known that, had it not been in this Stationery Amnesty Room. Then we did the walkarounds with people from the community groups and charities, which was saved until the end of the tour. People had an absolute field day in there.
What would your advice be to others who are trying to reuse and make donations in a limited time period?
Oh, that's a big question. Use the networks you've got already, engage the staff. Advertise for free where you can. Use internal systems, like an intranet. Appeal to the local community.
That's great advice. Do you think charities really felt the benefit of your project?
Charities and organisations who came to the open evenings were desperately in need of this kind of event and its offerings. Sometimes it was just like one filing cabinet or something. They'd say "That would be so amazing for our little charity," but then they had no means of transporting it. What we ended up doing in the end was hiring a van and asking people to pay. We hired a van that did a circuit around the area. What we asked people to do was to give the driver some cash on collection.
I think we just felt like even though it was just one or two things here and there, it was just like, "Oh that would mean so much to that organisation. We can't not help them get it to their premises."
Finally, you tracked all of this on a system. When you reported the benefits back to senior management, how did they react?
I think they were pleased with it. They didn't make a big song and dance, but it's added a good feeling to the end of the project. The Facilities Team were probably relieved as they had a lot more work than usual and it was a bit complicated with logistics. The Facilities Team is just one person usually, so we added manpower and got stuck in, and realistically one person could not have managed this.
Thank you Micaela!
To read part one of our chats with Micaela, click here
To read part two of our chats with Micaela, click here
---
Want to enact a successful building clearance in your organisation? You can start here...