Procurement Pam and Procurement Paul
"Good morning, good afternoon, good evening! We are Pam and Paul, and we both work in procurement departments throughout the land! We are here to show you a little more about our work, and we are going to look at the problems faced, responsibilities managed and particular reasons that other people working in Procurement would be aided by the use of Warp It too."
Job Titles
"Does your Procurement role fall under one of these titles?"
Procurement Director

Head of Procurement

Procurement Manager

Procurement Officer

Purchasing Director

Purchasing Manager

Purchasing Officer

Category Manager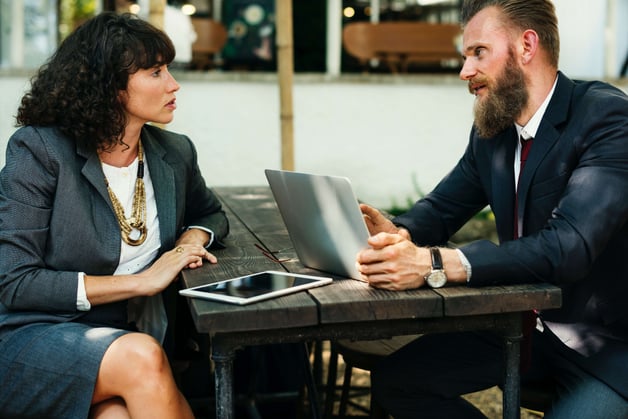 What's this about?
"Hey! I'm Procurement Paul, and I'm going to introduce you to the overarching message when it comes to the Procurement department and making this area of a business as efficient as it could be.
Essentially, don't buy a single thing that isn't needed! If you are buying things you already own, you're creating wastage.
It's more common now to see departments train Procurement professionals to more rigorously vet every purchase order and be more thoughtful in deciding what is and isn't necessary.
If you can relate to Procurement Pam/ Paul, it's likely that you've been through this training, and that you're interested in making savings and having the physical evidence of these savings to use to your advantage."
Responsibilities
"Procurement are responsible for so many things within an organisation, the main ones being..."
Facilitating the procurement of goods

Facilitating the procurement of services

Handling purchase orders

Goods and services managed, received and accounted for

Exploring partnerships and alliances with suppliers
Hooks and Goals - Why should you procurement be interested in reuse?
"There are dozens of reasons why investing in Warp It is going to make your working life better and improve efficiency around the organisation, it definitely helped Pam and I. Here are a few of the benefits that we found for our procurement departments after we signed up to Warp IT..."
Reduced overall procurement costs

Reduced procurement demand

Reduced procurement of unnecessary goods

Reduced purchase orders

Demonstrates the value of the procurement department
"As well as"
Reduction in carbon emissions

Enhanced relationship with the Voluntary and Community Sector (VCS)

Less or no need to rent expensive storage facilities

Fewer wasted resources
Pam's Procurement Story
"Hi, I'm Procurement Pam. Let me talk to you a little bit about Warp It.
This innovative bit of software gives all staff increased visibility of what other staff own that is deemed surplus to requirements across the estate. These items come from room and building clearances, refurbs and simply when a member of staff has procured something new and no longer needs the old item. Warp It has allowed us to reduce purchasing assets that we already own.
Sometimes we have a surplus of items and the purchase orders keep on coming through from other departments. Previously we weren't tracking our stock properly, but now we know that we have a surplus we can encourage reuse instead of procurement.
I can ask the employees here to claim surplus items from Warp It from their colleagues, and this reduces procurement costs a lot. We've found it to be perfect for office equipment like stationery and furniture, but also other equipment too.
Staff save a lot of time, and so do we. I don't need to get a quote, raise a purchase order and pay an invoice any more, which used to take me around 30 minutes."
Procurement Pam's recommended articles:
"Here's a selection of my favourite articles based on Procurement and why the department should synergise with reuse to make life a great deal easier and more efficient. It already worked for me!"
Why procurement should lead on reuse
Other benefits for procurement.
Things procurement can do to stimulate reuse
Procurement case studies
"Warp It spoke to Procurement Managers from all over the world, and they all agreed the same thing - the reuse system has been a godsend. Here's a selection of interviews that Warp It's helpful founder Daniel has conducted that show how actively engaging with the system has been a revolutionary solution for reuse."
Clearing buildings of assets led by procurement at Edinburgh City Council
Interview with Head of Procurement at Heriott Watt University
Case study with procurement at NHS Tayside
Case Study with procurement at Northumberland County Council
Interview with Mollie Kerr about redistributing assets, Edinburgh City Council
Our favourite Procurement customer quotes
"The system lets people do the sharing without needing a matchmaker, or a warehouse. It shows that we intend to reuse which is a key part of the Procurement Journey. When staff want to buy something we want them to think "Do I need to buy this in the first place?"
Andy Hay, Procurement lead, NHS Tayside
"The simple attraction is the ability to advertise unwanted assets easily and conveniently, giving us the opportunity to actually reduce procurement. We have saved £1000s just by better internal sharing of surplus inkjet cartridges. We have saved £1000s for schools by redistributing lever arch files"
Hilary Phillips, Change Management lead, Sunderland City Council
"Warp it is a no brainer with so many benefits. We steer staff to the portal which reduces procurement and waste spend. After only a few months, the benefits were obvious."
Julie Parkinson, Category Procurement Specialist, Northumberland County Council
"Warp It has achieved significant financial savings whilst also providing environmental and social benefits."
Lee Jackson, Commercial and Procurement Services Manager, Northumberland County Council
Common objections from procurement
Issue: "It's not my responsibility."
Solution: This system gives all staff in the organisation visibility on what everyone else has surplus to requirements BEFORE they buy new.
Pam's Explanation: "Any Procurement professional knows that the first rule of Procurement is "Do we need to buy this in the first place?", so by giving Procurement more transparency, they are able to make better decisions. Procurement maybe might not necessarily lead on reuse but certainly should be interested in helping to facilitate this process, as you may have read in the case studies above."
Conclusion
"Pam and myself are very glad that you visited this page and better informed yourself on procurement and its relationship with reuse. We recommend that you save the link to this page and share it with other procurement professionals in your department and start spreading the idea that a reuse system could work wonders."
"I agree with Paul. But first make sure to read our suggested material, as you will pull so many great ideas from there and be able to put together a much better plan of action once you're well informed. And thank you for reading!"
---
Are your procurement team ready to get involved?