Warp It are delighted to welcome Kirsty Hughes, Head of Operational Procurement at Heriot Watt University in Edinburgh.
Kirsty is a keen user of Warp It and we spoke to her about some of the following topics:
The role of reuse and refurbishment in procurement

How to approach reuse in a large organisation

Driving reuse up the supply chain

Transparent policies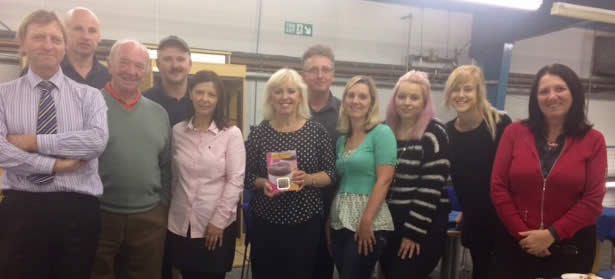 The procurement team at HW. Kirsty with the big smile in the middle.
Hi Kirsty, welcome. Why is reuse important for the procurement department?
From my sustainability and procurement cost saving point of view, it's absolutely vital, especially in today's economic environment. Already in the past year, we have saved £75,000.
But for us it's much more than just the cost savings, it is changing the mindset of the people who are actually requisitioning things. We've had excellent feedback from our users of Warp It and now have over one hundred members. I get some great feedback about the scheme.
That's great to hear! Why do you think the users like Warp It so much?
Having a centralised stores and distribution area helps as staff can view available items on the Warp It site, some prefer to visit our stores area to see things and have a look round and sometimes we'll put things together so it matches. We have tried to embed it, right from the beginning by working closely with Project Managers in our capital projects team, we are able to encourage reuse - we have the system and we have the strategy.
Whilst we recognise that on some occasions you can't avoid having to get new items, what we've tried to do is to get them also to say, "Is there anything that's coming out from that area that's going to get refurbished, that can go elsewhere?". We have examples where we've got requests for new materials coming in but we've managed to use old seats etc., by giving them to an upholsterer and having them refurbished in fabric to match new colour schemes and avoid buying new furniture.
So you're mixing the procurement of new with the reuse and refurbishment of old?
By taking old assets, refurbishing items and putting them onto Warp It, we reduce scrappage. From a procurement point of view, we can be the drivers of Warp It, because we've got the insight and involvement at the early stages of requests and projects.
How do you plan on driving reuse up the supply chain?
We make suppliers aware of our sustainable procurement aims and we include relevant evaluation criteria and weightings in order to compare supplier responses. Is their furniture designed for reuse, refurbishment and repair? This ensures suppliers understand that tender awards are not based purely on price.
How do you share the mentality that you use with suppliers, customers or end users?
We're all looking at budgets, but more importantly we are looking at whole life costs and how we can keep using materials for much longer. Within Heriot-Watt University, we have delivered sustainable procurement training to end users to ensure that staff requesting goods are aware of how we can work to reduce costs. We share details of exemplar case studies and we have many examples where new offices have been furnished with materials we've reused through Warp It. We haven't gone out and had to buy anything, so there's a lot of good news stories which people learn from.
Do people respond well to this new process?
Yes, they are encouraged and keen to try and do the same as everyone else as they understand the importance of saving costs. We embed the use of Warp It in our procurement processes and an example of this is: We are now adding a section on our new supplier request forms which will ask requisitioners to confirm that they have checked the University's Warp It site for internal resources in the first instance in order to avoid buying additional/new items where possible.
Does having a sustainable procurement policy help you?
Yes, it helps drive commitment and compliance to the policy. Warp It users also get a sense of satisfaction out of their participation as we report on the benefits.

Savings made since joining Warp-it to January 2018. See here for up to date figures.
How did you go about building rapport with other teams in support of this reuse project?
It's a culture change management approach and first thing we did was contact staff who we knew from experience, had an interest in saving costs and supported our sustainable procurement aims. Word of mouth then spread fast whilst at the same time we continued to provide awareness training to staff in order to encourage others to register and contribute to Warp It.
What do the budget-makers think about Warp It?
Being able to save money on the budget is great for them.
We've had a major space optimisation programme underway in the University for the past two years and this has involved lots of staff moves from one office to another. We've realised that not all of the furniture can go with the staff to their new area, so we are using Warp It to take the surplus items out of storage and get people to claim them. We've also managed to furnish some student areas such as Student Warden offices where they had no budget to get new items and they have been delighted with the improvements to their areas. We have also worked with local charities and community clubs to give them access to items on Warp It which we have been unable to re-use internally.
Great! One last question. Do you think procurement should lead on reuse?
At Heriot-Watt University, I would say that Procurement are leaders on the Warp It reuse scheme. We are involved from the outset of requirements by dealing with our end users - members of staff working within our Stores Distribution area are able to apply a proactive approach as they physically move the relocated staff so are able to ensure excess furniture etc. is moved and re-used appropriately. They also maintain the Warp It system and have a great understanding of which items can be reused. If organisations don't have their procurement team involved in embedding Warp It, it could be a missed opportunity. We are able to meet the university's key strategic aims, like improving the student experience and making cost savings within the organisation.
Keen to learn more about procurement's role in reuse?
Download our crib sheet
"15 Ways The Procurement Department Can Encourage Reuse"