Warp It welcomes back Clare Topping from Northampton General Hospital to talk about
challenges,

getting people to think differently,

repair and reuse,

and how refurbishing assets has proved beneficial at their site.
In this article you are going to learn about
Repairing items to reduce procurement costs

Building a refurbishment program that starts small and grows quickly

Finding opportunities to refurbish items, even in the skip!

Working with other department to solve mutual issues
This isn't our first article about refurbishment, in fact we've done several. If you'd like to know how one NHS organisation saved £18,000 from bin refurbishments, click here.
Clare, can you give us an outline of your work with refurbishment and repair?
At the moment we have started refurbishing patient lockers. We had a big thing where patient lockers needed digilocks putting on. While they were doing that, pharmacy worked with infection prevention and we changed the top out for a plastic one, so it's less likely to be damaged. Infection prevention are much happier.
They'd started doing all of this work and we saw them lining up things to go in the skip. Instead, procurement found a company that would take the old lockers away and refurbish them.
We've also been looking at the overbed tables for patients, the tables that they eat their meals on. Because they're made of MDF, they get cracked and water can get in, which means they're now condemned by infection prevention. Or, they get rusty, depending on the components.
We have worked with a specialist company, so the only ones we now allow people to order are refurbished units. They have removed the MDF tops and put a plastic cover on them, it doesn't scratch, it passes infection prevention standards and it saves us between £60 and £70 per table.
Have these savings accumulated and become quite noticeable?
We've been doing this for about 12 months and we've saved many thousands of pounds. Now we're looking at various other items that we can refurbish, assessing other condemned items and seeing if they can be refurbished to make them useful again. We've saved £1100 in the last month just from refurbishing beds.

Warp-it savings as of January 2018. For up to date metrics see here.
What refurbishment projects do you have planned in the near future?
Drip stands, re-powdering metal coats, and we're going to get some of our clinical waste bins refurbished. We're going with the bag-to-bed system, but I was wanting some recycling and domestic waste bins that have silent closing fittings on. We want new lids on these bins, and a new powder paint coating in a different colour. The refurbishment will be half the cost of buying new bins and it means we don't need to throw things away.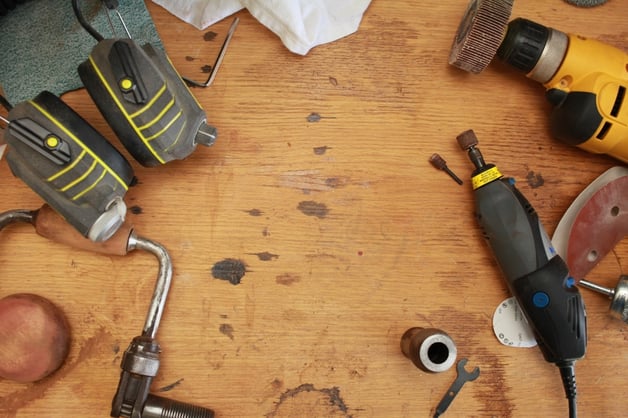 How do you identify assets for refurbishment or repair, and where do you look for contractors? Or, how do you deal with things in house?
There are many companies out there and they're starting to look at assets and opportunities, so it's important to connect them with your procurement team. We are starting to push back on supplies and ask procurement to help us with our sustainability mission. We start by looking at what's being condemned, talking to procurement and looking at their purchase orders for ward-based furniture. This is done in conjunction with Warp It as well, because we are able to get rid of or sell surplus assets, like the lockers I talked about.
Essentially, it's about being proactive and connecting with both procurement and infection prevention. Infection prevention email me when they audit a ward and have items to condemn. I also connect with the portering team, because they're the ones who have to move the condemned items. It's important to talk with the estates team too, because they're usually involved in some way.
Are you doing internal repairs too?
Occasionally. They take the electrics from condemned beds, they do some height adjustment on patient tables and if something is broken they'll often fix it themselves. I don't know the exact figures, but I imagine it costs them £20 to repair a patient table rather than £200 for a new one. It's worth it.
Are you looking for others that have the same desire to fix things? Does that help you to find others in the organisation with the same mindset? Can you advise on this?
There's always someone in any organisation. In terms of advice, hang out with the estates team, or take a look around the yard or skips and have a rummage to see if there's anything that could be mended and how much it might cost. Sometimes refurbishment might not be happening because nobody has put a monetary value on it for them, or worked with procurement to show that repairing things can save thousands.
So, to make this idea happen you'd want to organise a meeting with a representative of facilities, procurement, infection control, sustainability, portering and waste?
Yeah, I'd take a wander first and take some photos around the site of examples or opportunities for repair and refurbishing, so that I'd have something to show them as an example.
Thanks Clare! We'd just like to reiterate, our top tip for anybody looking to change reuse practices is to take photos of the things in skips that shouldn't be there. There's nothing more persuasive than visual proof!
What have we learned:
Refurbishing items saves thousands and reduces procurement costs

It's a progressive idea that can build up steam, with new opportunities always arising

Various teams can get involved
---
Do you see the opportunity for a refurbishment programme in your organisation? If you think IT could be a good avenue, enjoy this FREE download.