Covid-19 has reshaped the traditional office style of working and remote and hybrid ways of working are becoming normalised.
New research shows that out of 4,700 workers the majority never want to go back to the old way of working. Only 12 percent want to return to full-time office work, and 72 percent want a hybrid remote-office model in the future.
An increasing number of Warp It members are undergoing large scale changes to how they are working and this has numerous impacts on furniture and equipment needs and issues.
For example, they are undertaking large clearances to reshape and reimagine their spaces as they adopt a hybrid working approach are increasing massively. This included London Metropolitan University who unearthed thousands of stationery items in a massive clearance of their office spaces as they adopt new ways of working.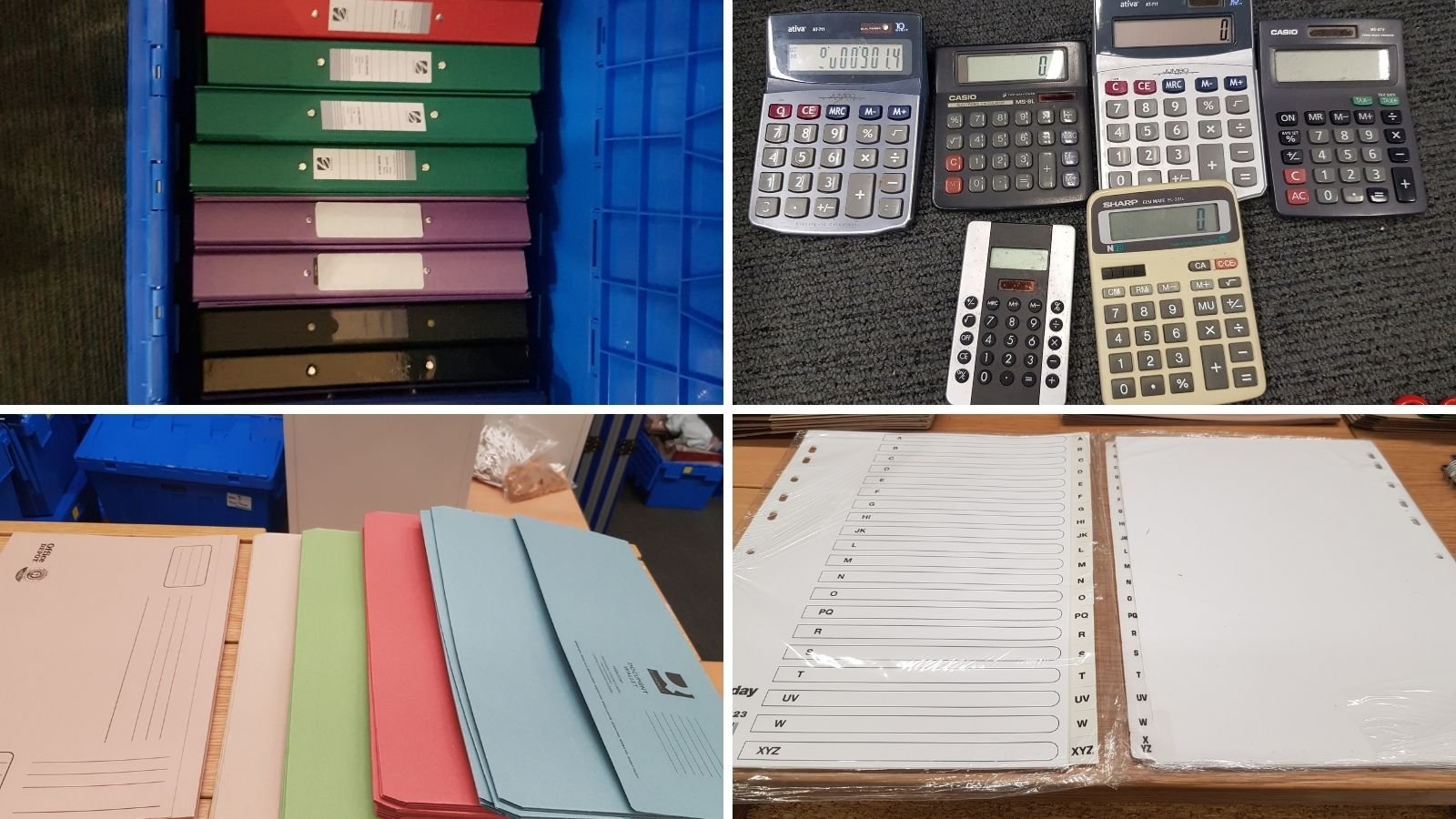 Above: London Metropolitan University unearthed thousands of stationery items in a massive clearance of their office spaces.
Meanwhile, charity and school donations have dramatically surged due to these changes in working practices, recently hitting an impressive £3.7 million.
In response, we are investigating how the Warp It community will manage the reuse of furniture, equipment in a workplace that is spread across the office, home, and remotely.
What are the key considerations?
Use of office furniture and equipment located in various locations. How will we track furniture owned by an organisation and located in staff's personal space?

Health and safety; ensuring all office furniture is fit for purpose and staff can work safely and comfortably wherever they are.

What happens to these assets when staff want to replace them? We need to ensure they are returned to the Warp It reuse system or disposed of correctly.

The need for, and how to manage, on and off-site storage of items when future policy is not clear.

What do we do with all these old redundant items which are not fit for the new way or working?



Areas of improvement within our software may include:
Sales of assets to staff and third parties

Management of stores on site and off site

Tracking assets being used as part of work from home and ensuring safety

Donations to local businesses and even householders!
Join us on Wednesday 20 October 2021 at 1.30pm for an exploration into how Warp It can help manage the transition to hybrid working. Join the meeting on your computer or mobile app here. This event is designed for Warp It admins, space managers, decant managers, and anyone interested in how furniture is being moved around to incorporate the new ways of working.