John Bailey
, Head of Sustainability at the University of London is a long time friend of ours. He has been on a cycling mission around France, with his wife Sophie and sister Julia, to raise money for their respective charities.
The team collectively raised nearly £12,000 and this article has been provided by John, whose chosen charity was Maternity Worldwide.

It makes for a fantastic read and demonstrates the amazing way they're remembering Nell and making significant difference for the charities that they support.

Thank you for sharing your story John.
On 2 December 2017 my daughter Nell was stillborn after a devastating late termination for medical reasons.

My wife and I were keen to remember her by doing something positive in her name.

We decided on a challenge, cycling across the Pyrenees over the famous Cols (French for mountain pass) that have challenged the likes of Chris Froome and Bradley Wiggins in their quest for Tour de France glory.

In total, we would cycle over 720km from Hendaye on the Atlantic coast to Cerbère and take on over 16,000m of climbing, 10s of Cols including the famous Col du Tourmalet that sits at 2,114m above sea level. We used to be keen cyclists and rode a lot before our first child was born; we are still keen, but now most of our cycling consists of going between work and nursery, and certainly not scaling mountains or doing 100s of KMs!

My wife and I chose different charities. Sophie chose to raise money for Homerton Hope, the charity that raises money for the hospital where Nell was born and where we received amazing care.

I chose to raise money for Maternity Worldwide to support the work they do in providing maternity care around the world. My sister also ran the London Marathon raising money for SANDS.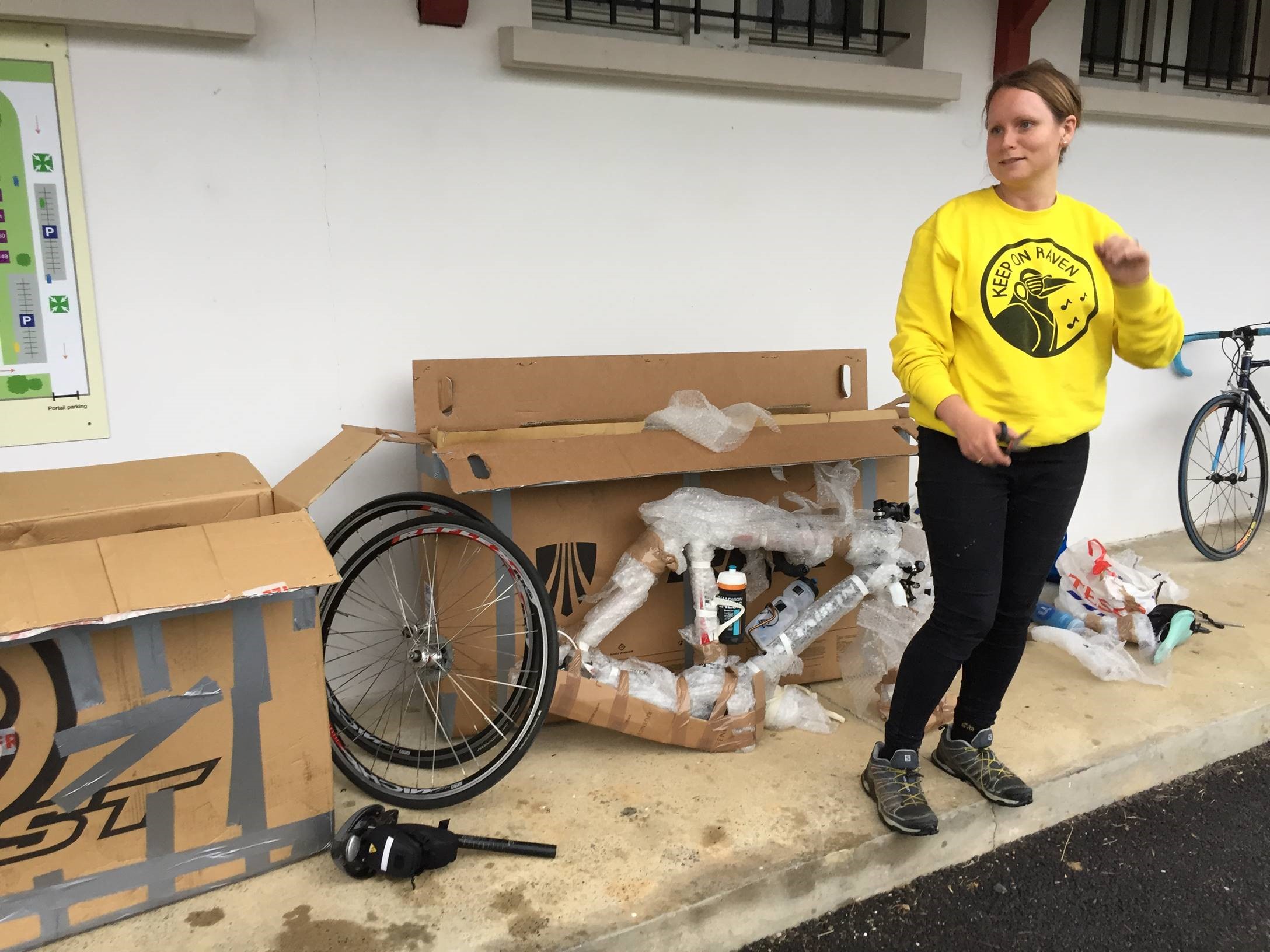 Rebuilding the bikes after the flight
We headed out to the South of France, meeting our support team consisting of my parents, their two dogs and their campervan. We pieced together our bicycles after their flight and looked in trepidation at the weather forecast which predicted heavy rain and thunderstorms for our entire journey across the Pyrenees. Despite the heavy rain throughout the night, we had some good weather in the morning as we set off for Hendaye beach, where we were starting our ride. We took our bike shoes off, dipped our toes in the Atlantic and scattered a small part of Nell's ashes in the ocean.

Hendaye Beach

Off we went on our bicycles for a relatively easy start to our 10-stage ride. We scaled the Col d'Osquich, which felt significant at the time, at 500m above sea level on stage two and made it to our planned campsites on our first two stages without any major issues.

Stage three, however, was a whole new challenge. It was the first really serious mountain climb; the Col d'Aubisque, stands at 1,709m above sea level and has over 12km of steep ascending roads to reach the top.
We suffered a puncture at a ski resort that we passed on our way up and made it to the top panting through the cold wet mist before taking refuge in the mountain top cafe for lunch and coffee. A big mistake! The weather got worse and worse. As we got back on our bicycles the rain was pouring down, the visibility had been reduced to seeing a few metres ahead and we had to descend the mountain knowing the edge of the road (with very little in the way of barriers) led to a drop of several hundred meters and near-certain death!

In the Tour de France you see the pros hurtling down these mountains at terrifying speeds; we descended nearly as slowly as we rode up!

We had planned a rest day for the next day and needed it, as we ditched our tent and booked a small cabin to warm up and dry out our clothes, the next challenge was the Col du Tourmalet, our highest mountain pass of the trip, and thankfully France gave us a few moments respite from the pouring rain and we were able to cycle the famous switchbacks to the snow-topped mountain without having to resort to our waterproofs.
It was a beautiful moment at the top of the mountain, which we reached moments before 10:27am on 2 June (six months since Nell was born). Sophie had carried some of Nell's ashes with us and we scattered these at the top, feeling immense pride that we were able to bring her to such an amazing place despite everything.

View from the top of the Col du Tourmalet
The next few days were quite similar; amazing mountain climbs, really tough cycling, beautiful scenery, and awful weather. Each night we huddled under the awning of my parents' campervan eating my mum's amazing cooking and sheltering from yet another thunderstorm. Our support team grew in numbers as we were joined by my brother and Sophie's dad, and we continued across the Pyrenees dreaming of some warm weather in the Mediterranean.

Our last really serious mountain climb would be on stage eight, the Col de Pailhères, which stands at 2,001m above sea level. This climb is a brutal, long winded ride with over 19km or uphill riding to reach the summit. Right from the start you scale switchbacks through Ax les Therms at the bottom, before you cycle alongside a picturesque mountain stream where you half expect to spot a bear fishing for leaping salmon.

We continued up, up and further up, leaving the ski resorts further down the mountain, accompanied by the sounds of cow bells rattling in the mist. As we were struggling up the last few kilometres of the climb we were joined by a pair of goldfinches who hopped and darted along the roadside just ahead of us and provided a welcome distraction from the aches and pains that had set in through my shins and thighs.

We made it to the top; there was a tiny hut that you couldn't get into and couldn't really use to shelter from the rain and cold. We put on every layer we had with us and once again descended into the mist and rain. We finally made it to our campsite where we hired a cabin; in an attempt to warm up we put on all the heaters and blew the electrics!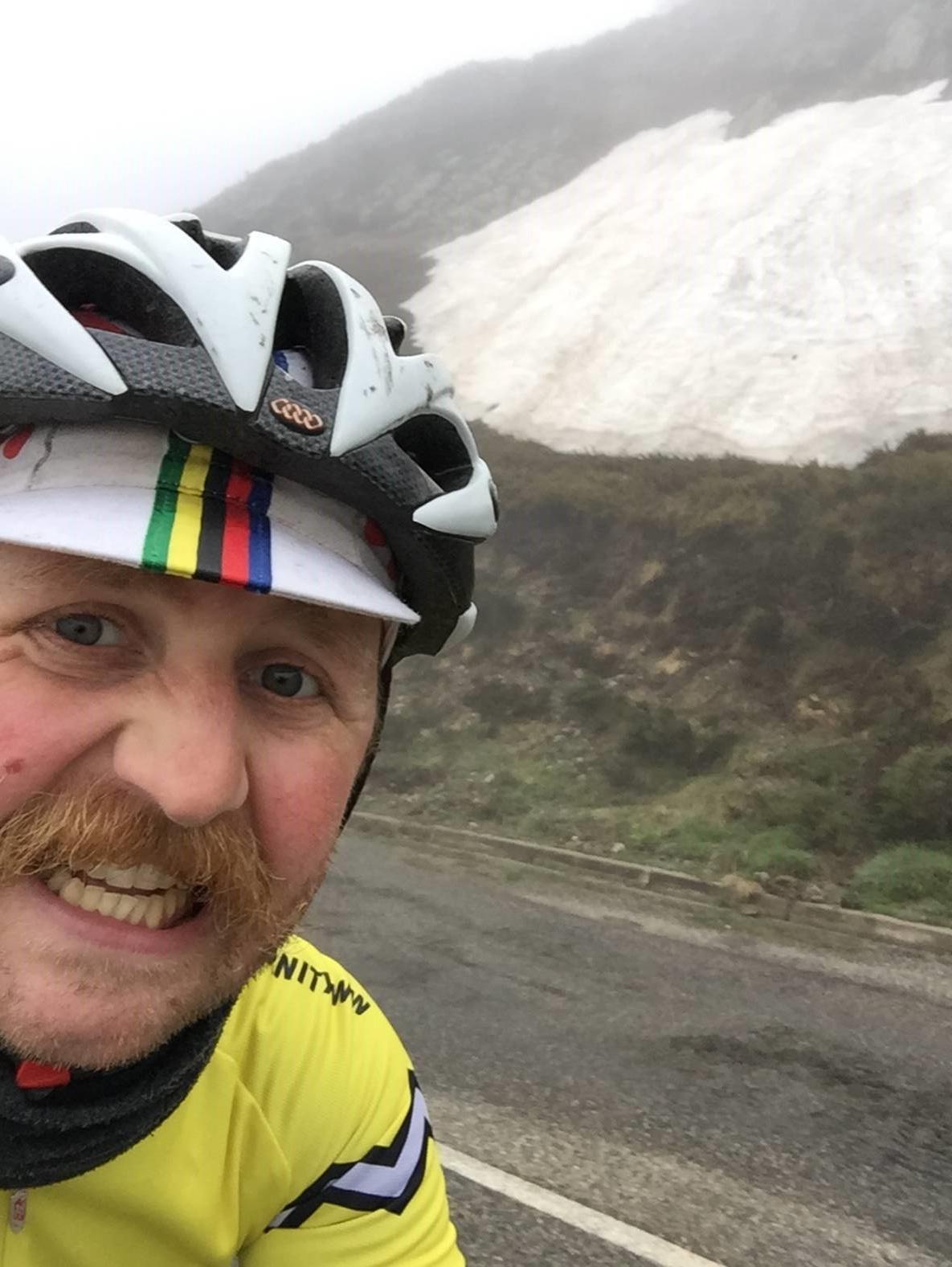 Cycling up the Col de Pailhères

Just two more stages to go: stage nine was pretty much all downhill as we headed towards the Mediterranean and we finally had a night camping without huge puddles of mud and pouring rain.
Our final stage was great, 80km in the sunshine, through the vineyards and across the coastal road to Cebere. We arrived on the beach at Cebere having completed the ride and knowing we had met our fundraising targets.
Collectively we had raised over £11,000 including £3,600 for Maternity Worldwide.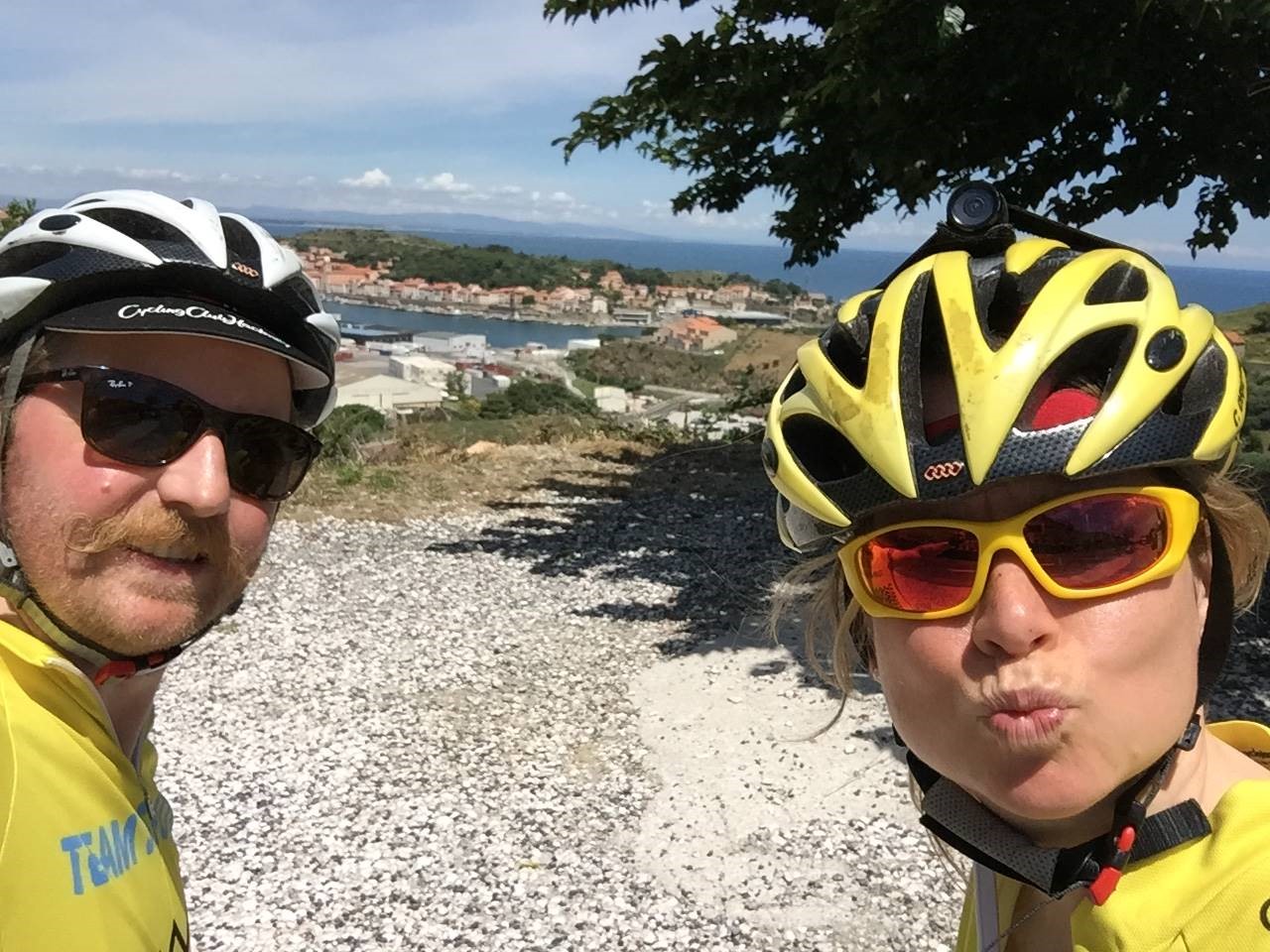 Finally, the Mediterranean!

We jumped in the sea and toasted our success with a glass of champagne served in a plastic tumbler! What a ride. Despite the terrible weather we had an amazing time and will enjoy watching the pros tackle many of the same climbs in the Tour de France in years to come.
But most importantly we found a way to celebrate and remember our daughter, while raising money for some fantastic charities.

Thank you everyone!