We've seen our partners do amazing things, such as win national awards, save tens of thousands of pounds worth of equipment from going to landfill, and put together incredible reuse networks that encourage people to share.
In this case study, we are going to look at one network that has done all of these things, and more. We are talking about The Sunderland Partnership.

Contents
Vision,

Size of partnership, current activity

Results

Charitable behaviour

Awards

Benefits

Conclusion
Vision for the project
The Sunderland Partnership is comprised of private, public and third sector organisations throughout the City of Sunderland who hold a shared vision for a better future. Back in 2010, Sunderland City Council faced a huge restructure that led to significant building closures and service changes. As offices were decommissioned, large quantities of furniture sat obsolete. To prevent these items from being doomed to the landfill, the council joined forces with Warp It, and together we got to work.
Did you know? In the first nine months using Warp It, Sunderland City Council saved more than £45,000 in cost savings alone!
Continuing the fine initial work, The Sunderland Partnership saw there was an opportunity to bring greater benefits to more people in the community by leveraging Warp It as a tool for creating a sharing network. In this network vision, members would reduce waste, costs and carbon by swapping, loaning and donating resources such as office furniture, electrical equipment, stationery, consumables and technical equipment.
The Sunderland Partnership
A regional shared asset network like this can really spread like wildfire if everything is done right. Thankfully, Sunderland have been thoughtful and pragmatic in their approach, allowing the partnership to flourish, with the network having hundreds of members. The partnership can count on more than 370 charities and 300 schools on the system.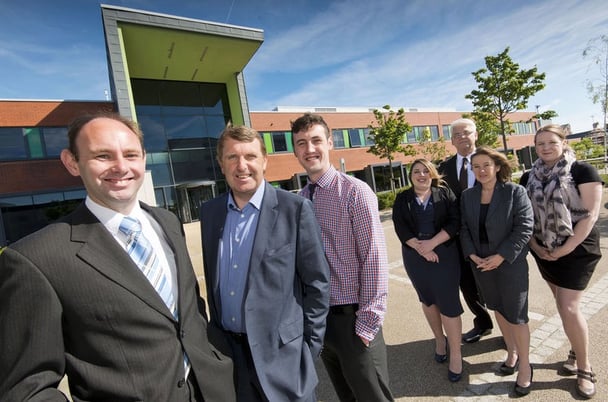 Members of the Sunderland Partnership L-R;
Michael Foster – University of Sunderland
Ken Bremner – CEO of Sunderland NHS Foundation
Councillor Michael Mordey – Sunderland City Council
Dianne Pattison – Sunderland City Council
John Smith – Warp It Coordinator (Funded by Partnership and University)
Jessica May – Sunderland City Council
Claire Mather – University of Sunderland
Warp It was embedded on a city-wide system that covers the council, hospitals, university offices, schools and third sector organisations. All staff in these organisations are granted access and are encouraged to view and use Warp It as an alternative route for procurement and disposal.
Results from the network
In the first nine months of using Warp It, Sunderland Partnership saved £45,000 on avoided costs. The total number of Warp It partners in the city exceeded 400.
The partnership has seen around 50 tonnes worth of surplus assets avoid being sent to landfill, 4,500 tonnes of waste prevented in the supply chain and an impressive 185 tonnes of carbon emissions avoided from entering the atmosphere.
On our league tables, Sunderland City Council are among the most successful organisations, coming in first place for total savings (£507,000+) and total savings by member (John Smith, £282,698), They also rank in second place for their 147.5X return on investment, sixth place for carbon saved (221,549kg) and sixth place for waste avoided, with a staggering 76,297kg.
Charitable actions
One of the main benefactors of the Sunderland Partnership is Voluntary & Community Action Sunderland, an outfit designed to strengthen support for charities, other voluntary organisations and community groups. Incredibly, they have saved over £57,000 thanks to the Sunderland Partnership, allowing them to assist their local communities through training, support and development. More than 300 members of VCAS have already signed up to Warp It to aid their organisation, and thanks to the Sunderland Partnership they're making a big difference!
Sunderland City Council also managed £25,000 in donations to local charities.
Talking about charitable donation of surplus assets, The University of Sunderland are our 2nd top donator of assets to charity out of the whole Warp It network! Donating 65K of assets into local charities!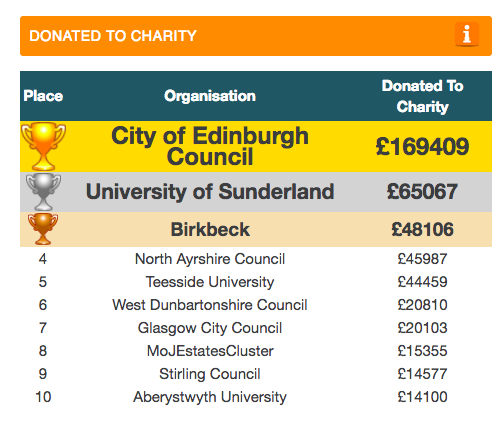 Award-winning idea
In 2013, the partnership formed between Warp It and Sunderland City Council was nationally awarded the Compact Innovation Award for reducing waste through collaboration. From this success, the Sunderland Partnership was a finalist in 2015 in the Cities and Regions Circular Economy Awards- The Circulars. A huge commendation also came from the very hotly contested National Recycling Partnership Awards.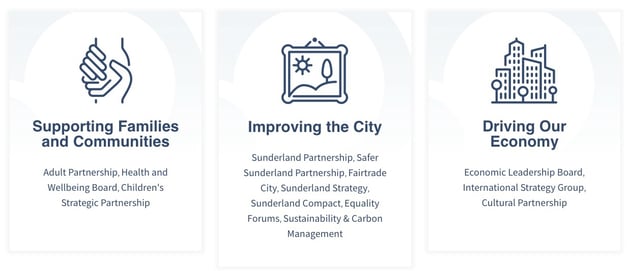 Current-day benefits
Willingness to join Warp It if you're an organisation in Sunderland must be at an all time high, as the partnership goes from success to success. As our tool is offered for free to charities and voluntary organisations, we continue to see them join the roughly 450 members in the Sunderland Partnership. We are convinced that by joining forces and working as a unit, the collaborative merits we can achieve will far outweigh what is possible by working in individual units. The model that was first implemented here in Sunderland has also been taken on in cities right across the UK and abroad. One great example is in Glasgow, where the Glasgow Asset Share Group are successfully creating their own version of the partnership, and on a larger scale.
Conclusion
Members of the Sunderland Partnership, like hospitals, school, universities and the council had always expressed a desire to reduce waste, carbon emissions and expenditure, but it wasn't until they created a unison with each other, and by using Warp It's online reuse portal that the results were realized.
---
Ready to take your charitable behaviour to the next level and support the sharing economy?