Create an inter sectoral, town, city and region wide marketplace; so that stakeholders can swap and trade surplus assets- everyone benefits.
---
STPs are about improving health and care in practical ways through local collaboration.
The NHS is one of Britain's proudest achievements. And today its staff do a superb job treating record numbers of patients.
Since 1948, the NHS has constantly adapted itself and it must continue to do so as the world and our health needs also change.
---
This is why the NHS , the community sector and local councils have come together in 44 areas covering all of England to develop proposals to improve health and care. They have formed new partnerships – known as sustainability and transformation partnerships (STP) – to plan jointly.
Proposals have been published for every part of England.

The proposals include practical changes to improve patients' lives.

The proposals are based on local knowledge about the priorities and challenges in different parts of the country.
---
How does Warp It help STPs?
Warp It helps on a few counts by making the reuse and redistribution of surplus assets better.
Creates a inter sectoral town city and region wide marketplace so that stakeholders get swap and trade surplus assets
Makes collaboration easier
Helps save money in procurement which can be better spent elsewhere
Helps to improve estates management by reducing waste and liberating space- better management of the estate in other words.
Gives STPs an easy win to demonstrate the value of collaboration and thus get more buy in and support for the STP
Warp It helps organisations to collaborate by making it easy to swap and share surplus assets with each other.
For example one Council might be throwing out some care equipment when another hospital could use it.
The system helps institutions like Trusts, Universities , voluntary sector , Council and central government get and give surplus assets to each other- helping to build up collaboration capacity and trust between organisations.
The types of assets that get swapped within and between Trusts and other agencies include:
Furniture
Stationery
Medical equipment
Clinical supplies
Lab equipment
any tangible assets!
A great example was when NHS South London and Maudsley need to dispose of 40 large waste bins. They were snapped up by NHS Tayside. NHS Tayside saved £15K as a result of this trade!
Other examples include trades between the NHS and universities and NHS and Central Gov.
Shrewsbury and Telford NHS Trust have just claimed £4K worth of furniture of the Ministry Of Justice for their Renal Ward.
Take a look what is available on the site now- all available to Trusts for free.
The system also helps Trusts who are merging in departments or units to make sure that they are using their surplus assets correctly.
This saves money on procurement and facilities management and so these savings can reduce the costs of facility management and procurement and in the end diverting savings into front line care.
In summary we help the NHS to collaborate and use it's land and buildings better- saving money, maximising asset value and liberating space.
Evidence
The system is already used across 20% of the NHS, so is well proven.
For example: Across 8 partnership NHS organisations in Scotland the following savings have been accrued in 3 years;
 £1,262,569 of cost avoidance on £35K investment
 4286 users
 £6,790 donated to charity
 £13,563 donated between boards and the rest of the public sector
 £46,639 in asset value claimed from other institutions
In the City of Sunderland partners have saved over £1million by sharing surplus assets. You can see the Trust Chief Exec talking about the service below.
You can see the Group Deputy Chief Executive of Royal Free NHS Talk about the service below.
Top 20 performing Trusts on the system
Some examples of our very top performers can be found here.
You can download the savings data of our Top 20 performing NHS Trusts here.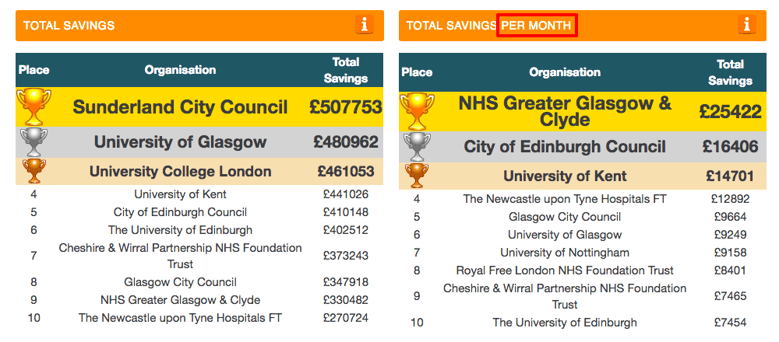 What now?
If this is something that you want to bring to the attention of your STP you might want to consider inviting us in to talk to your facilities , procurement, asset management or collaboration sub committees.
Of course you will want to discuss this with us first and so please let us know when to call you to discuss right there. The conversation should take around 10 mins and you will understand in more depth how we can help your particular STP.

---