Amazing! Had a lot of good feedback from our staff and we have started saving here at Royal Free Hospital NHS.
This signpost article will give you a brief overlook of some of the NHS articles and case studies we've put together, allowing you to see how Warp It helps health bodies. By reading through each of these articles, you will be able to:
Understand how reuse helps save your healthcare organisation money by facilitating and tracking the internal redistribution of surplus assets

Understand how Warp It helps health agencies collaborate together- to swap and trade surplus assets across the sector

Understand how Warp It can help the health sector link up woth other sectors to collaborate on surplus assets

Read first hand accounts of those who set up and/or manage a NHS reuse program

Position yourself to predict potential savings

See the challenges faced, and how they are overcome

See a massive reduction in procurement spend
Understand how to reduce disposal costs
Understand how to

f

ree up space
Understand how to

how to r

educe unnecessary purchase orders
To read all of our NHS case studies click here.
Here are some of the main benefits of reuse Warp It for the NHS
Save time and increase departmental collaboration: Create central visible inventory of your current and future surplus items. This will save money and time as staff can check what is available online without sending hundreds of emails or having to visit a store area. Take a tour of Warp It.
Sustainable building clearance: Manage building / room clearances better by pre loading assets before the move. Staff can then see what is available in the future- planning procurement needs, and then assets are transferring to new owners on the clearance date- reducing waste costs.
Save time and reduce reliance on store areas: Matching donors to recipients in real time or in the future. This prevents double handling moving the item from A to B rather than into a store area or worse a skip/dumpster. More about double handling here.
Save money: Reduction in procurement and waste costs as well as admin time. See the savings league and view how much is being saved.
Improve collaboration in the sector and beyond. It is possible to set up local regional and national reuse network. Safe and legal donation of unwanted stock to other heath agencies, charity and schools. Trade with other organisations, view the collaboration tour here.
Visit each of the articles in a new window by clicking the hyperlinked titles:
For this article, we interviewed Alex Fowler, the Environmental and Sustainability manager at the organisation, to talk about their rollout and implementation of Warp It.
"Well when I was thinking about going with Warp It, I raised the idea with the Chief Executive and Chair of the Board. They gave their verbal approvals straight away, and then I went for it. I got the right people in a room, so, procurement, hotel services, facilities, and one of the staff governors who was really keen to run with the idea. Having the top down approval put everything into place because everyone was already onboard. Once the senior level start pushing it, you can't really stop it, so that was a big help. We can move quickly in healthcare when we we see obvious benefits!"
For this article we welcomed Ruth Innes, Environmental and Sustainability Support Manager at NHS Highland, to discuss reuse, communications, mentality change, deliveries and more.

Ruth, your communications team do a great job, how did you get them on board so well?
"They're just very, very good and always keen to help spread a good news story. They have really got behind the promotion of Warp It.
Back in the beginning I asked if they could do an initial story about the Warp It reuse system and they were very supportive. That's just over a year now, We weren't sure how it would all go and I said at the time if we saved £12,000 in our first year, we would be absolutely delighted with that. We've completely blown that, we're sitting at £121,000 now after 2 years! We're really delighted with it. It worked. Our staff have really got involved in reuse. (Note: You can download comms support templates here)"
NHS Grampian- Rural and city based healthcare reuse.
This project is led by the waste management officer. We interviewed Neil to discuss the problems that he faced in his role, and how he went on a one-man mission to get Warp It introduced, seeking senior commitment and growing staff support.
So, once you saw the problem, how did you start tackling it?
"Well, I'm a kind of one man show here, so my priority was to get people recycling, because there wasn't really any recycling, or very few places had it, so I was trying to concentrate on implementing that. It also goes hand in hand with reuse. You can encourage reuse through general recycling, one leads to another, and when you start looking at bigger items needing to be recycled or reused, that's when you can start visualising the process. Then I was introduced to Warp It by Wendy Rayner, sustainability manager and facilities directorate at NHS Services Scotland."
NHS Tayside- central hospital site.
The Procurement Department have taken up the mantle in this example. This case study takes an indepth look at carbon emissions, wastefulness and making significant change in the NHS, especially in regards to the supply chain.
Highlighting some of the benefits, Andy Hay of NHS Lothian and NHS Tayside says:
"The system lets people do the sharing without needing a matchmaker, or a warehouse. It shows that we intend to reuse which is a key part of the Procurement Journey. When staff want to buy something we want them to think, 'do I need to buy this in the first place?'"
The environment department are responsible for reuse in this example. The Cheshire and Wirral Partnership has over 15,000 trust members and around 4,000 staff across 95 sites, making this case study an invaluable resource of what can be achieved over numerous sites and with a large amount of users on Warp It.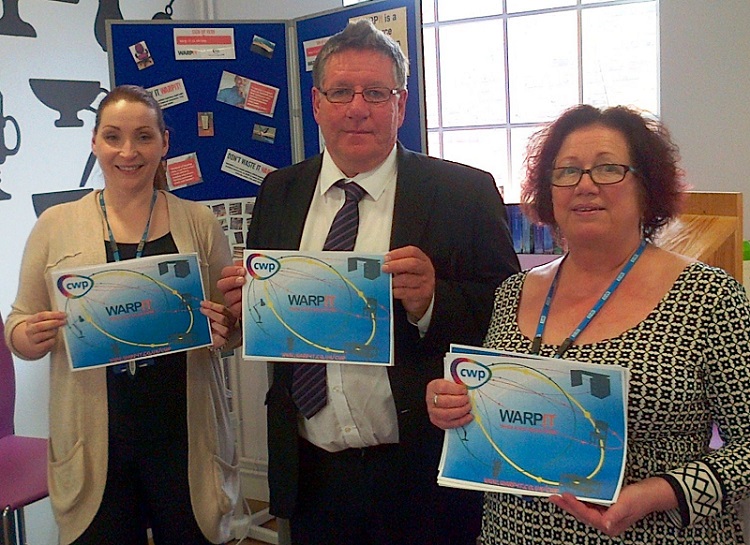 With huge carbon reduction savings and financial savings of around £5,000 a month, Director of Operations Andy Styring was happy to add:
"In these times of improved efficiencies, organisations are learning how important it is to get maximum value out of their resources, and being an environmentally conscious Trust, CWP is always looking for innovative methods to enable us to realise our corporate responsibility goals. Warp it addresses both of these issues and the resulting savings and benefits can be clearly identified and are measurable."
The view from a porter. NHS Humberside
Iain Sommerville explains how he is saving time and space by better reuse
"Warp It has really helped us with the technology side of things, allowing us to list items on a web page. It's a lot better than before, people can see items online instead of having to leave their desks to do viewings in person. This has taken a lot of pressure off of us."
We spoke with Luke Champion from 2Gether NHS trust, a mental health and disability learning service in Gloucestershire and Herefordshire, about moving over to Warp It and why it helped. In this article you will learn about:
Why spreadsheet reuse systems are designed to fail
Why having the biggest car puts you at risk in the early stages of reuse
Why preparing the business case for reuse will win you support from senior management
Luke also told us: "They (projects team) would assume that, "Oh, yeah. We'll just get a skip." That was the automatic answer for many, many people. They'd say, "Oh, yeah, Luke. We'll just get a skip." I would reply, "What do you mean a skip? We can't do that." Then I started talking to everyone, saying, "Do we still use skips for this sort of thing?" They'd agree, "Well, we don't have to. Can we try something different?" Then I started thinking, well half the stuff that's probably in the skip doesn't need to be there. Can we think of some other systems?"
Customer endorsements
"The system lets people do the sharing without needing a matchmaker, or a warehouse.
It shows that we intend to reuse which is a key part of the Procurement Journey.
When staff want to buy something we want them to think "Do I need to buy this in the first place?"

- Andy Hay
Procurement Lead
NHS Scotland

"It is saving us work, because we were operating a more ad hoc email system before. Now people can visualize things – they can see the pictures – and it is so easy to understand, it is really self-sufficient. It cuts down on our storage, moving and handling requirements.
Staff say,'Shall we Warp It?' It has even become a verb!"

- Ian Hankinson
Operations Services Manager
Greater Manchester West Mental HealthTrust
I'm happy with Warp It and it's made my work life easier by being able to supply many staff with items they wouldn't be able to purchase normally, I get a lot of positive feedback.
- Jeannie Metcalfe-Hall
Cheshire & Wirral Partnership NHS Foundation Trust
Warp It has been absolutely fantastic for our Trust - we made our money back easily during our pilot. Our admin function takes an hour a week or less, and we have had a lot of positive feedback from users. They have been pleased with how simple it is to use and they are grateful that Warp It is there when budgets run dry!
- Nick Fayers
Nottinghamshire Healthcare NHS
The service is a huge advantage for any institution and helps reduce waste, cost and allows you to free up space which is a massive premium in most offices.
- Yashir Atewala
Imperial College
This is a fantastic service that saves much needed cash. Staff should be encouraged to check this website before ordering any office supplies. Thank you
- Manar Elkhazindar
NHS Highland
This is such a brilliant cost saving site and it's also good to know that items you no longer require are useful to someone else with no additional costs to either party.
- Morven Weir,
NHS Highland
To read all of our NHS case studies click here.