---
In this article we welcome Rachael Moses, Consultant Respiratory Physiotherapist at Lancashire Teaching Hospitals, to talk about her recent triumph and award in the field of sustainability.
Rachael is very accomplished in her field and will shed some light on
Introducing new ideas and technologies
Changing mindset and working with difficult people
Taking advantage of great opportunities
The importance of being a pioneer and driving culture change
Managing people through operations change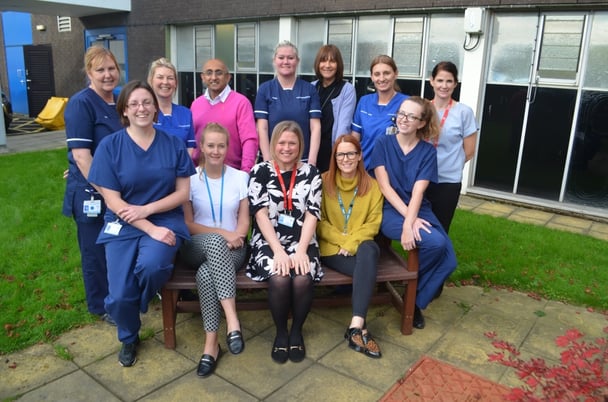 Hi Rachael, you were a winner of a sustainability award recently, can you tell us about that?
Basically, we care for people that need support with their breathing. They need ventilators to support the muscles of breathing, and obviously that means they're pretty unwell, with long term conditions. The devices that we use are becoming more advanced, allowing us to remotely monitor what's going on with ventilators in someone's home. Using that latest technology, the aim is that if someone has a bad night or is not feeling well, you can log on to the actual device through a cloud based platform.
What does this allow you to do?
You can not only see what's going on because a patient will be telling you, 'this is happening, that is happening', but you can actually get diagnostic data off the machine, remotely. Have you heard of telehealth? That's when people take their blood pressure at home or their oxygen levels at home, well this is like the next generation of telehealth. We call it remote monitoring, because we're not looking any patient diagnostics, we're looking at the ventilators themselves.
This is just in Lancashire? Or do you offer the service further?
With regards to our service, we cover a geographically diverse area, Lancashire and South Cumbria, and a lot of our patients live in very remote areas. We've got one lady that lives two miles up a hill in a farmhouse. She's got generators, but has power cuts, and she's got a very advanced respiratory disease, secondary to motor neurone disease. So to be able to get her physically into hospital is challenging. So, we started to think about how using this remote monitoring technology can help with isolated vulnerable patients. We now have about 200 patients on this system.
So then you began to see opportunities for sustainability through this project?
We started to think about what benefits it could have, mostly through reduced transport. I sit on the British Thoracic Society council, that's quite a big organisation in the UK for respiratory clinicians, and one of the things we've been talking about is climate change and how air quality affects lung health. That got me thinking that if we reduce the amount of travel that we do to see patients, can our service impact global health and in particular our carbon footprint?
The work we've done was looking at the reduction of our CO2 emissions through travel, and therefore our carbon footprint within our service. Very simply, by being able to use the remote system and have a telephone or Skype consultation with the patient means we don't have to go and see them. We could get them to have prescription medications at home, like antibiotics, and tell them to start taking them if needed. It prevents the patient having to come to hospital and it prevents us going to them, so it prevents all that mileage and carbon emissions.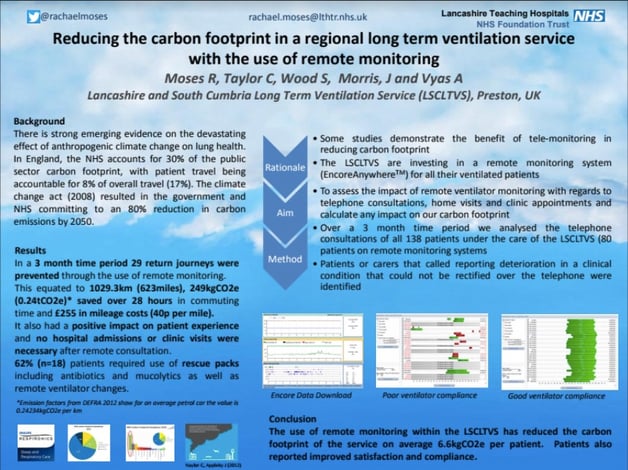 Do you think this way of remote monitoring is something that can be done throughout the NHS to help reduce carbon footprint, or is it best only for ventilation?
Essentially, 'Is this just a niche market within ventilation?'. Well, there are thousands of patients in the UK on home ventilation. If a fraction of these patients could be managed like that, then potentially by 2020 we will have a very clear sustainability plan for ventilation teams and how they can actively support the Climate Change Act.
Do you think the delivery of healthcare is going to be revolutionised by remote technologies?
If you think from a patient point of view, they dont always want to come to hospital, especially if they are breathless and have complex disabilities. Also, there are external challenges, such as car parking, financial cost, ambulance transport, and often coming to appointments needs careful planning. The problem is when someone's dependent on a ventilator to breathe and they're telling me they're not well, it's really risky to physically move them. Using Skype or FaceTime also relies on the patient being able to do it, but you'd be amazed how many older people have iPhones and FaceTime now!
Essentially, when we log on remotely we are looking at real time data, actually physically being able to eyeball the patient is no different really from them being sat in front of a screen. The one thing you can't do is perform tests for them, but with our patients, to be honest, the majority of what you do would be based on your assessment rather than what any blood test tells you.
Interesting, it's clearly a good option for patients to be treated remotely, but does this impact on doctors? Have there been any other objectors?
When a patient comes into hospital to a clinic appointment there is a tariff, so its income generation for the service. This means that if you don't have a physical consultation with a patient, your service will lose income. What you can do is set up a different charge so that you can claim money for that time to avoid working for free. Obviously it has barriers that come with it, because you need the support of your finance teams, but the commissioners are generally supportive of anything that improves patient care and outcome. From a patient perspective, some didn't like the concept of remote monitoring because they felt like they were being watched, but this was less than 2% of all our patients.

Savings made through Warp-it as of January 2018, for up to date metrics see here
How long do you think it will take for behavioural or cultural change to adapt to this technology?
I think probably a twelve month period. We started to trial the remote monitoring first and just expected some potential benefits, and over the three month period, when we had about 80 patients on the remote monitoring, we then started to really assess the impact that it had in terms of admission avoidance and saved travel time. The other thing to know is the associated costs with the remote monitoring, but in terms of that, different companies charge anything from about two to three hundred pounds for a three year package. That's for the data. You buy data, but the biggest thing with it is the patients have to have wifi, you also have to have a 3G signal or a 4G signal. If there's no access to the 'cloud' in that area then remote monitoring just won't work.
Technological advancements are helping all industries, such as health, transport, communications, and in Warp It's case, reuse. What we love about Rachael's story is that they realised they were helping the environment as a by-product of their change of activities after they'd already started. For most businesses, helping the environment is a conscious act and a driver of change, so this story serves as proof that the most efficient and streamlined method can also be the most sustainable. Thanks for sharing Rachael!
---
Bringing new ideas to the table can be daunting, so why not learn how to build a supportive team? Use the FREE download below!