Temple University has only recently set up it's surplus program and so we get some new insights in this case study. This is another look at how they do surplus in the US. Temple University are not a Warp It customer but we present this information so that we can all learn from their experiences.
Temple University was founded in 1884 by Baptist Minister Russell Conwell. The university is currently known as a noteworthy provider of professional education in areas such as law, medicine, podiatry, pharmacy, dentistry, or architecture. In 2016, over 39,500 undergraduate, graduate, and professional students were enrolled in over 400 academic degree programs offered at seven campuses and sites in Pennsylvania, and international campuses in Rome, Tokyo, Singapore and London.
As one of the nation's leading research universities, Temple University is not only focused on providing its students with state of the art technologies and resources that cater to their learning styles, but also cares about sustainable development and environment protection. Their Surplus Property Program abides by its sustainability vision that encourages recycling and supports the resale of used university property in order to prolong furniture life and decrease landfill waste.
The Surplus Department has recently started and has three student employees and has an established budget of $100,000 for the first year. They're expecting to become self-sustainable and to have a local store in the near future. During the three months since the department started its activity, it generated around $20,000 by selling approximately 400 items through their website and other sources. The surplus warehouse is off-campus, visits to see the items are not allowed, and they can only be seen on the website. There is a section for the Temple community that is accessed by password where items are put up for auction and sold to the highest bidder, but after 10 days they become available to the general public.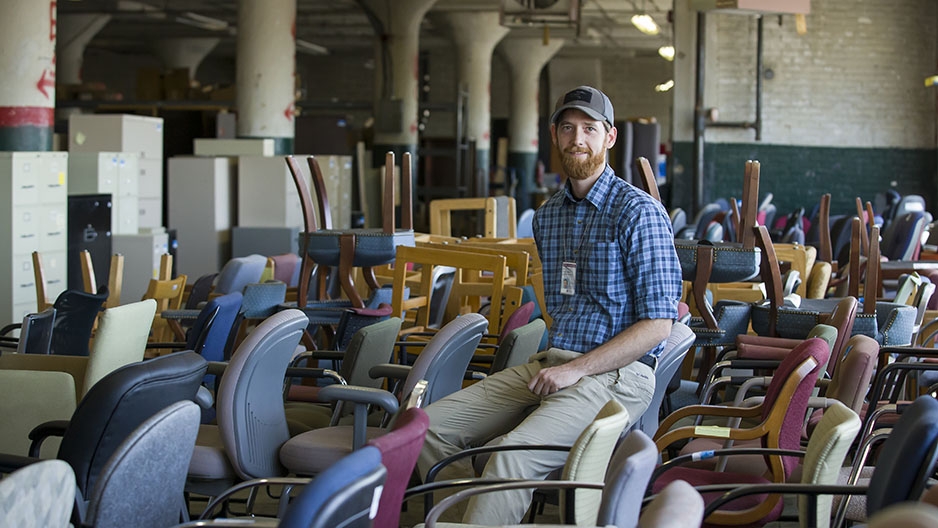 Photography By:

Betsy Manning;

Eric Grzybowski, Temple's surplus property coordinator, manages the various incoming and outgoing items at the university's North Philadelphia warehouse.
Mark Gottlieb is the Associate Director for the Operations and Logistics department at Temple University and he is also responsible for its surplus department. Under his supervision, the department manages everything from equipment or non-equipment collection to triage, evaluating items and deciding which ones have value and can generate income and what can be donated to third party charity organisations. Talking about this process, Mark said: "No matter what it looks like, no matter what condition it is I'm going try to sell it. So that way I'm learning what's really the marketplace out there."
If the items aren't transactional then they are donated to developing or third world countries through a network of third party charities or nonprofits that ship them overseas at their own expense. It can be anything from medical supplies and lab equipment like centrifuges, baths or incubators to beds and mattresses. In Mark's opinion: "The challenge is finding the right market because it's an ongoing thing where all these different items have to find the best marketplace for them."
However, the main goal is to keep them out of landfill and minimise waste; if no one wants the items, they will be passed on to third party vendors who will recycle them and pay the university a small amount of money in exchange.
In terms of selling procedures, the surplus department only sells university-owned items and if an item is purchased by a student, faculty staff member or department, a portion of the income is then returned to the applicable department.
Items with a value of more than $5,000 need n authorisation from Cost and Property Accounting (C&PA) before they can be sold, donated or disposed of, while items below that threshold can be sold directly by surplus sales with the approval of the appropriate department. Other departments of the university have priority when it comes to purchasing items and sales to a department inside the university are free in order to reduce the outlay of cash to buy new furniture. The only thing the department getting the furniture needs to pay is the cost of moving the item to their office.
Students and faculty staff members have 60 calendar days from delivery to purchase any items on sale. However, individuals are allowed only one purchase per semester. After that, if the items don't sell they enter a disposal period where they can be donated or disposed. Surplus sales does not accept cash under any circumstances and all transactions with the Temple community are completed using the Diamond Dollars system at time of pick-up.
Temple University generates a large amount of surplus inventory due to its size and its need to be on the cutting edge as a research facility, but also focuses on recycling and waste diversion of surplus inventory, such as clinical and laboratory materials, major appliances, furniture, research equipment, and electronics.
Talking about the benefits of his job, Mark said: "The best part about my job is the satisfaction that we're reusing the material that was otherwise just thrown away. In some way, we're contributing to the viability of the university by redirecting resources to where they should be, which is academics not garbage."
There's a great article here about the Temple Surplus Programme.
Thankyou Mark for being so generous with your time and sharing your experiences.