Your membership is increasing and items are getting added to the system....great!! We are improving our category and sub-category listings and it would be great to let your members know that it is so important to place their items carefully. The wrong sub-category can mean a big discrepancy in your savings metrics. You could be losing out just as easily as having your savings inflated.
Adding an item
We all know when adding your item you can give it a really great catchy title..."amazingly comfortable chair"..."best hole punch ever" for example (obviously there will be better ones out there 😆). Then comes the category. I think this should be fairly self-explanatory. Here are the categories we currently have...in no particular order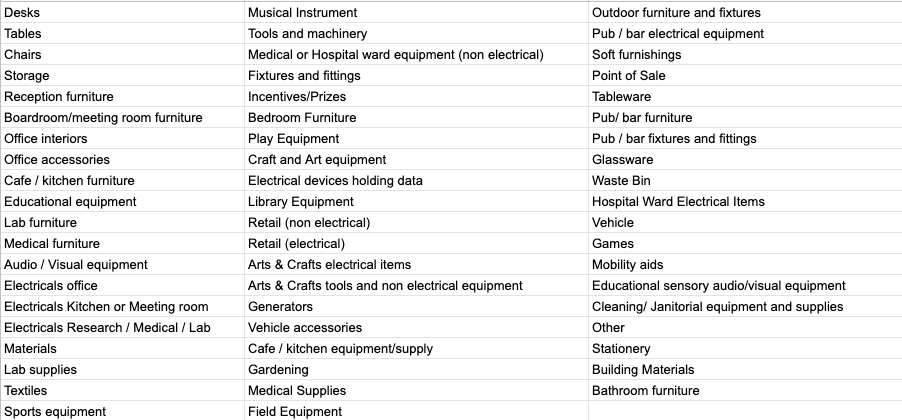 Then comes the sub-category and you will know we have a lot to choose from! I am going to use Stationery as an example. When adding, say envelopes, it is important that you check the options i.e. size of envelope and quantity (A4, C5, DL) Replacement cost are very different between the options. Another example would be A4 paper...have you got a ream or a box of 5? If you have 2 reams you would add this under ream of paper with two available.
Have a go
Are you still with me? If you could do a simple exercise to familiarise yourselves with what your standard users are seeing when adding an item. Log into your account, standard or admin, and go to the blue box headed 'Items' and sub-heading 'Add an item'. Go through the motions of adding an item, stationery is a great example of how many options there are, you don't have to save the item but just for familiarity.
If you really cannot find what you are looking for!
If your members really cannot see what they are looking for it is super important that they do not add it to the closest option. The system will be cluttered with mis-categorised items and we won't be adding the categories that you do need. What to do in this situation is to correctly categorise the item and then opt for "other' in the sub-category section. These "other' listings are sent through to my colleague Amy to review and add a category if required.
You can never add too much information
Ideally each listing will have a descriptive title, dimensions (super important with furniture), condition, at least one picture when it is a large item (our image library is pretty comprehensive so if it is a standard items choose one form there), and any notes (if needed).
Work in progress
As you can imagine the task of updating the sub-categories and ensuring there are plenty of options and the replacement values are realistic is ginormous! So, while we are working on improving please could you share this blog post with your members to emphasise the importance of categorising.
Thank you 🎅