We've got a feature that we want to talk to you about.
It's a feature that often gets overlooked, but it's something that we included in the system after some great feedback from our customers.
Note: This article is aimed at admins.
What is it?
If you click into you 'Active Items' this will display all of the items that are currently live on the system, and this will be displayed in a vertical format known as the 'List View', with each listing showing you the item name, reference, user who uploaded it, it's location, and the 'advertise from' and expiration dates.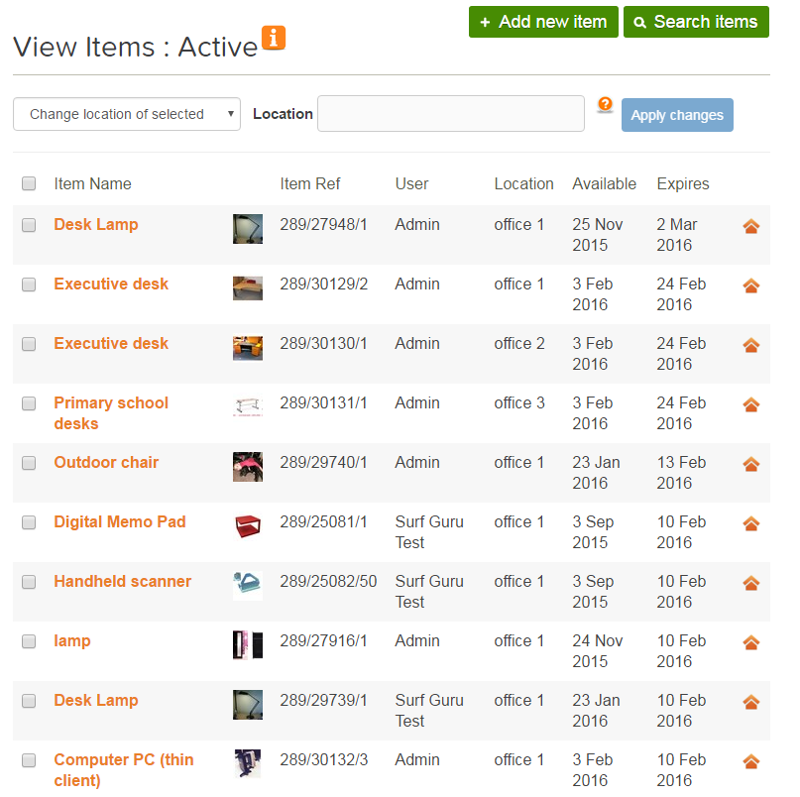 What can the admin do here?
In this page, the admin has three functions that are not available to general users, they are:
Delete items
Edit items (change their category, location, images, PAT testing status)
Re-list items (make them available again after expiring)
They can make these actions either by clicking into the item name or by clicking on the little orange house on the far right of the listing. See in the image below.
What else can the admin do?
Another way this feature supports admin is to bulk process items whilst in the list view, saving lots of time. Simply tick the boxes on the left-hand side for the items that you wish to edit, then select the drop-down box and change the relevant details.
Note: All ticked items will change as uniform.
This could be very useful, for example, if certain items have been moved to a different location and that information needs to be updated quickly.


How can I learn more about this feature?
Daniel has recorded a great video walking you through the bulk processing feature in list view. It's just over a minute long and it's very simple, so don't worry if you're not very technical or technological!
---
Managed to edit your items?
Now shout about them!