We are here to tell you about a new feature we've recently added to the Warp It reuse platform.
What is it?
We have introduced a new pop up message for when anyone from a 3rd party organisation claims assets from your organisation.
What is the the problem we are seeking to solve?
Sometimes other organisations make claims and then do not collect. We want to minimise the chances of this happening.
Why? Because if someone doesn't show up to collect after making a claim, it means someone else misses out on the asset (and that's no good is it)!
What is the new feature?
There is a pop up which says:
"You are claiming an item from [organisation name]. The item is located at [insert location from the location details on the record]. Please be aware that you are going to have to arrange the collection of the item. Please only claim this item if you can arrange a collection. If you are not certain, use the back button to send a question to the owner to make arrangements." Click "Yes I want to claim the item" Or "No, I want to ask a question".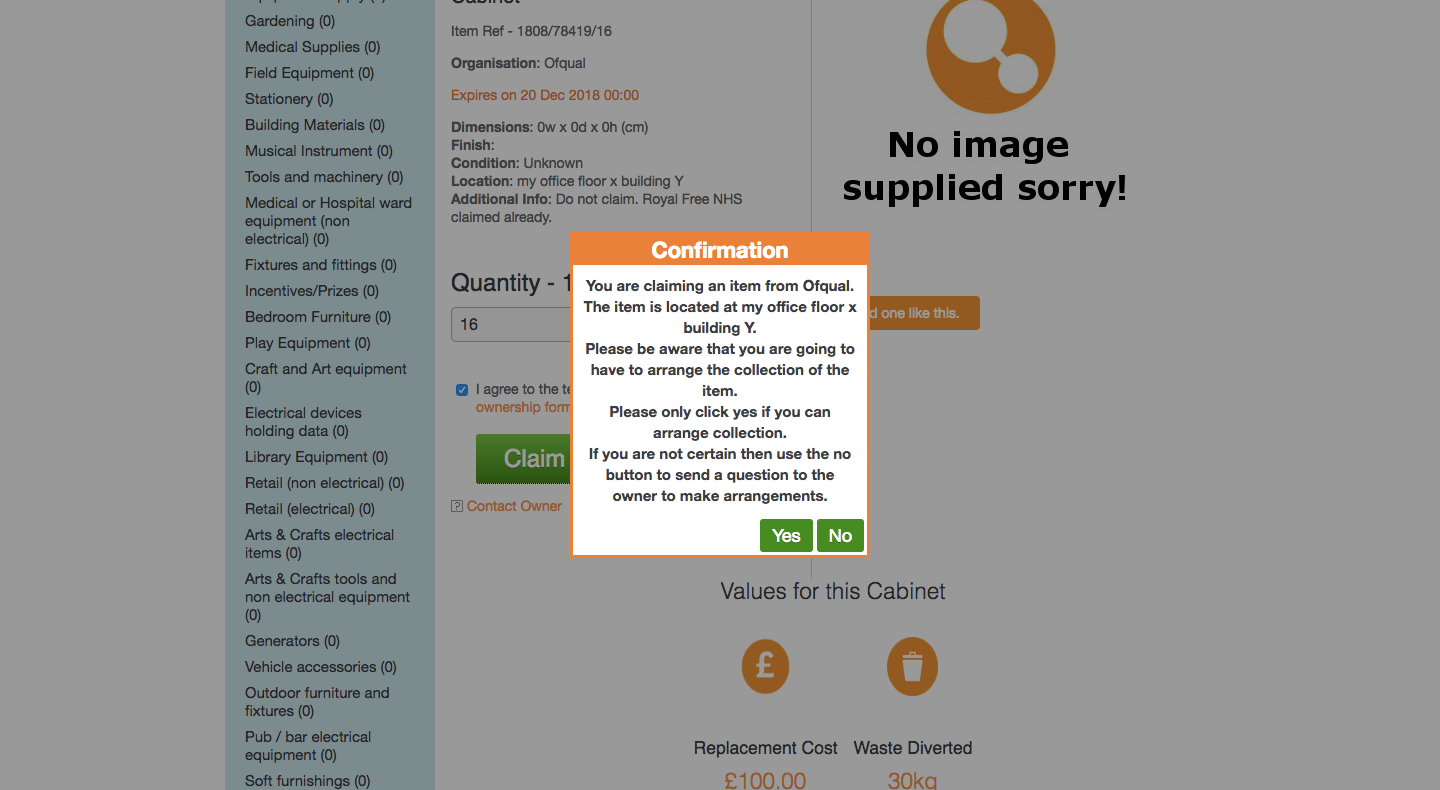 How does this help you?
This provides clarity and assurances to both parties. By introducing an extra communication message to the claimant, we can make sure that there's no confusion, and that they will act immediately.
It is another level of assurance that your assets will be collected and that you won't have to go through the reuse process a second time for the same item.
What do you need to know?
This safeguard is in place to maximise your effective donations, so that your organisation can have better and more successful interactions with the 3rd sector. One missed collection could cause friction and lead to missed opportunities - we don't want this to happen.
Issue resolved
We hope this will fix the issue of claimants not turning up, but again it is a question of the effectiveness of communications. We can guide you in the right direction, but it is between claimant and donor to make sure that the assets end up in the charity's hands.
---
Here's everything you need to start
donating assets to charity