Warp It is here to proudly present a new transferral feature that our team has been quietly developing behind the scenes.
Having grown the Warp It network for many years now, there's been one question that has cropped up from time to time, and that's the consideration for people who leave their organisations. So, 'what happens to a member's account after they leave their job?' well, it falls on the Admin to delete that person's account (unless they delete it themselves), at which point, all of their assets on the system are allocated to the Admin.
But, what happens next?
That's exactly what this new feature aims to solve. The new feature allows Admin users the option to bulk transfer the items to a particular user (for single items, see here). Admins, here's how to get started…
How to bulk transfer items to a standard user
Start by logging into your Admin account. Then, go to 'Asset Settings' and ensure that 'Allocate admin items to user' is set to 'Enabled'.
Next, in the admin section, make sure you are viewing the items in list view (see image below), tick all of the items that you want to bulk transfer, and then click on the drop-down menu for 'Select Bulk Process'. Choose 'Transfer Items to User', and in the 'User' box below, select the user that you will be transferring the items to. Finally, click 'Apply changes'.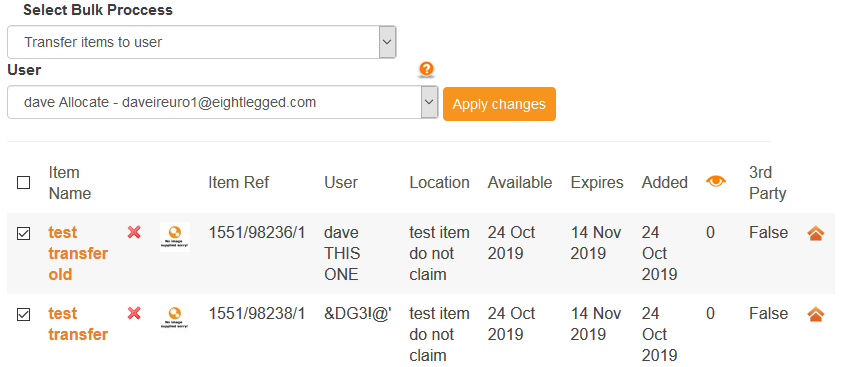 The items will be sent to that user and you will receive a confirmation message stating 'The selected items have been transferred to the selected user: NAME, EMAIL ADDRESS.'
Why is this feature useful?
People leaving an organisation is one reason, and people joining can be another. It may be the case that there are multiple people responsible for what happens to Warp It in your organisation, which is a good thing so that you or the Admin don't have too many items to oversee. In this instance, the admin might send assets in bulk to other members of their internal team to help them get claimed around the estate.
How to transfer a single item
If you've landed on this article about bulk transferring items when in fact you wanted to know how to transfer single items, then don't worry, we've got you covered.
Go to your Company Account, then 'Settings'. Next, go to 'Control Assets' and make sure that 'Transfer Admin Items To User' is enabled.
Once this has been done, go to your active items and choose the individual item that you'd like to transfer to someone else. Because you have enabled the transferring of admin items to a user, you'll now see a new box and drop-down list on the item page that allows you to choose which user will be receiving your items. Choose the user from the drop-down list and click the big green 'Transfer To User' button.
You will be redirected to a confirmation page which will show you the new owner's email address, telephone, and item details.
An email will be sent to the user and the admin confirming this transfer, as you can see below.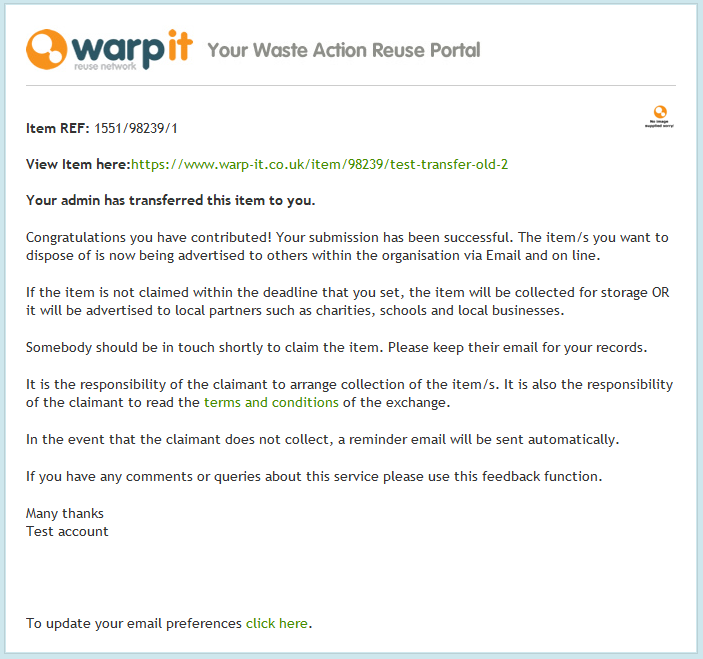 Conclusion
Transferring items internally as the Admin has never been easier! After requests from our valued users, we are pleased to present this feature to you to make sure that you can make your time, cost, and environmental savings even better with the Warp It network!