By now, you're probably quite familiar with the process of internal claims, but what about opening up your assets to third parties? In this article, we are going to talk about one of the features we've introduced to help smoothen the communications between you and third parties.
What happens?
Now, when a 3rd party claimant makes an item claim from you, they will receive a specific message, which you are now able to customise.
What does the message say?
Right now, the standard template looks like this:
Hi @name@
You have claimed an item from @organisation-name@.
@owner@
@contact@
@item-details@
Please get in touch with the owner to arrange collection.
Please collect the item promptly.
Before setting off to collect the item please make sure the person collecting the item knows who to contact on site and where the item is located exactly.
Please note the terms of the transfer clicking here.
Yours sincerely
@admin-name@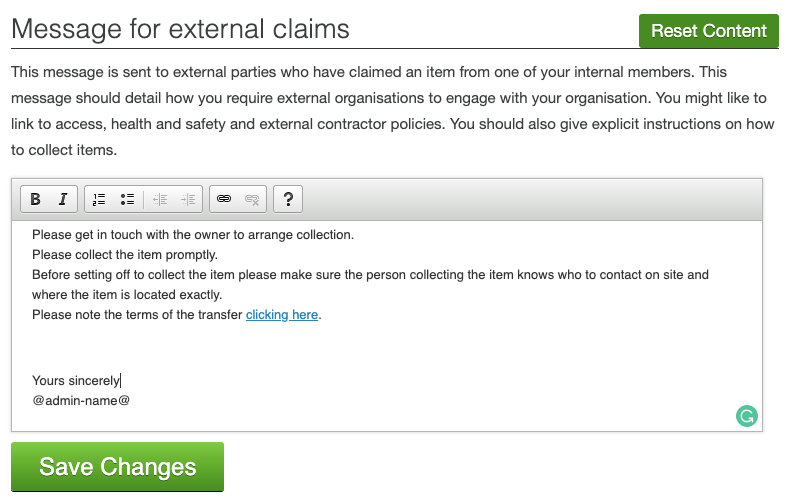 Why would you customise your message?
There may be key information points that you want to add, such as site access details, holiday dates, the best place to park, or who you need to call and their contact details. There may be site policies for external contractors, or health and safety protocols to follow, such as wearing a hard hat and hi viz jacket. There are dozens of reasons you might want to customise your message, so have a think about any pertinent information that could make the claim process easier.
Warp It expert advice: To make life easier for your organisation, you might want to consider choosing just one day of the week for handling external claims, for example: 'It is company policy to arrange all collections for Mondays between 14:00 and 17:00'.
Where do I find this on Warp It?
Admin > Customise Settings > Item Messages > Message for External Claims.
See the image below for more information.
---
Want to start working with 3rd parties?
Here's how to get started