Welcome! In this piece we will be walking you through one of our main features when it comes to donating to 3rd parties: Share Days.
Internal marketplace
By using the Warp It system, each organisation sets up their own internal market place, where they start swapping and trading assets across the organisation.
If you need to check that your marketplace is on internal only go to admin account, click on settings, click on control partners and scroll to the bottom. Make sure you have a email specified.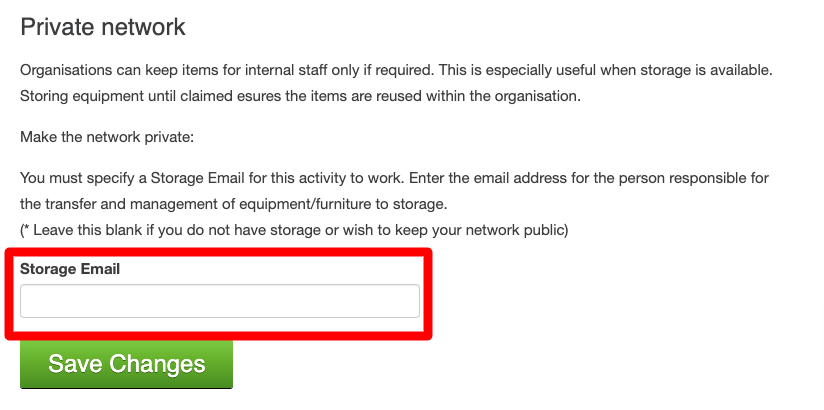 Every now and then, there is an item/s that does not make a match internally.
The organisation can then decide what to do with it, and often the asset is either moved into a store, or it is scrapped (Nooooo!!!).
We have a way to combat this. With Warp It, you can also link up with other parties, and organisations in the city, region, country, or simply other organisations in your sector. Once you've made the connection with them on Warp It, you can share assets.
How to do this
Go to 'admin' .
Go to settings control partners and remove the storage email.
Go to 'build networks'.
Browse the other organisations in your area or sector.
Send them a friend request.
Wait for the request to be accepted.
Your staff will then see what the other organisation has available for reuse and vice versa.
Internal staff are prioritised
Now, it's important to note that internal staff are always prioritised. Your friends on the system, i.e. the organisations you've linked up with, are the second priority , and (if you wish) everyone else can be set as priority three.
How does the system know to prioritise your internal partners?
When an item is added to the system, it's always given a deadline, say, the 1st of May. When that item is added, internal staff can claim it as normal.
External parties (2nd and 3rd priority) can see it, but they can't claim it because it's advertised to internal staff first. They can add that item to their watchlist.
When can it be advertised to third parties?
Only when the Share Day is triggered. So, what is the Share Day?
The Share Day is X days before the deadline of the item, and X could be anything between 1 and 90 days.
For example, if you add an item and you have it listed for one month, if the share day is 5 days...then five days before the deadline arrives the item will be advertised externally to third parties.
You can tweak the settings and adjust exactly how many days before the deadline you'd like your items to be advertised to priority two organisations, and then how many days for priority three.
If you have one month to find a new home for a desk, you can list it for 30 days, with 10 days for priority two, and 5 days for priority three.
These are what we call the Share Days.
To set your share days go to: Admin> settings> control partners...then under the headings priority 2 priority 3...
You will also need to make sure that you "turn off" private network. To do this:
Admin> settings> control . partners...then scroll to near the bottom and look at Private Network...make sure you do not have a storage email specified.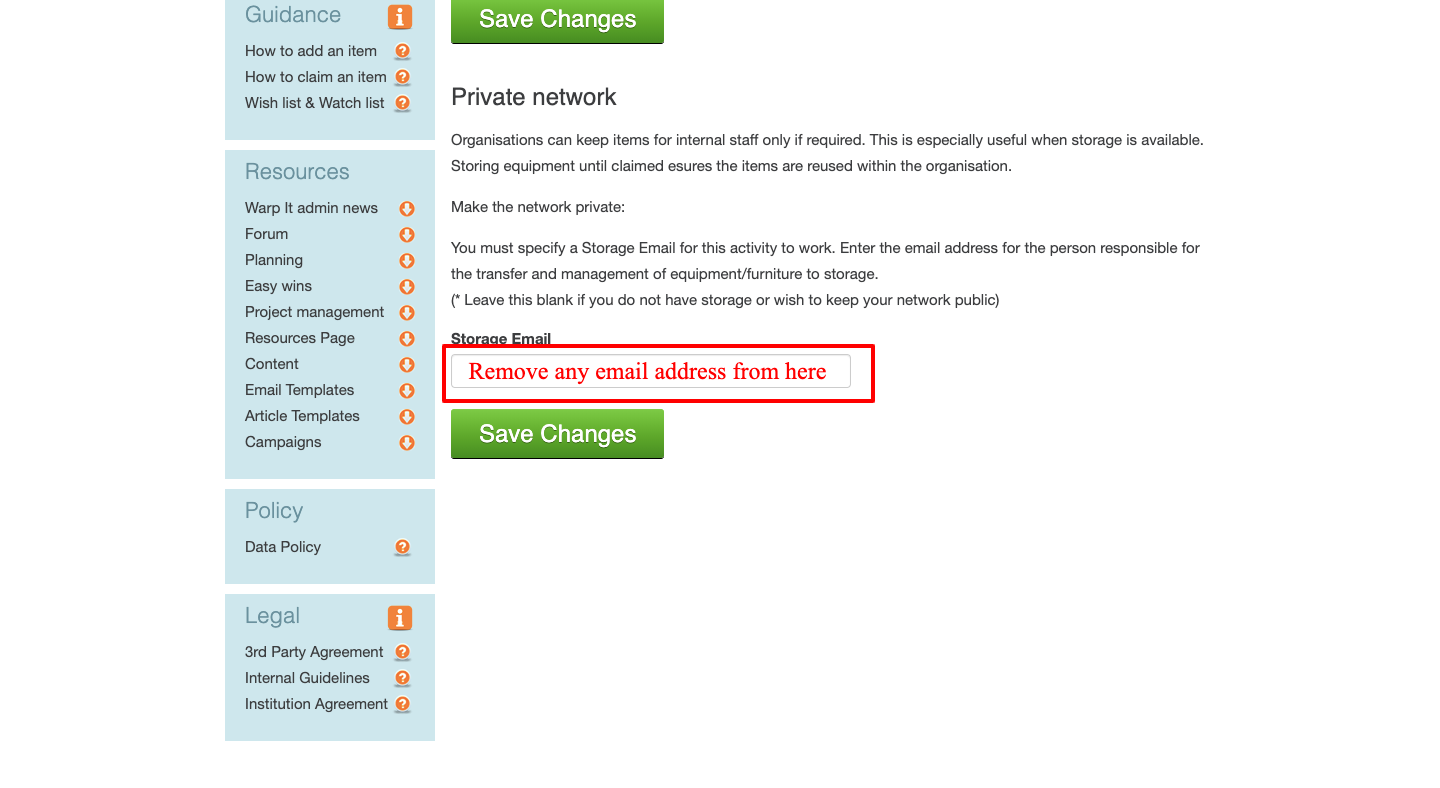 What are the benefits of Share Days?
If you have an asset that you want to see get reused, but nobody claims it internally, it looks pretty certain to be heading to the skip. This is why the added benefit of making it available to third parties exists, as it reduces your waste liability.
The benefits doesn't stop there. You're also using Warp It to collaborate and build relationships with other organisations that you can help, and who can help you. This might make things easier next time you clear a building and need to re-home many items.
There's also the social value. Commonly, the third parties you're going to help will be schools, charities, not-for-profits and startups. You can document the donations, make business cases, and put together content that shows your organisation in a good light to those interested.
Conclusion
So, what are you waiting for? Make sure you aren't left disappointed when nobody claims your item internally, and instead open it up for second and third priority organisations.
---
Get your donations right ...