If the CEO and senior management abandoned an organisation overnight and did not come back for one month.
The staff probably would not notice the difference.
---
If the porters or cleaners (and others in Facilities Management) did the same, after 3 days the organisation would not be able to function.

This article is about recognising those who help to make the estate run properly and in particular the reuse of surplus assets.
---
Operational staff within FM are the unseen oil that grease the cogs of any large estate.
However, their work usually goes unnoticed.
Who is the furniture fairy who makes sure corridors and free access?

Who grits the path at 4am in the morning on a cold winters day?

Who makes sure the waste does not back up and is collected on time?

Who makes sure the corridors are free of obstruction?

Who cleans up the office?
The porters, cleaners and other operational staff keep the wheels spinning on any estate. But their activities all happen in the background and so their work often goes unrecognised.
The porters, cleaners and other operational staff are also integral to any furniture reuse system.
We have created little metal pin badges which estates directors and estates managers can give to their staff as a little show of appreciation.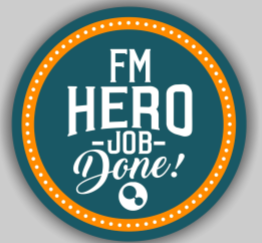 Why should you recognise contribution?
Everyone responds to appreciation at work, especially when it's expressed through recognition of their efforts because it confirms their work is valued.
Recognising staff contribution has the following benefits
Makes staff happier
Increases loyalty
Helps develop team culture
Helps retain staff
Increases job satisfaction
Increases productivity
When you thank someone not only are you doing the right thing but you are also cementing that relationship.
If you are a regular reader you will know we provide reuse services.
You can get a porter's insight about reuse right here.
You cna learn why the facilities or estates director loves reuse here.
How are you going to recognise their input?
We have created a list of lots of different ways you can thank colleagues right here.
However we have another final idea! Back in autumn we started to develop the idea of producing some pin badges to be used as a way of recognising the contribution of colleagues to the reuse process (or any FM process). ( You guys chose the winning design!)

Order your pin badges here!
To order your pin badges just fill in the form at the button below and we will send them via the post.