The purpose of this article is to show the benefits of a Warp It reuse system to Directors of Estates.
This article is also highly relevant for those pitching reuse to their Directors of Estates.
Setting up an automated strategic reuse programme has a number of benefits that will make you happy and help you towards your objectives.

Problem: The estate is covered in skips and it's damaging the reputation
Solution: No skips with reusable assets inside
From a visual standpoint, you are no longer going to see skips and dumpsters with reusable items inside them around your estate.
Why is that important? It is your reputation, and it is on the line.
Journalists love to report on organisational waste like this.
When your peers, colleagues or your staff all see reusable assets in the skips, they are going to have a negative psychological reaction.
This is a sign of a broken system.
They are going to see the estate is wasting money. They are going to think 'we are not using our assets resourcefully'.
If your organisation is going through cuts and making redundancies staff are going to think "Why are we laying people off when we are wasting money like this?"
A reuse program negates this risk and the damage to your reputation.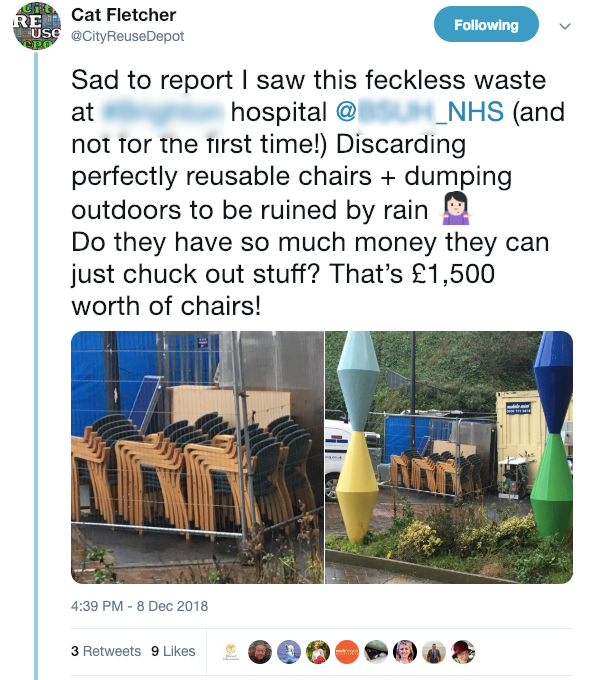 Problem: Spending unnecessary money on waste management
Solution: Waste management savings
You are paying to throw away things that could still be used around your estate.
This is a double whammy.
You pay to remove the asset/s
Someone else on the estate is probably buying a new one of the same right now
What if you could reduce the number of skips used on your estate by never putting reusable assets in them in the first place?
That financial saving that you make can be incredibly useful - it could fund your reuse project, or it could be invested in your staff, it could help improve a whole host of things, and all of those things are more meaningful than filling skips with reusable furniture.
Problem: Simply using too many skips
Solution: Reduce the number of skips
Removing assets from skips means you don't need as many skips on the estate. Removing skips has a number of benefits.
When you remove skips you also free up space for car parking! (Which will keep staff happy).

Remove the eyesore- making the place look nicer.

Reduce the risk of injury to staff and visitors

Reduce the incidence of wind blown litter

Reduce the risk of fly tipping by contractors (or visitors) which could even involve substances that could be hazardous.
Problem: The porters aren't happy about logistics
Solution: Save time and make your porters happy
Your porters or logistics team are going to be very happy about a reuse programme because it's going to save them time.
Stop delivery of new items
Stop disposal of old items
Reduce double handling
Reusing an item stops the purchase of a new item and the disposal of the old.
Under normal circumstances porters will deliver a new item and take the old item away. 2 jobs.
When you reuse an item the porters transfer the item from A to B. One job.
You can read a full analysis of this scenario here.
A good reuse system will match the asset with a new home while it is still in the old point of use. This means the asset does not require a temporary storage.

Problem: Too many injuries
Solution: Reduce lifting and shifting
The biggest reason for porter sick leave is due to manual handling injury.
By reducing double handling and asset movements, a reuse programme is going to reduce injuries because it involves less lifting - with assets going from A to B, instead of A to Storage to B, the carrying times are reduced.
Your Porters are not going to be dismantling or smashing up items anymore either.
Problem: Not using space and storage efficiently
Solution: Free up space
When you match assets with their new owners while they're still at the original point of use, this takes the pressure off storage. Free up storage rooms or buildings and sell them or use them for something more meaningful to you. If you are paying for external storage, you can free up some of that budget.
Adding items that are already in your stores to an online marketplace is a great way to advertise those assets to the staff body. No bottlenecks with people emailing and calling. See here.
Giving your staff the tool to declutter means they are more likely to do just that. Everyone likes to clear out if they know their stuff is going to a new home! Even hoarders!
Problem: A lack of environmental transparency
Solution: Report the good news
Reusing assets is a good news story which improves the sustainability of the organisation. You have got so much positive news and sustainability data to report to your committees, staff, governing body and the sustainability team! In many cases sustainability reporting and space efficiency is linked to funding from governing bodies.
A good reuse programme should track:
Waste disposal savings
Amount diverted from landfill (KG)
Carbon emission reductions (CO2e)
Donations to charity
Problem: Facilities Management under-appreciated
Solution: Support the Facilities Management function
The FM function is often undervalued. Few people appreciate the guys getting up at 5am to clear paths, empty bins and all of the other things that happen behind the scenes. A reuse programme supports the facilities, it supports the estate, it creates good news, it's the right thing to do, it's good for cleanliness, image, and the environment and it also uses budgets more effectively. A reuse project can be a great vehicle to demonstrate the value of your estate's great FM function and culture.
Conclusion
We are just scratching the surface with how a reuse project would support your estate. If you'd like to learn more about how reuse can benefit the estate and put a smile on the face of the Director of Estates, join the webinar below.
Here are three more articles that will appeal to the Directors of Estates:
How to tell the story of the estate
How to transport items on big estates
Recognising the contribution of Facilities Management
---
The best next step is to join our webinar