If you want reuse to become 2nd nature in your organisation you need to get the wishlist function working for you!
When wishlists are maximised three great things happen.
The disposer gets rid of their item straight away
The recipient gets an item straight away
There's no need for storage
In this blog post we explain what the wishlist is, why it is good and how to get your staff adding items to their wishlist!
What is a wishlist?
When you want an item you can add it to your wishlist and you will be notified when one becomes available within your organisation or within partner organisations.
How do wishlists work?
Let's just say: Today you are looking for an 'adjustable desk'.
You do a search on the Warp It system and in this example, you can't find one. So, instead of being disappointed, you add 'adjustable desk' to your wishlist.
Now, if anybody in the future lists a, 'adjustable desk, and they will, you'll be the first to get a notification.
If you're absolutely desperate for an 'adjustable desk', this solution isn't for you, but if you can plan ahead and manage your procurement around a longer time frame, then you can load all of your procurement needs for the next 6 months onto your wishlist.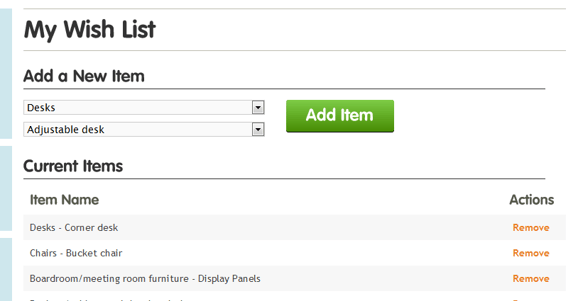 Why is this beneficial?
Using a wishlist system reduces reliance on storage by directly matching needs and wants peer to peer- directly. It saves double handling. It saves on storage. It saves on landfill.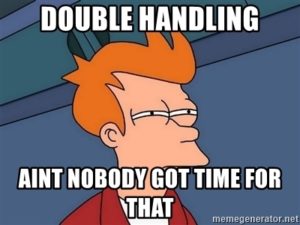 Storage is rare. Storage is expensive. Storage is hard to manage.
The lack of storage stops many organisations from reusing their assets. It is a barrier they don't seem to be able to get around.
Staff can find a home for their surplus assets before they need to move it their old location.
Therefore the surplus assets can be moved from A to B without the need for storage.
This reduces double handling from the facilities management department.
If you maximise reuse in this way you can massively reduce procurement.

More...
Picture yourself in the shoes of the disposer, and you're getting rid of some task chairs. You add them to the system. You've found an instant match, hooray! The item does not need to hang around getting in your way
The person who received the chair didn't have to keep logging in every few days to check up on the listings and see if a chair became available.

The power of the wishlist
There you have it. So how do we get staff to think about their wishlist? We do a campaign around it! You can download our complete Wishlist Graphics Package.