University College Dublin (UCD) has saved an estimated €280K and diverted more than 45 tonnes of furniture from landfill since joining the Warp It reuse and redistribution system in April 2019.
The university has redistributed over 840 pieces of pre-loved furniture to more than 200 UCD members of staff, and over 25 schools and charities in Ireland.
This represents carbon savings equivalent to taking 56 cars off the road, and a substantial furniture cost savings as the University integrates reuse into its overall sustainability waste reduction strategy.
Popular items reused have included chairs, desks, whiteboards, shelves, couches, cabinets, bicycles, and even a boxing ring.
Pia Polotto and Warren Kennedy at the UCD Estate Services, lead the Warp It reuse project. It is part of the university's Green Campus initiative, which encourages students and staff to work together and improve overall environmental performance of the institution.
Pia said:
"The uptake and engagement across campus, and from local schools and charities, has been amazing and reusing and redistributing pre-used furniture is going a long way to not only reducing our carbon footprint but is also significantly lowering storage and procurement costs."

The redistribution of furniture has supported the management of spaces across the campus, particularly by freeing up areas for other purposes and facilitating a hybrid and working from home culture.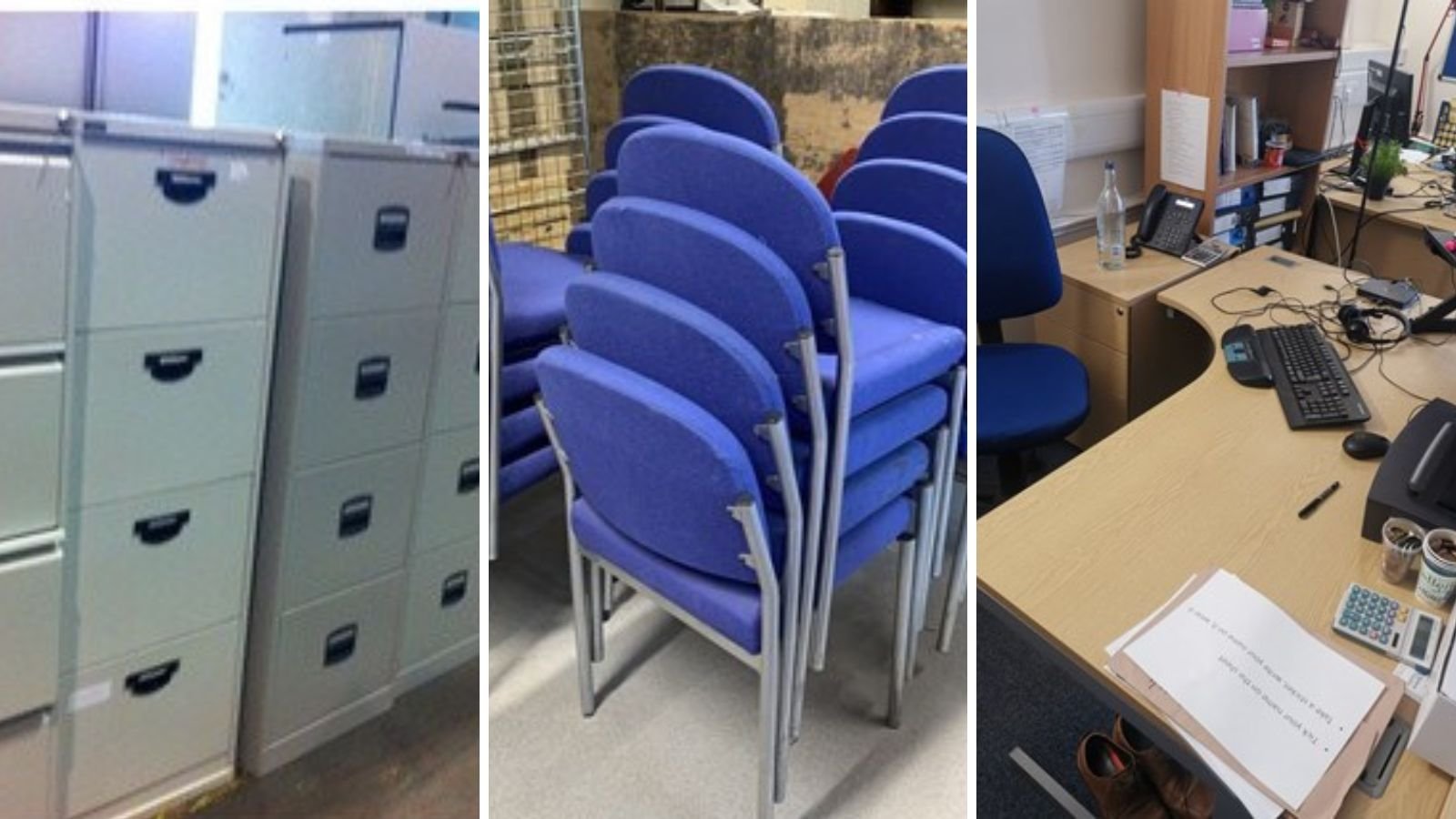 Above: items reused include cabinets, chairs, and desks.

Pia added:
"There has been a lot of refurbishment projects taking place within the university over the last few years and, with the full support of our senior management team, the Warp It system helped enormously when reaching out both internally to staff, and externally to non-profit and charitable organisations to ensure unwanted furniture was rehomed instead of sent to landfill."
Users can browse the online Warp It catalogue, claim items, add a wish list, or upload their unwanted office furniture, with easy-to-follow instructions on the site.

Before any furniture is uploaded, an inspection is carried out by the Estate Services team to make sure it is fit for purpose. Once uploaded, items are tagged with a short description, measurements, photograph, location, and available collection date.

Pia said:
"The Warp It system is very straightforward to use and has a huge variety of features that makes it an incredibly useful tool to help us make a real difference in tackling environmental issues across the university, while interacting with students, staff, and external organisations to educate everyone on the benefits of waste reduction and sustainability."
Pia is now planning to build on this success by expanding the range of items offered for reuse, and to develop partnerships with similar organisations and make reuse a countrywide success story.

Read more about UCD's Green Campus initiative.
Read more about UCD's waste reduction strategies.
Start reusing today and register with Warp It.