An East London residents and community association is appealing for stationery to distribute to local school pupils when they start the new term in September.
Led by Gail Penfold, the Walthamstow Stadium Area Residents and Community Association has organised activities to bring together and help residents in the area over the past decade, and their support has never been more needed than during the pandemic as local people deal with issues including isolation, loneliness, and financial worries.
The association coordinates groups, businesses, and residents to hold various events to mark occasions throughout the year like Halloween, Easter, and Christmas, and have also organised hampers for vulnerable people and put together gift bags to say thank you to volunteers and other people in the area during COVID-19.
Here we talk to Gail, who chairs the association, about the work the association does and how the Warp It community can support their latest appeal.
"We are different to most community associations as we cover 14 streets both private and rented alongside three housing estates in the area; this includes local businesses, care homes, supported accommodation, and schools," Gail explained, "and everything is done through goodwill because we care about our residents and while our area doesn't have many businesses, those we have are generous and donate when they can."
"It's always been our aim to bring the community together, be there to help and reduce isolation and loneliness and this has become even important to us during what has been such a difficult time for everyone."
Previous activities have included arranging activities for families and children at Halloween and at Easter with the local supermarkets giving pumpkins and prizes.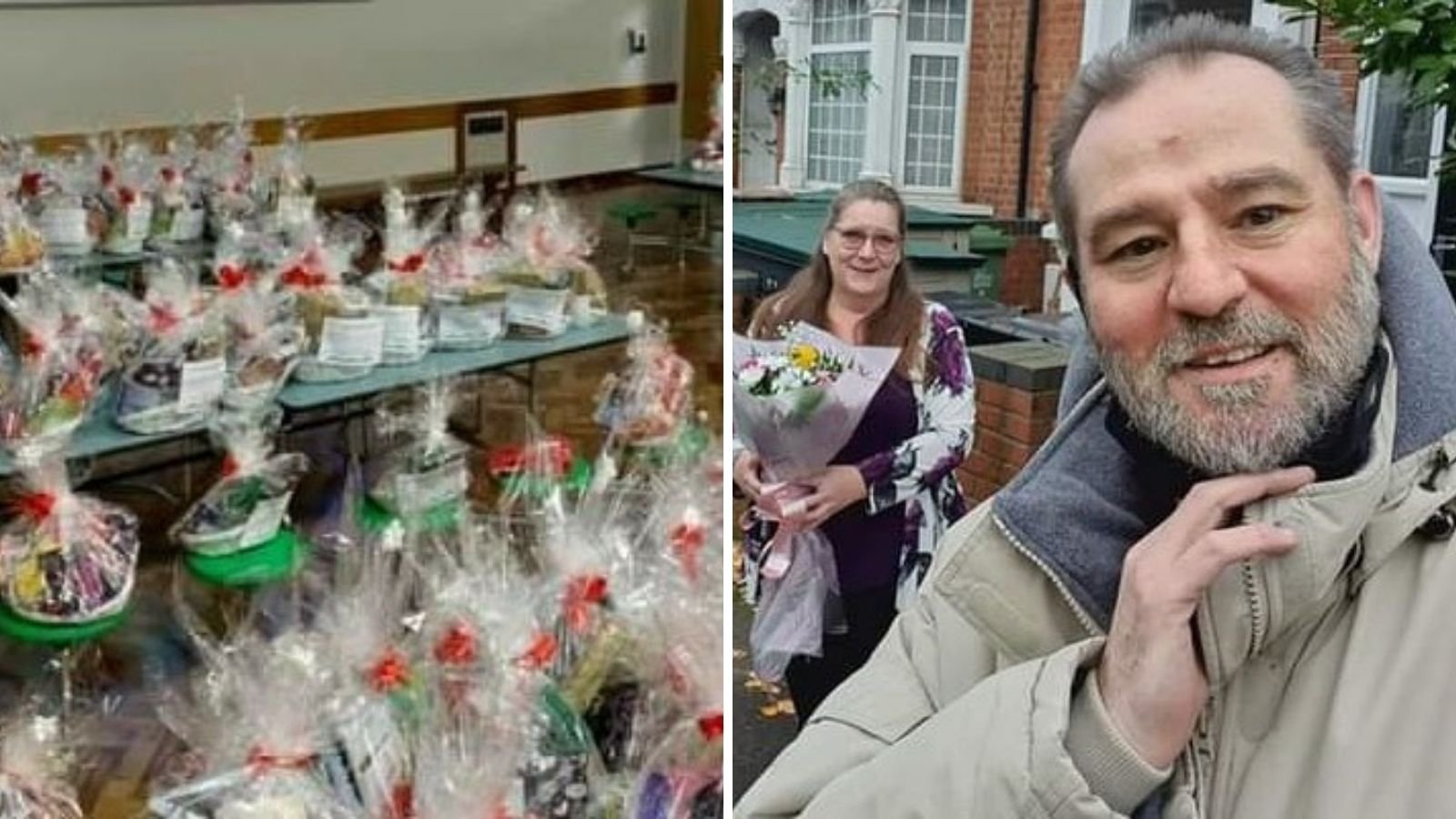 Above: Christmas hampers and Gail with Councillor John Moss.
Similarly, at Christmas, Gail led efforts to ensure no family in need goes without by making up 250 gift hampers for families and 300 thank you bags containing all kinds of essentials, toiletries, and treats for the elderly and vulnerable and COVID-19 volunteers including those at food banks.
"The interest is always phenomenal, and the donations are very much appreciated," Gail said, "especially as we have a lot of families in our area who have been adversely affected by the pandemic and are struggling financially. It is wonderful to be able to make a small difference in these difficult times."
Councillor John Moss said: "Gail has been a great asset to our local community and her work has been recognised by the late Mayor of Waltham Forest, Chris Robbins, after being nominated by local Councillors."
And now the group are preparing to do it again after a local school governor highlighted that many parents are struggling to afford school uniforms and other necessities.
"We've never had so many referrals to local food banks and it's evident now that parents are struggling financially, so we want to make sure that every local pupil receives a stationery pack on their first day back at school in September so that they have everything they need to do their studies."
The goal is to provide the 550 pupils with stationery sets that include a scientific calculator, a geometry set, a drawing pad, rulers, pens, pencils, and colouring pencils. Any surplus will be added to our Christmas hampers for young carers. "I'm just after offers of help," Gail explained, "and we will take anything giftable that we can use to help the children along."
"If we put a smile on one person's face and make life a little better and happier, even just for a short time, then we have achieved something!"
To find out more about the association and its work visit their Facebook Group. Please contact Gail at stow.residents@yahoo.com to arrange donation drops offs.
A stationery amnesty is a good way to identify items to donate. Read this guide to learn how to set one up.
Gail's Christmas appeal is also underway and is aimed at carers and young carers. Any items such as toys, toiletries and anything else suitable for gifts for this appeal would be greatly appreciated.