In a move to scale up donations across the globe, Warp It is inviting even more charities to join its reuse network.
The effort comes as donations to charity, both in the UK and abroad, organised by the Warp It community tips £6 million.
Around 50 new charitable, or third sector, organisations sign up for the free service each month with many donations assisting rural hospitals and education or healthcare initiatives.
Thousands of items donated for charitable causes include clinical, medical and hospital supplies, stationery, and classroom furniture and fixtures.
The donations come from universities, colleges, NHS Trusts, local authorities, and other large organisations who use Warp It to rehome unwanted assets preventing them from being sent to landfill. Read more about this.
Now, Warp It founder and Head of Happiness, Daniel O'Connor, is calling for even more charities to get involved to increase commodities given to good causes across the world. He said:
"Supporting charities has part of our mission from the offset and we're thrilled to reach £6 million in donations. Giving unwanted furniture, equipment and stationery to charities, schools, and other non-profits supports Corporate Social Responsibility (CSR) goals, so it's not surprising the charity matching service is one of our most popular features.

"The charity benefits by receiving items they need to operate smoothly without having to dip into their limited budgets, and organisations save on waste disposal costs while lowering their environmental impact and shifting to a more circular economy."
Charities using the system includes Healthcare for Africa, Healing for the Heart, The Element Society, The Kori Development Project, MedAid, North Norfolk Aid for Ukraine, Refugease, and The Sylvia Lanka Foundation (SLF).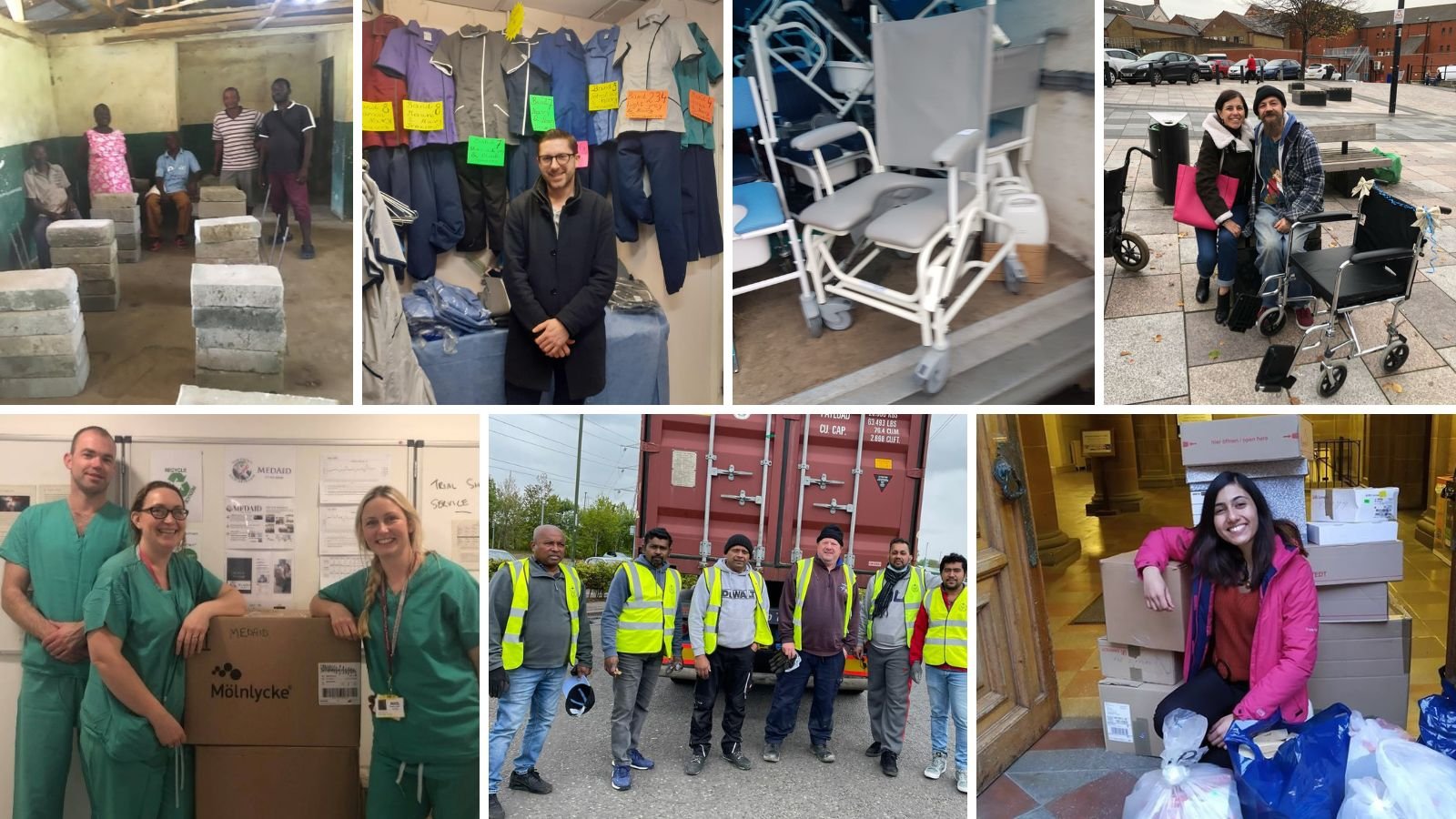 Above: a wide range of donations are distributed to charitable causes.
Anything anything can be donated for reuse if it's safe and legal to do so. As well as medical and educational commodities, other items distributed for reuse to charities, schools, social enterprises, and community groups include office furniture, catering and kitchen equipment, and uniforms.
Charities and third sector organisations located overseas can claim items for free, although collection and shipping of the items must be arranged.
Once signed up users can track items and gather metrics, such as the cost and carbon saved, in direct relation to reuse activities.
To sign up to Warp It the following criteria must be met
You must be a school, charity, social enterprise, or community group with governance documents from your own country, or the UK.

If not a charity, social enterprise, or community group you'll need to affiliate with a charity or school in your own country, or the UK.

If you cannot affiliate with a charity, social enterprise, or community group then you need to provide a headed letter from the hospital or institution you are donating the items to confirm that they will accept the items.
Sign up here if you fulfil the criteria and if you have any queries or need assistance, contact Ben Lynch, Partnership Manager, on 0800 048 8755 or email ben@warp-it.co.uk
Read how to donate surplus assets to charity on Warp It.
Start reusing today and register with Warp It.