We are very pleased to be introducing an exciting new feature to our members, a feature which will enable Admin to allocate uploaded assets directly to an internal member or an external partner (including charities), saving a great deal of communications time in the process.
In this blog post, we will be explaining internal allocations. If you're looking for an explanation of external allocations, please go here.
How do you set up Internal allocations?
Admins are invited to try out this new feature on the Warp It network. In order to do so, they will need to sign in to their Company Admin account. Once signed in, they should go to Settings and then Control Assets (click here). Scrolling down this page, they will find a section entitled 'Allocate Items', beneath which is a drop-down box. Change this box to 'Enabled', and click 'Save Changes'.

Once the drop-down box option has been set to 'Enabled', the Admin user will see a whole new section that we have designed to make Warp It work better for you and your added items (see below). This new 'Allocate Items' section offers brand new controls for who can allocate items internally. Admin can now decide whether this will be an Admin-only activity or if others are permitted to make allocations too (Admin and User).
When allocating items internally has been enabled, a dropdown list of all internal users will be shown on the 'add items' page, where items' details are added during an upload.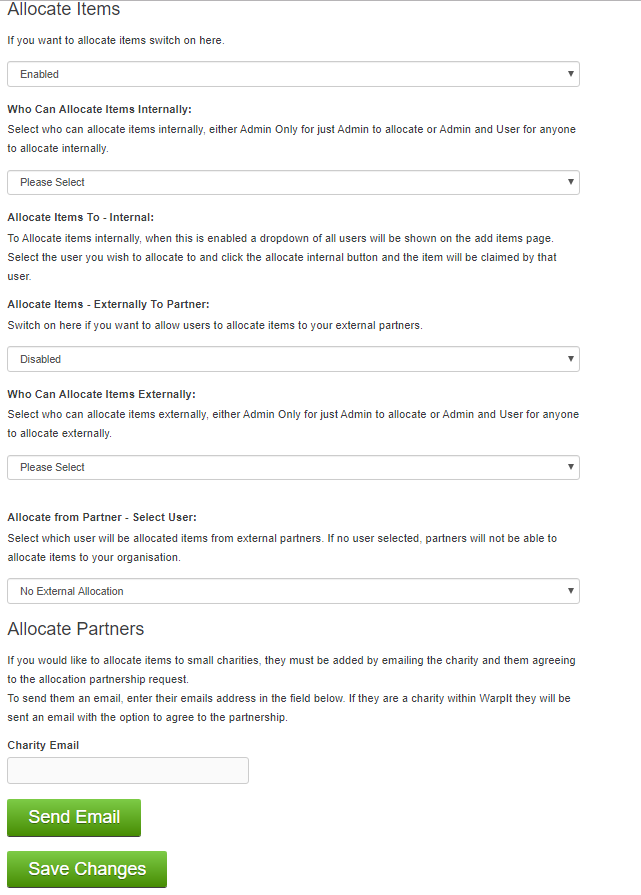 What is new on the 'Add Items' Page?
Once you've filled in the details of your item, you will have to make the choice about whether to allocate the item to a specific user or not. On the right-hand side, a drop-down box will show you all of the Warp It users in your organisation. If you choose to allocate an item to a particular internal user, they will receive it as a claimed item. Once this has happened, both the item owner and the allocated user will be notified by email with the details of the transaction and they can set the claim as delivered or collected to complete the transaction. Alternatively, the allocated user may reject the allocation and in this instance, the item will go live as a normal listing.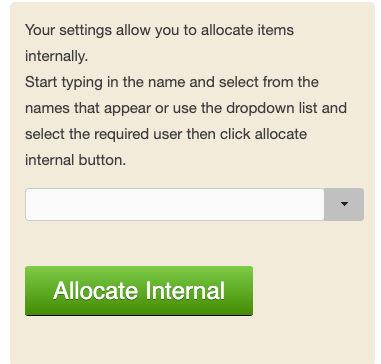 Reminder: To read about external allocations and allocations to charity partners, please visit this guide.