North Ayrshire Council has helped save over 58,000 kg of carbon and avoided more than 22,300 kg of waste since joining Warp It in 2015.
The Council has also saved over £83,000 in procurement and disposal costs, thanks to redistributing and reusing surplus items of furniture and equipment as part of its ongoing effort to significantly reduce the amount of waste sent for final disposal.

Registered users swap and claim unwanted furniture items such as chairs, desks, cupboards, and drawers. They also use Warp It to distribute surplus stationery and ink jet cartridges.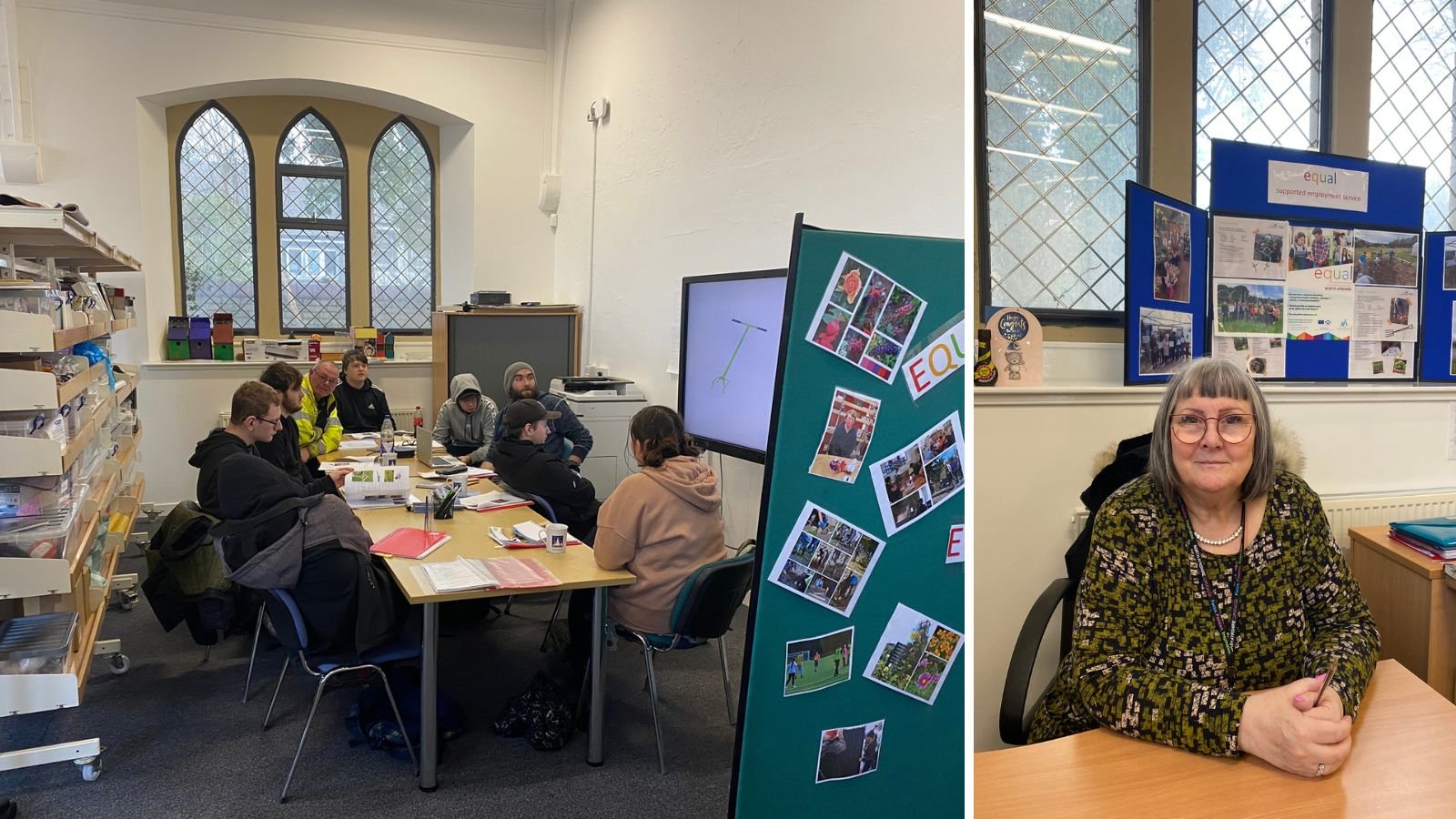 Above: (left) a training area with reclaimed goods, (right) Linda Ford, manager of the Council's employability programme.

Council officers, and those working in the Health and Social Care Partnership, also use Warp It to donate or loan furniture to other areas in need.
Linda Ford (pictured above), Programme Manager of the EQUAL employability programme, recently benefited. She said:
"Warp It has been a brilliant resource for us to successfully procure unused furniture items for our employability annexe at the Trinity Church.

"The system is really user-friendly and has helped us to track down a host of soft furnishings, desks, cabinets and tables from the University of Glasgow who have also claimed items from the Council in the past.

"We have also utilised other items such as a donated set of bookcases from a local library and further tables and chairs from the closure of James McFarlane School in Ardrossan.

"Being sustainable is something that is really important to us as it allows us to keep funding for costs associated with improving and developing our employability programme, rather than spending it on procurement costs.

"It feels good to be able to do our part for the environment in this way and secure items in a cost-effective manner, particularly with the challenges the Council -and many other organisations - are currently faced with due to the current Cost-of-Living crisis."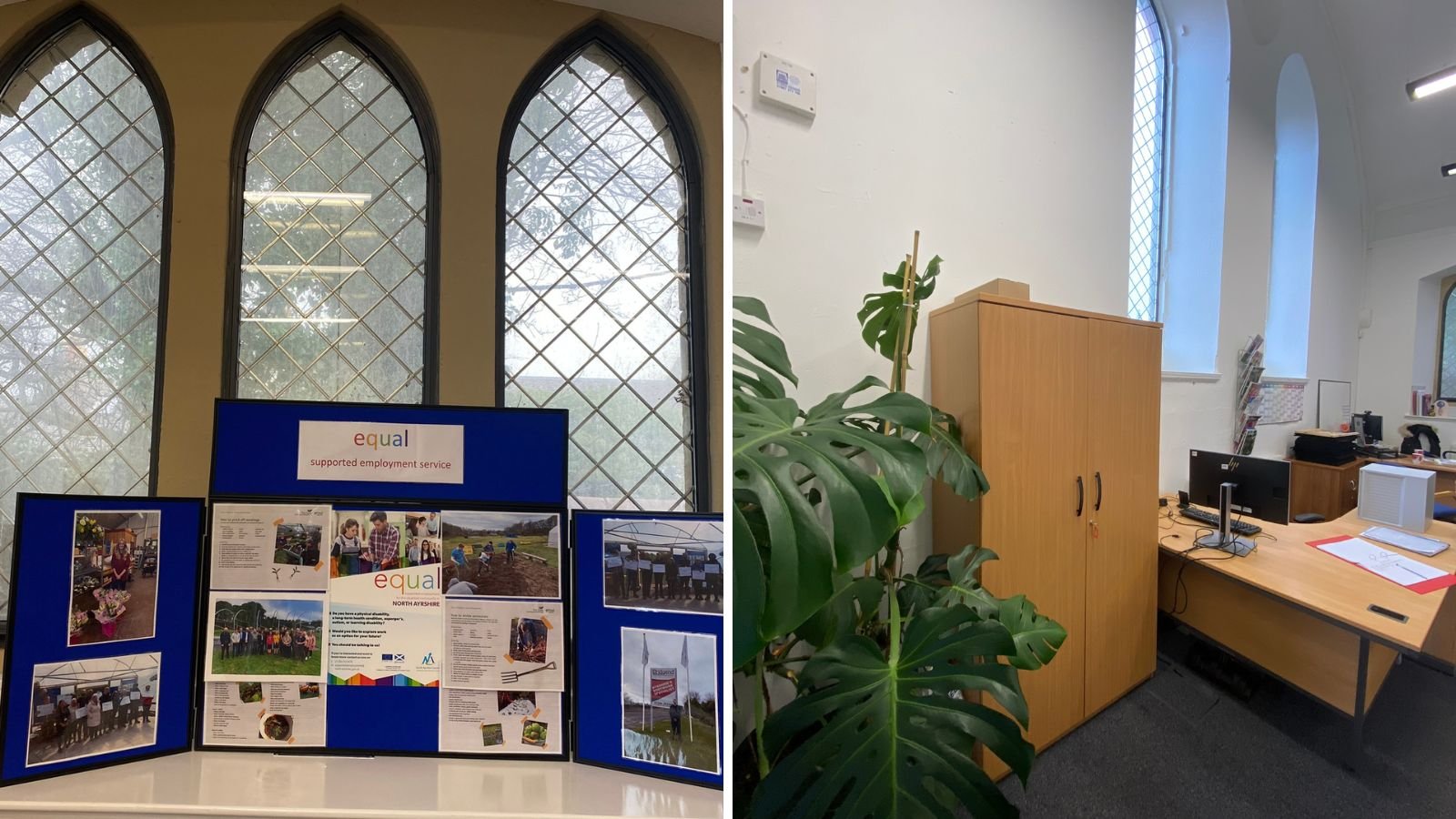 Above: (left) display boards in the library, (right) a reused cabinet and desk.
Councillor Tony Gurney, Cabinet Member for Economy and Climate Change, added:
"Tackling climate change is something that North Ayrshire Council takes very seriously, and we are taking the swift and necessary action required to become a carbon neutral local authority.

"Climate change is a global problem, and we are committed to playing our part to reduce emissions at a local level. Becoming members of the Warp It portal is just one of the many carbon neutral approaches the Council has taken to do just this.

"If items across our services are no longer required, we are encouraging staff to register them on Warp It. Items such as tables, pedestals, cabinets and office chairs can then be listed, loaned or passed on to other departments and partner organisations, including local charities and social enterprises in need.

"By investing long-term in this type of carbon-cutting approach, we are not only reducing the amount of waste that ends up being disposed of, it also has a direct and positive impact on achieving the Council's Climate Emergency Action Plan of becoming a carbon neutral council by 2030."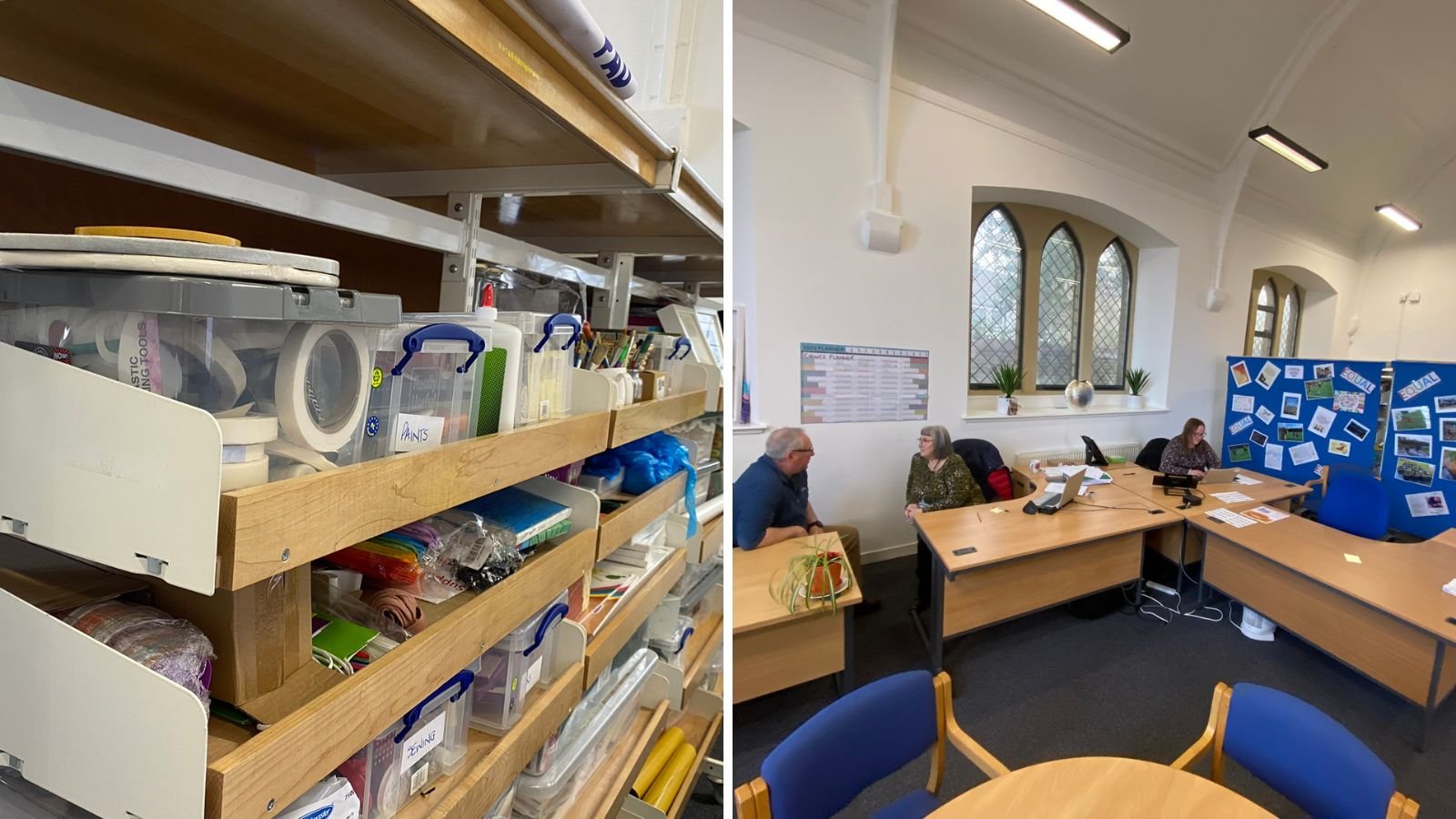 Above: (left) reused stationery shelves, (right) reused office furniture.
Read more about the reuse work taking place at North Ayrshire Council.
North Ayrshire residents looking for information on how to do their part to tackle climate change can visit the Council's Recycling webpage.
Start reusing today and register with Warp It.
Read how to donate your surplus assets to charity on Warp It.