Nottinghamshire Healthcare NHS Foundation Trust's sustainability and reuse work has received an internal environmental award, while saving £9,500 in just one year through the Warp It reuse and redistribution system.
Swapping unwanted items, such as office furniture and fixtures, between departments has also helped the Trust to save 20,646 kilograms of carbon and divert 7,793 kilograms of waste from landfill over the past 12 months, the equivalent to removing nine cars from the roads and planting 28 trees.
Around £20,000 worth of donations have also been given to Mesopotamia, a local charity that provides poverty and hardship relief.
The Trust's Property & Space Utilisation and Capital Services Departments use the Warp It reuse system alongside The Green Impact initiative, a Students Organising for Sustainability (SOS) programme that supports sustainable practice in organisations by giving staff an online workbook of actions, which are recorded and submitted as evidence.
Each year the efforts of those involved in the Green Impact scheme are recognised and celebrated. This year the Property & Space Utilisation and Capital Services Team achieved an Excellence Award for their work with Warp It. The Property & Space Team was also successful in 2021 in scooping the Trust's Environmental Impact Award at its OSCARS awards scheme which celebrates the outstanding work of staff and volunteers.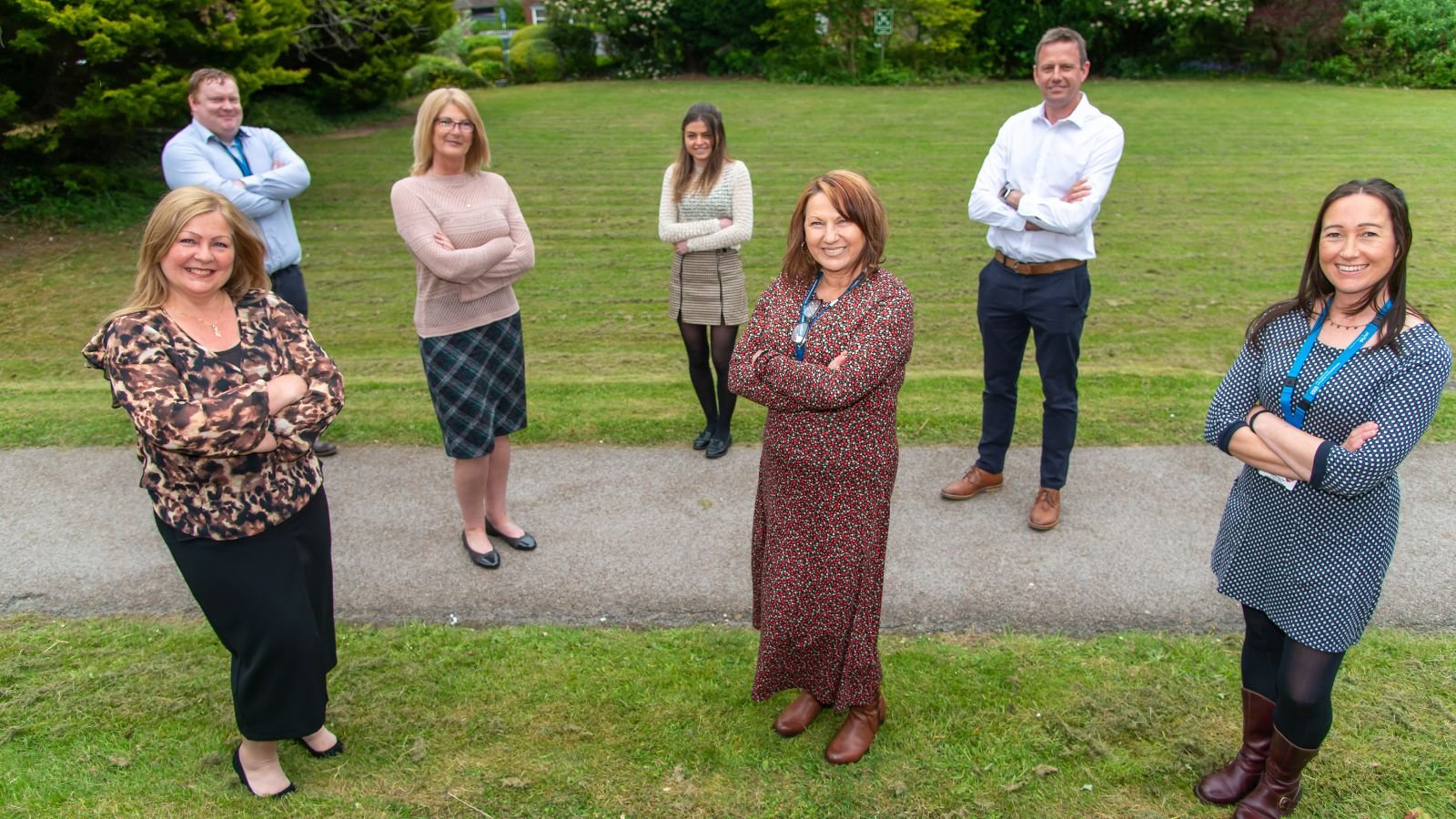 Above: The Property & Space Utilisation Team at Nottinghamshire Healthcare NHS Foundation Trust
The Property and Space Utilisation Team works closely with the Capital Services Team, and both operate within the Estates & Facilities Directorate of Nottinghamshire Healthcare NHS Foundation Trust.
Caroline Pinnick, Space Utilisation Officer at the Trust, is part of the team. She said:
"By redistributing surplus furniture and equipment on Warp It we've made a total saving of £9,500, and significantly reduced carbon and waste, which all greatly helps our work in making a difference and prioritising the sustainability agenda."
Staff can view and exchange items via the Warp It system, which can be customised to requirements. Items can be uploaded along with a description, an estimated weight, deadline, and other relevant details.
Caroline said:
"The whole team go above and beyond with sustainability in mind by carefully considering what furniture is needed when planning for future office move projects, so any surplus items generated from previous moves and building closures can be categorised, entered onto a live inventory, appropriately stored, and reused quickly. This minimises waste and avoids landfill while helping us to engage with staff and moving towards net zero."
The team works with Nottingham-based charity, Mesopotamia, that provides poverty and hardship relief locally and globally. To date 201 items which could not be used internally at the Trust have been donated worth around £20,000. This has avoided 12,961 kilograms of carbon and 4,477 kilograms of waste.
Caroline explained:
"The donations have included shelving and tables for the Foodbank, which supports 300 people each week; furniture for its office and hub that supports the homeless and refugees; wooden shelving units for the charity's shop; partly furnishing a Nottingham hostel with bedroom and lounge furniture; and desks and chairs for homes of children being home taught during lockdown."
Both the Warp It and Green Impact initiatives are supporting the Trust's Board approved Sustainable Development Management Plan (SDMP) also known as a Green Plan, which outlines projects and activities to improve sustainability performance throughout the Trust.
Caroline concluded:
"The importance of reusing with Warp It, and the Green Impact Scheme, are significant and we are delighted with the fantastic results that help us deliver environmental improvements and work towards Net Zero."
Read more about the Trust's sustainability work.
Read how Nottinghamshire Healthcare NHS Foundation Trust made a big green impact in 2021.
Find out more about the Green Impact programme.
Discover how to donate your surplus assets to charity on Warp It.