The University of the West of England Bristol has helped to kit out classrooms for trainee ambulance drivers at an NHS Trust using the Warp It distribution service.
Following various clearances around the university a wide range of furniture, including desks, cabinets, tables, and chairs that were no longer wanted or needed were stored in the university warehouse until space ran out.
By using the Warp It system these items are primarily redistributed internally to departments within UWE Bristol making it much quicker and easier for staff to reuse furniture internally.
When this isn't possible items are matched with external organisations, which has recently included the South Western Ambulance Service NHS Foundation Trust.
Adam Green, Sustainability Coordinator at the university, heads up the reuse service at the university. He said:
"We already had a furniture policy in place, which is integral to the university's sustainability plan, and the online Warp It facility has ensured the smooth administration of ensuring that any unwanted furniture is put to good use.

"We have collected used furniture from throughout university departments and when storing it became an issue, I decided to launch the Warp It service so that the items could be put to good use within other departments in the university easily and quickly.

"While it is always our main priority to encourage and help our staff to reuse furniture and other items here at the university if we have remaining assets on the system we will open the offer to external organisations. On this occasion it resulted in a collaboration with the South Western Ambulance Service NHS Foundation Trust who were seeking to furnish their emergency response driving training classrooms."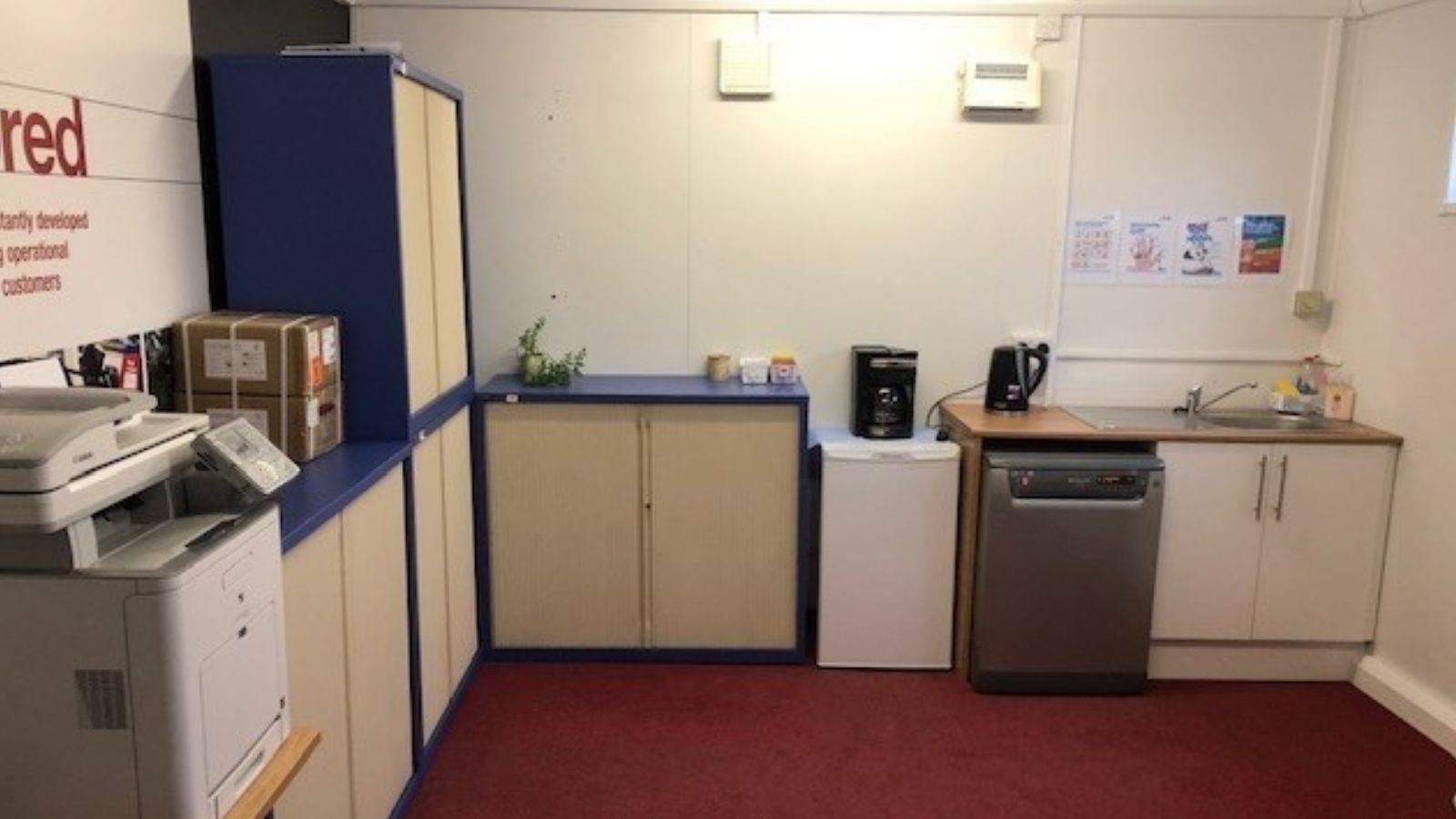 Above: emergency response driving training classrooms at South Western Ambulance Service NHS Foundation Trust.
Matthew Reece, Driver Training Officer at the Trust, approached Adam after spotting the unwanted furniture and fittings on the Warp It system.
Matthew explained: "With restricted budgets and limited furniture and fittings for our classrooms, it was brilliant to find a range of storage cupboards, filing cabinets, chairs and desks. We even secured screen dividers which helped us to create spaces suitable for an environment where are candidates learn the theory element of our three-week intensive driving courses.
"The process was really simple and swift. After I had identified the items we needed on Warp It, I called the university and arranged the collection. The saying "one man's junk is another man's treasure" is absolutely true on this occasion! It really was a godsend and we have also built up a fantastic relationship with Adam."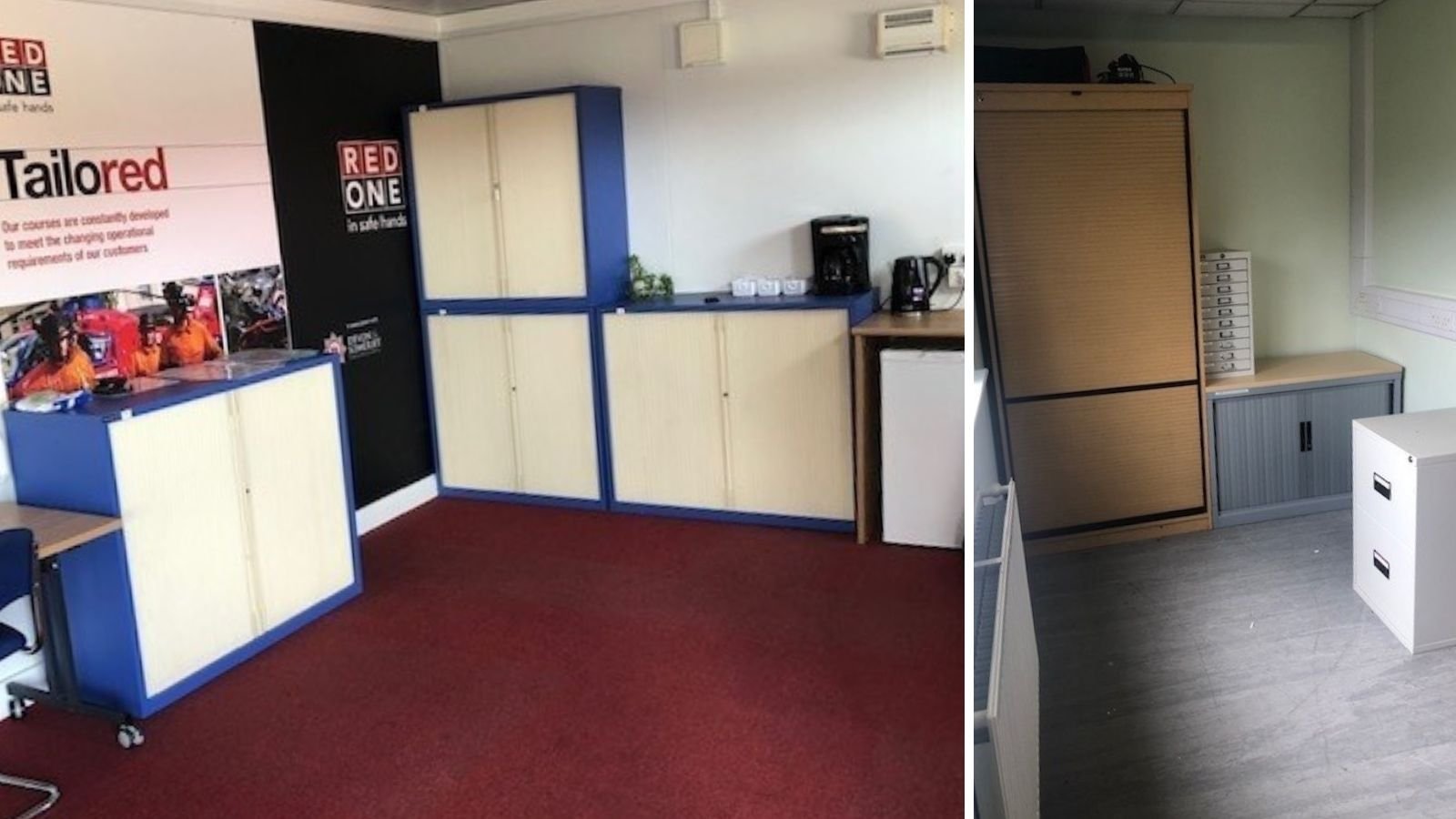 Above: the South Western Ambulance Service NHS Foundation Trust claimed a range of furniture.
The collaboration has resulted in both organisations making financial savings and reducing waste and their impact on the environment by reusing the items and contributing to their overall sustainability and environmental improvement targets.
Adam concluded:
"The Warp It system has allowed us to easily proactively redistribute furniture and other assets. We never send anything to landfill and instead will always recycle but it is our preference to rehome and reuse unwanted furniture, equipment, and other items.

"We will continue to use the Warp It system to do just that and we are also looking to introduce a borrow and return scheme so that university staff and students can access items such as crockery and cutlery for events and chairs and tables for communal areas."
For enquiries please contact Adam Green.
Read more on the university's sustainability plan and activities.