"Claiming the items has been very simple. You pick the number of items you want, you claim them, and then you're just arranging a collection. It's very sleek."
-Paul Dodd, CT Furniture
---
Warp It are incredibly pleased to welcome Paul Dodd from CT Furniture to talk about his experience of using Warp It to stock their warehouses and shops to support their charity work.
Our customers are donating furniture to charity, via our services. CT Furniture have been quick to understand the potential.
Paul has been claiming hundreds of items from Warp It, and has some great information to share about:
How they are on track to collect 100 tonnes of reused office furniture

How reselling claimed furniture supports their local community in a huge way

How 'too good to be true' isn't true, but it is very good!

How bulk collections are better than small collections

How CT Furniture solved a huge waste issue for the University of Sunderland
Without further hesitation, please sit back and enjoy this great interview…
Hi Paul! So, one of the problems we have with getting charities to use Warp It is that it sounds too good to be true. Obviously, you found out that it is true, as you've been using our portal for CT Furniture. Can you start by telling us a bit about this charity?
Well, Community Transport is the whole organisation. The division I work on is CT Furniture, which is a division of Community Transport. We take in donations of household furniture, electrical goods, general household items, and office furniture . Those are displayed in our warehouses and shops from Newcastle down to the Midlands. The items are displayed and retailed at a discounted price to families in need.
What happens with the money generated from these sales?
The money generated from the sales keeps the warehouses and shops running- providing experience to those out of work and from challenging backgrounds. It also subsidises our transport division. Community Transport, provides transport to vulnerable and isolated people. It's a fleet of wheelchair accessible minibuses. The money from furniture also provides training opportunities.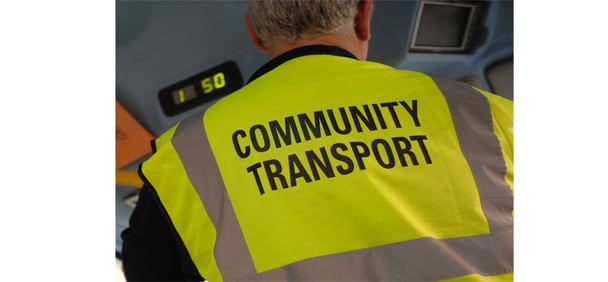 What are the training opportunities, can you tell us about this?
We provide opportunities to those who are struggling to get back to work, like MiDAS training, which gives people a qualification to drive minibuses. We also offer safe van driver training and driver disability training. We also look to provide work placements for the long-term unemployed as well as volunteering opportunities.
Great! That's exactly what we want to hear. So, where did you first discover Warp It?
I was contacting Newcastle University about some items that they had available. Through that conversation they said 'Well, the items are available through Warp It and you'll need to claim them through there'. That put me on to you. We've found in the past that trying to access large organisations like universities and charities is not that easy. Because of that, a lot of charities don't get the furniture, and it goes to landfill.
So ever since we got set up off the back of talking to the University, it's been brilliant. It's getting us linked with organisations that we wouldn't previously have had contact with. Sunderland University, Teesside University, various councils and organisations up in Scotland which is not too far from our Newcastle branches. Warp It is broadening our horizons.
How have you found the system? Tell me about your journey from discovering us, to getting set up, active and claiming items. What's your process?
The sign up was a bit confusing at first, but the help that was available was brilliant and I got answers to any of the questions that we had. Claiming the items has been very simple. You pick the number of items you want, you claim them, and then you're just arranging a collection. It's very sleek.
Do you have any stories of memorable claims?
I think the biggest job was one that we did for Sunderland University. Speaking to them, they were having issues with people claiming items last summer, because they had a lot of furniture and it was taking a great deal of time to organise the logistics of collections. People wanted single items and were being slow about it. That simply isn't worth it for us, we would need to take the whole lot for it to be worthwhile.
So, we explained who we are and what we do, and a bit about myself, and we told them we wanted to take everything. From their point of view it was brilliant, because we sent our vans and crews, and within a couple of days we'd collected everything. It made the job easy for them, and we got warehouses full of top quality reusable furniture!
I love to hear that Paul! Just think of the savings. So, you must have some quality advice for charities similar to yours, who maybe have regional offices or warehouses. What would you say to them?
I'd say 'Give it a try'. It's been an excellent resource for us. The fact that you can filter it by items ending soonest and which items are nearest is fantastic. If I'm looking for stuff for the Newcastle sites, I can quickly bring up the items which are closest to me. Also, you've got the area where you're linked to the organisations you've already claimed from before, called the Warp It Club.
The site is transparent too, so we have access to roughly 2150 organisations, and there's approximately 14,300 items on there, who I'm guessing only list internally. However, we are able to send a friend request and grow our network and get access to even more Items!
We are constantly looking for stock. Every single day. We don't just pick up ten or twenty items, we pick up hundreds, for example later this week we have a collection of 250 desks. We take donations in large quantities.
Do you know about the wishlist feature Paul?
Yes, I've seen the wishlist, we have used it. I also use it to set reminders, which is ideal because you've got a busy day - you're here, there and everywhere, and then these reminders pop up on your email to tell you that items have become available. It's ideal, it's a brilliant system, it has opened up a lot of avenues for us since we've started using it. I couldn't recommend it more to be honest.
Volunteer, Michael, in a CT Furniture Warehouse
What's next for you Paul, are you expanding your operation?
Well, we've got two Newcastle sites and we are in the process of opening a third in Northumberland, we also have various sites across the Midlands. This financial year has been one of our busiest and our Newcastle sites are on track for 100 tonnes of office furniture alone. We've also collected 436 tonnes of general household furniture from our Newcastle sites, with similar results in the Midlands Our target is for our Newcastle sites to collect 150 tonnes of office furniture in the next financial year.
That's great because we've set a huge charity goal too! Our donations are currently around £2m, that's assets going direct to charities. We want to hit £3m by April, which is why we are having a huge charity recruitment drive.
---
Could your charity benefit from free furniture and assets?
Of course it could!