Five hospital trusts in Lancashire and South Cumbria have saved over £80,000 in just five months thanks to reusing with Warp It.
Colleagues have been re-purposing unwanted items, reducing the need to buy new or send for disposal or recycling. Reuse is higher up on the waste hierarchy and a more sustainable option than recycling.

It has helped avoid 33,994kg of waste and saved 14,062kg of carbon that would have been used - this is the equivalent of planting 45 trees and removing 14 cars from the roads.
Items reused include office and ward furniture, and clinical equipment including 259 pairs of wellies and a 40-foot container of mop heads.

The five trusts are East Lancashire Hospitals, Blackpool Teaching Hospitals, University Hospitals Morecambe Bay, Lancashire Teaching Hospitals and Lancashire and South Cumbria NHS Foundation Trust. Lancashire Teaching Hospitals have been using the system since 2015 and have saved 88 tonnes of carbon, 120 trees, 37 cars and 32 tonnes of waste to date.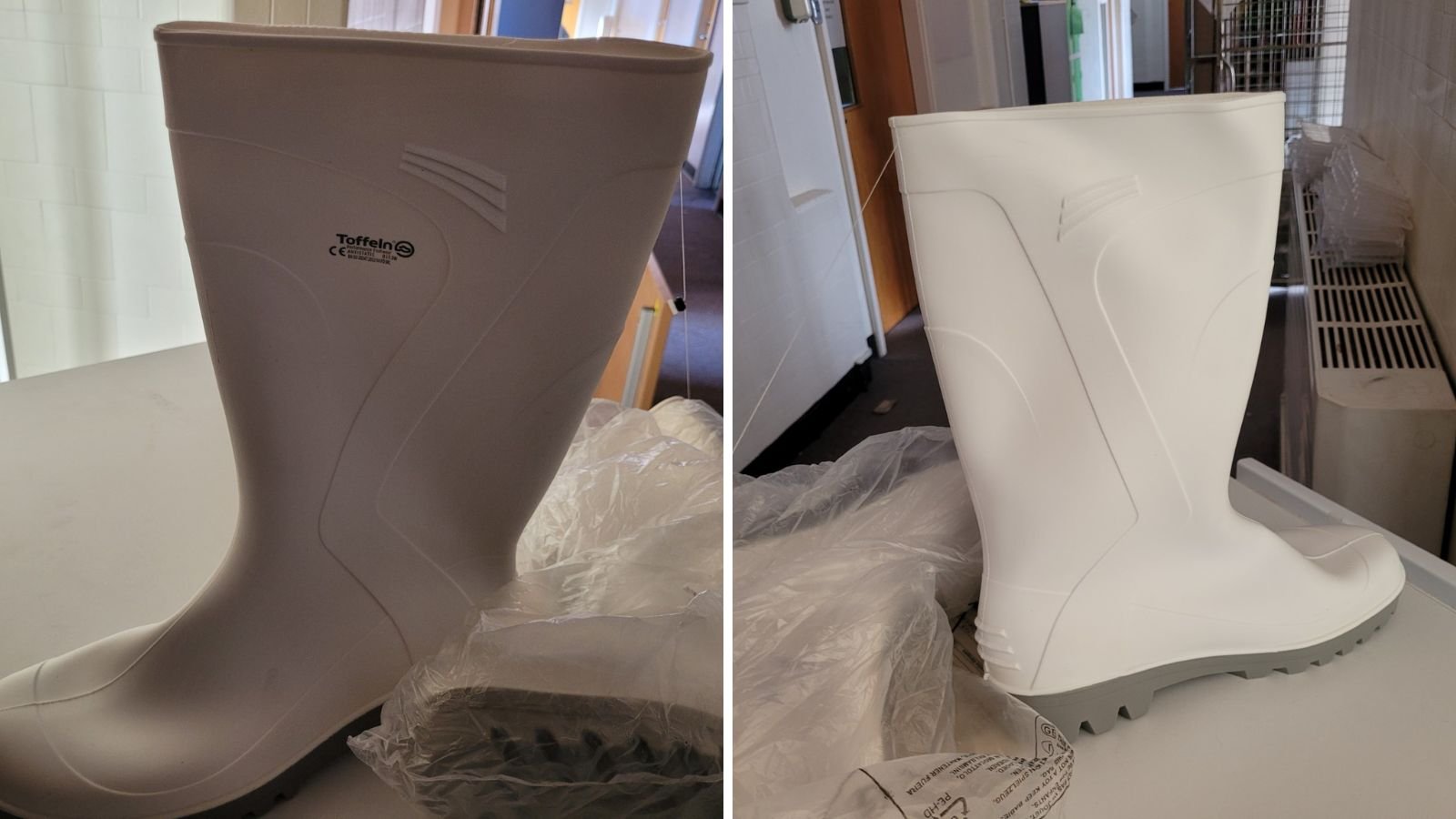 Above: items reused have included 259 pairs of wellies.
Jo Hopkins, Project and Performance Manager at East Lancashire Hospitals NHS Trust, managed the introduction of Warp It across four of the Trusts, which went live in April and is funded by the Healthier Futures Action Fund for its first year.
She said:
"It's a great way of making best use of the resources available, saving money, and protecting the environment.
"Anyone working in any of the trusts are able to list their unwanted items or search for what is available across Lancashire and South Cumbria.
"We now get best value out of resources by finding new owners for items that would otherwise go for disposal or stay in storage for years."
Trusts have worked together to find an efficient way of distributing items to hospital sites through Warp It Wednesdays, managed by the logistic teams and Waste Managers.
Jo added:
"The logistic teams are the heroes when it comes to transporting items to their new owners at the right time and in the right place. They have really bought into the reuse way of thinking and make sure it's the first consideration before anything is disposed."
A central storage area has also been set up at Accrington Victoria Community Hospital freeing up space across other hospital sites.
Jo explained:
"Hoarding is common, but it leads to cluttered and poor utilisation of spaces, damage to items, and potential health and safety hazards. Warp It has enabled us to clear out spaces, utilise our central storage area effectively, and track all items along the way."
Building on the recycling success, some of the trusts are now looking at how they can expand the scheme to introduce ways of loaning items that are used infrequently.
Jo said:
"It makes complete sense to set up a loaning system where things like gazebos, laminators, presentation stands, and projectors can be booked for use then returned for others.

"Sharing resources this way, alongside the wider reuse and redistribution of items, reduces unnecessary spend. This means funds can be re-directed towards the well-being of patients and colleagues.

"Reuse is also integral to supporting the NHS to meet its ambitious net zero goal for its carbon footprint and greatly helps our work in making a difference and prioritising the sustainability agenda. I'm proud to see reuse come to life in the five trusts."
Read how Warp it helps NHS Integrated Care Systems reuse assets better.
Read why reuse is critical to achieving a net zero NHS.