Warp It's vision since day one has always been to normalise the reuse of surplus assets across organisational estates, such as universities, councils and hospitals.
Despite the proven benefits of a reuse system in these organisations, we still see many opting to throw their surplus assets in skips and dumpsters on a daily basis.
Eventually this will stop.
To help combat this broken philosophy, we have written a paper for anyone who is thinking of introducing a reuse program in their organisation. This paper will give you a solid foundation for what to do, with ten sub-sections providing excellent guidance.
If you are thinking:
How do I set up a reuse program?
Or
How do I set up a furniture reuse system?
Then this is for you!
Changemakers
Thanks to the work we have been doing here at Warp It in recent years, we've built relationships with changemakers all around the world. These people are determined to leave a positive mark on the environment, people and their organisations, and we have been able to talk to them and create interviews that allow you an interesting look inside their worlds.
We are very lucky to talk to tyhese people. They make us better at what we do and inspire us.
One of these people is Jonathan Latko (pictured above, centre), Director of Computer Recycling at Temple University, USA.
To say Jonathan is a change maker is the understatement of the century. See here.
Jonathan, alongside Kathleen Grady, Director of Sustainability, pushed for reuse to become part of policy on campus, and you can read about their journey in this paper.
Recycling Expert
Jonathan has been incredibly generous with his time and expertise in helping to put this paper together with his interview answers. We felt that he was the perfect person to assist in designing this guide thanks to his 13+ years experience in developing and running a computer and electronics surplus programme in the university's Computer Recycling Center. Thanks to this experience, Jonathan knew all the best actionable advice and things to avoid in implementing your reuse project.
We actually did a case study on Temple University Surplus Programme as part of a recent study into reuse practice in US Uni's. See here.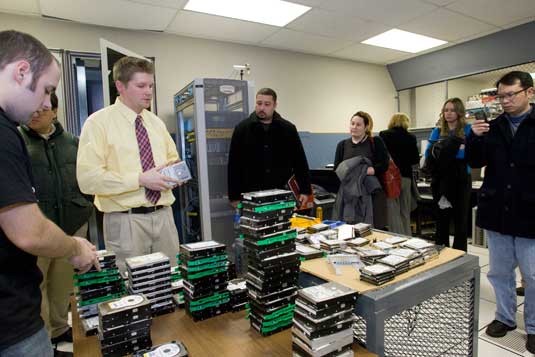 How to use this guide
This guide should be read at the start of your reuse journey as a way to plan the introduction and implementation of the project. Or even if you are well away on your reuse journey you can use it as a checklist.
There are ten sections each which must be considered and explored by you and your colleagues (ideally your implementation team).
Although this guide is most applicable to educational institutions, the learnings inside could be applied to any estate. Within the guide you will find dozens of links to further helpful resources which we encourage you to read to be better informed.
Download this exceptional guide below: