Roundups are a regular message that the Warp It service can send out to all members telling them if anything has been added to their network in a specified time frame.
How does it work?
The automated message goes out on the days when assets have actually been added to the system, or when people in your network are adding items to their wishlist. So it doesn't necessarily fire out every day.
If a round up is set on daily it will fire at 5 pm if:
items have been added in the last 24 hours
Items are expiring in the next 5 days
Wishlist items have been added in the last 24 hours
Any items added by other organisations that you are linked with (if enabled) in the last 24 hours
Any items are about to expire
If a round up is set on weekly it will fire at 5 pm on a Friday if:
items added in the last week (since last weekly email)
Items expiring in the next 7 days
Wishlist items in the last 7 days
Any items added by other organisations that you are linked with (if enabled) in the last 7 days
No clogging!
We aren't here to clog up your inbox with emails, we are here to drive forward the reuse movement.
We have also made it so that people can choose how frequently they want to receive emails, and these custom email settings are done on a member-by-member basis.
So the Warp It member can choose whether to receive messages daily, weekly, not at all, or just when things are added that they might want (via the wishlist).
How are the top reusers using this feature?
We know that the top reusers on Warp It are subscribed to all of the email notifications because they want to save a lot of money on a daily basis. This means that they don't need to keep logging in and checking what has been uploaded because at 17:00 each day they get a handy email that tells them what's up.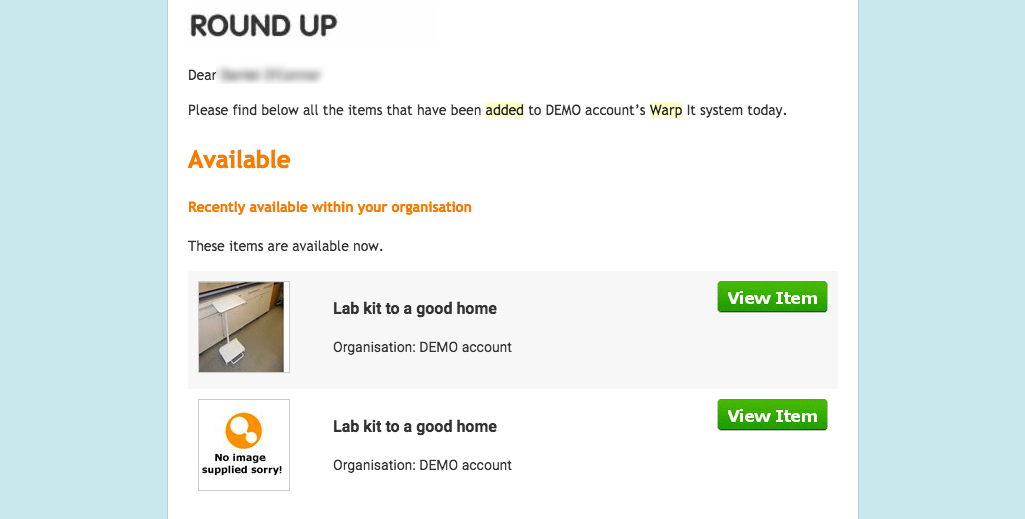 Items about to expire
We also list in the items that are about to expire in the organisation to give them one last chance to get claimed!

This feature drives reuse
It drives the use of the Warp It system, which drives reuse. So, on one hand, you don't want a clogged inbox, and on the other hand, you want to push forward reuse and make it mainstream. It was exactly for this reason that we felt it was necessary to allow users to control the frequency of their emails.
However...
An update to Roundups?
As the administrator, you can actually control the frequency of emails across the organisations, as a universal setting. The main situation where this might come in useful is to turn off all emails for everyone if the organisation feels that it's appropriate. Or you can put it on weekly OR user controlled. Go to admin> settings> control users.....and find this below.

It may also come in useful if reuse is something that is more popular at certain times of the year, as we have learned with some universities who experience booms at the start of semesters. In these instances, you can turn on the messages for all users to daily, to really ramp up reuse in this times.
Summary
The Roundups feature can be daily or weekly.
It summarises assets that have been added that day or week.
If there have been no new items, there is no email.
The emails will also say what people are looking for in the network.
Admin can universally control email frequency for their organisation's Warp It members or the member can control the frequency.
---
The Roundups feature works in