A community group in Norfolk is appealing for medical aid and equipment to help combat paramedics and injured civilians in war-torn Ukraine.
North Norfolk Aid for Ukraine was formed in February 2022 by the manager of local pub and the group fundraises and co-ordinates the collection and distribution of donations to the country.
Since then, North Norfolk Aid for Ukraine continues to raise funds, sent over 21 vans of donated items to Ukraine, while also attracting the support of over 100 local people.
Matthew Cole, one of the volunteers coordinating contributions, has now sounded a fresh appeal for donations of life-saving medical equipment and other supplies by joining the Warp It reuse community, which has over 60 NHS Trusts already donating medical equipment to charities.
Matthew said:
"We hope to tap into the range of medical equipment and supplies that are already in the process of being redistributed to charities on the Warp It reuse network.

"The need for medical and other essential supplies in Ukraine remains urgent. As time passes, we are seeing the spotlight reducing on Ukraine, but the war is far from over and many people will face further hardship for a long time to come.

"We remain committed to helping Ukrainians and sending essential supplies and humanitarian aid to the families, individuals, and organisations in need."
Most-needed items are: any kind of painkillers and anti-fever medicines, tinned food that can be opened without a can opener, energy bars, nuts, dried fruit, biscuits, mineral water disposable cups, disposable cutlery, and napkins.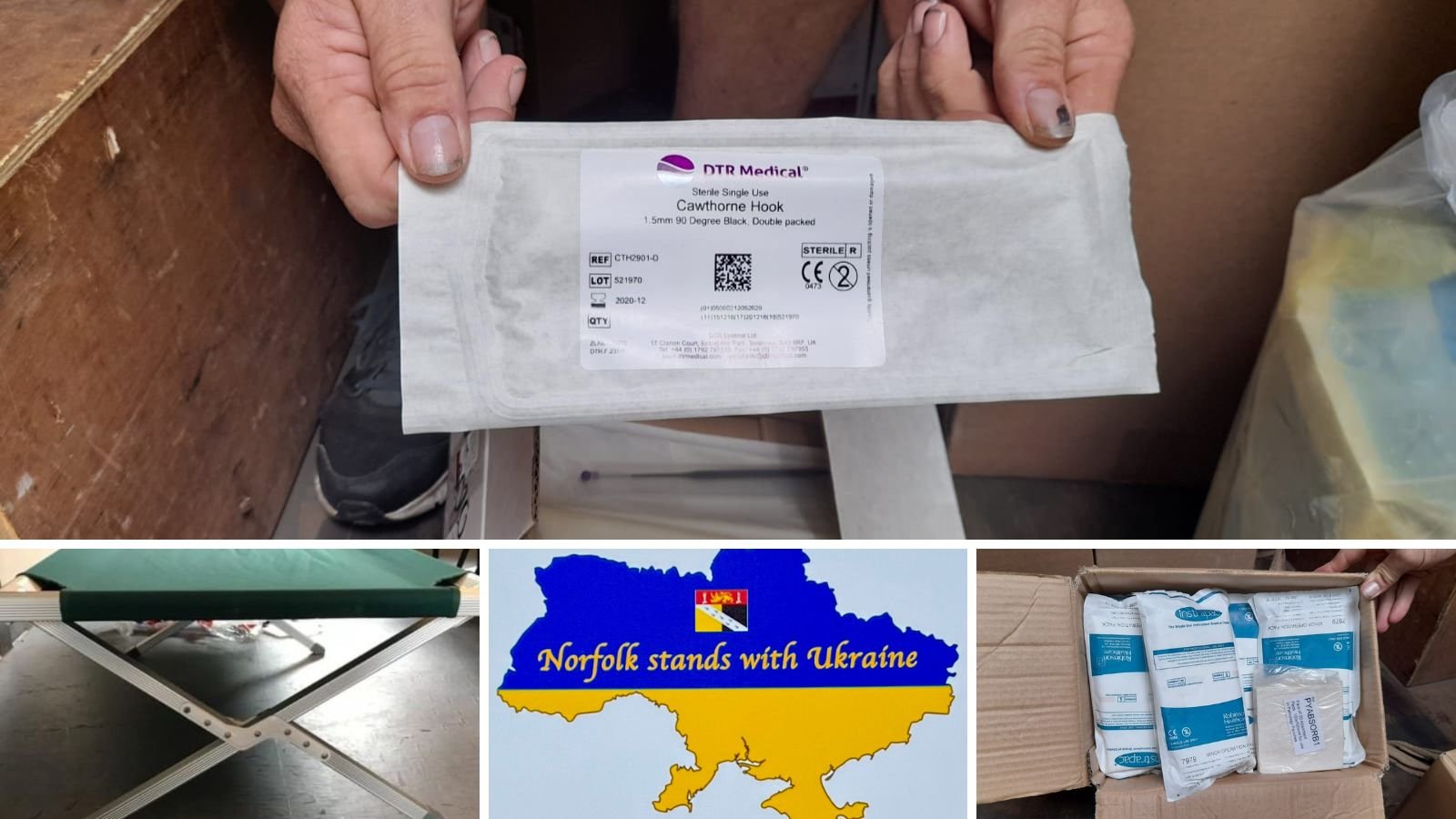 Above: The North Norfolk Aid For Ukraine group fundraises and co-ordinates the collection and distribution of donations to the war-torn country.
Matthew continued:
"As well as the standard items, we hope that the Warp it community can help us specifically with the medical items needed that can be used by paramedics on the front line in Ukraine. This includes first aid kits, trauma kits, surgical kits, dressings and bandages, tourniquets, ultrasound machines, splints, panthenol, turnstiles, transfusion systems, and droppers."
The group also has the backing of Duncan Baker, MP for North Norfolk. He said: "I met the North Norfolk Aid for Ukraine volunteers who are continuing their incredible mission to support Ukrainians fighting for their country. They have sent 29 vehicles with aid so far and purchased three 4x4s to donate to the front line, as these vehicles are in short supply due to being destroyed by the Russians.
"Their next mission is to send date expired medical equipment that is no longer used by our hospitals to Ukrainian paramedics to help the injured on the front line and to be used in the field hospitals in Ukraine. Enormous thanks to Robert and Matt and all the inspiring volunteers, sending life-saving equipment to help."
North Norfolk Aid for Ukraine will also continue to raise funds locally by organising more community events, fetes, and raffles and encourage local people to drop off donations at the five established drop-off points throughout the area.
Matthew concluded:
"We're always proactively looking for donations and will travel to collect anything that is offered. It made complete sense for us to join Warp It and join up with NHS Trusts across the UK who are looking to redistribute medical supplies they no longer want.

"The war in Ukraine is breaking our hearts. Thousands of civilians have been killed or injured, and countless others are living through violence and bombardment. These people have had to leave their homes and lives behind as they desperately attempt to escape death and destruction. The humanitarian situation is dire, and we're determined to continue to do everything we possibly can to alleviate some of the unnecessary suffering. Any support from the Warp It reuse community is very welcome indeed."
See the North Norfolk Aid for Ukraine Amazon wish list.
Join the North Norfolk Aid for Ukraine Facebook page.
Discover how to donate your surplus assets to charity on Warp It.
Read charities urged to sign up to use Warp It.
Read this round-up of donations given to charities, schools, and other third sector organisations by the big-hearted Warp It community.