Annual global waste is rapidly growing, and it's projected that it will hit a colossal 3.4 billion tonnes by 2050.
Meanwhile, the Waste & Resources Action Programme (WRAP) estimate 1.2 million office desks and 1.8 million office chairs end up in UK landfill every year; there is a real risk this will surge as organisations undergo clearances to reshape and reimagine office spaces as they adopt a hybrid working approach.
It's more important than ever to reuse where possible. The whole purpose behind Warp It is to help organisations reuse office furniture, stationery, and even medical equipment.
Furniture often includes desks, chairs, coffee tables, filing cabinets, whiteboards, sofas, and magazine racks.
Stationery varies widely and includes items such as staplers, pens, pencils, labels, folders, scissors, sticky notes, paper, notebooks, envelopes, binders, and clipboards.
Old or unwanted medical equipment can include birthing beds, cots, bedside cupboards, lockers, inspection lamps, crutches, walking aides, and wheelchairs.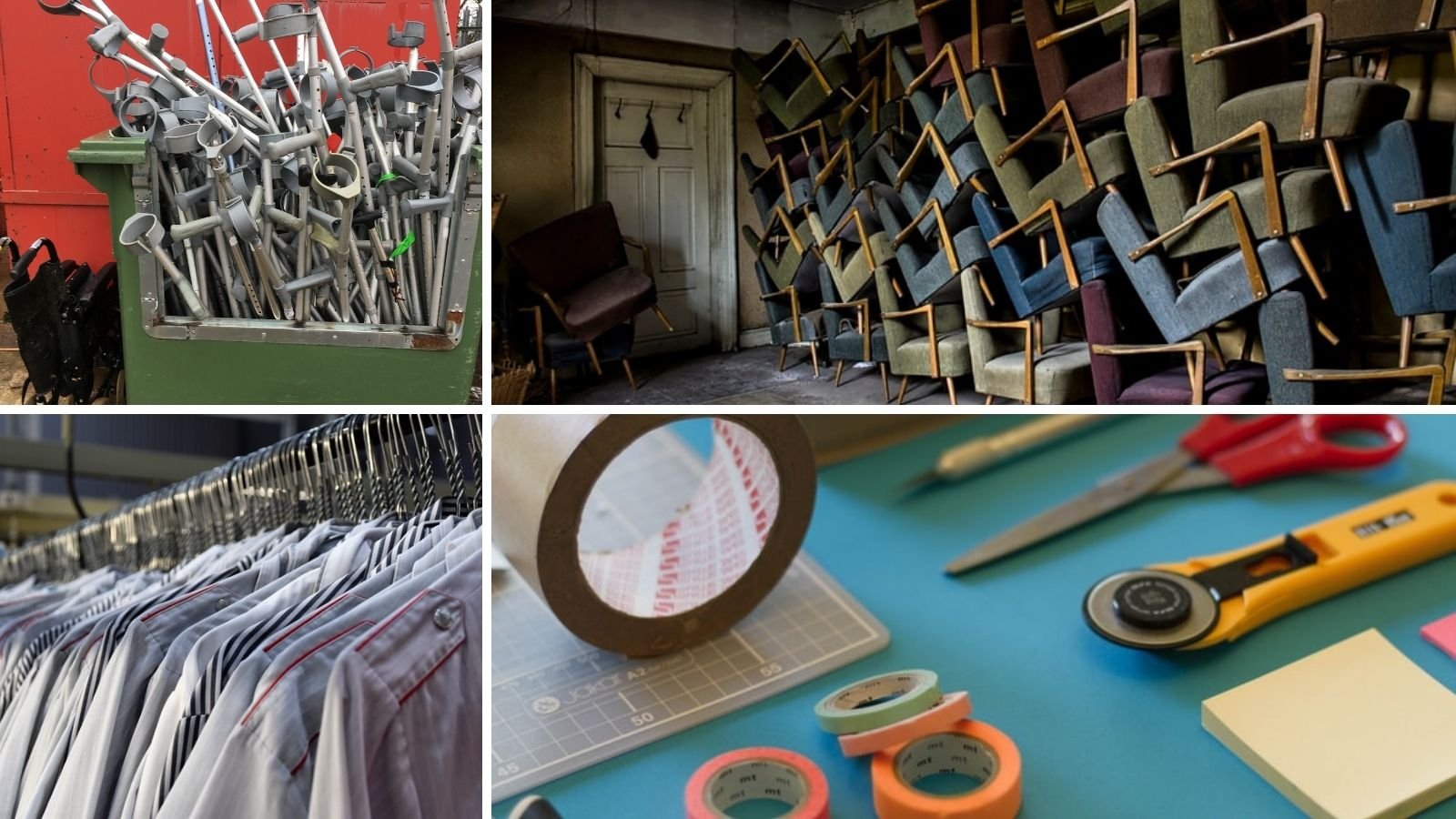 Above: items that can be reused include medical equipment, office furniture, work uniforms, and stationery.
The reuse approach is also true for uniforms and corporate wear, including footwear, workwear, protective wear, and casual wear – for any organisation.
Applying the principles of websites like eBay and Freecycle, Warp It is a thriving online redistribution system allowing users to swap or donate such unwanted and unloved items diverting them from landfill.
Firstly, what is reuse exactly?
Reuse is defined as 'to use something again' in the Cambridge Dictionary. It is often confused with recycling but it's important to note that they're not the same.
Reuse lengthens the life of an item by passing goods onto others to use again, while recycling is the reprocessing of an item into a new raw material and making it a new product. It's only when an item is no longer fit for purpose it should be recycled.
The benefits of reuse with Warp It
Reduce your impact on the environment. Reuse is better for the environment as products and materials are kept in use longer, which minimises waste, reduces consumption and the associated carbon impacts.
Save money. Reusing furniture and equipment reduces, and will often eliminate, the costs associated with buying new. The University of Kent recently reported savings of £1million based on the cost of reusing items, including desks, chairs, coffee tables, filing cabinets, whiteboards, sofas, and magazine racks, along with the time and money saved on procuring new furniture.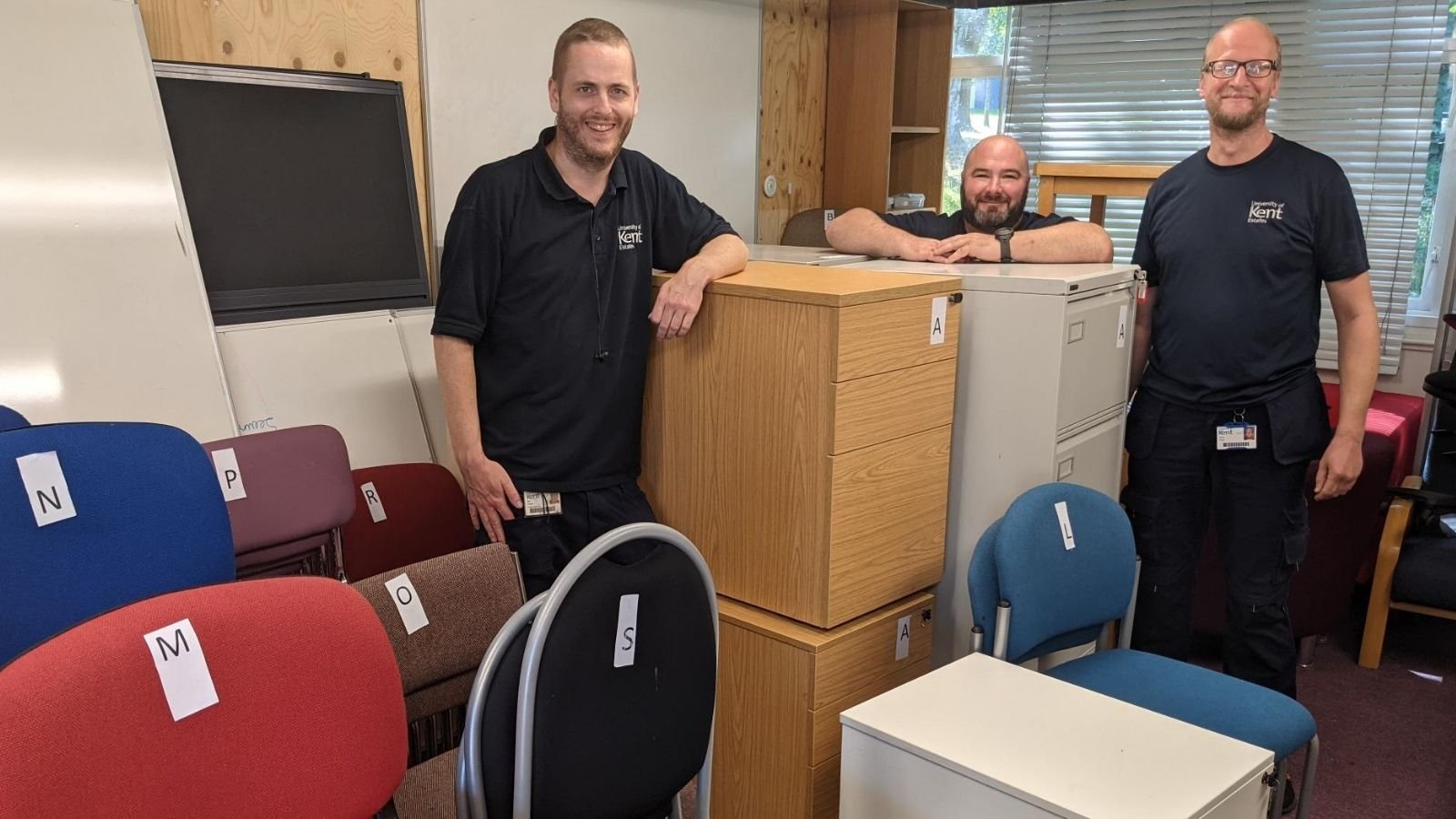 Above: The University of Kent saved a million pounds thanks to reuse.
Save energy. A lot of energy goes into the production of a new item so by reusing unwanted items it extends its life and reduces or eliminates the need to produce a new one. This reduces the strain on valuable resources, such as forests, fuel, and water supplies, helps protect wildlife habitats, and creates less hazardous waste. And let's not forget the inconvenience of having to dispose of excessive packaging that new items often arrive in.
Avoid landfill. By reusing unwanted furniture, equipment, and other items it diverts them from ending up in landfill while eliminating the associated costs with waste disposal such as paying clearance firms and skip hire. Read how Warp It calculates the waste disposal financial value of the items it saves from going to landfill.
Save time. A lot of time and effort goes into purchasing something new. Just a few considerations include maintaining budgeting spreadsheets, identifying suppliers, requesting quotes, and processing payments and invoices. Reuse will minimise the paper trail and toll on staff time.
Improve overall sustainability at your organisation. Reuse will go a long way to helping you hit your sustainability and environmental improvement targets. The London Metropolitan University is just one of many in the Warp It community that has reported that Warp It has proven to be integral for them reaching their sustainability and waste reduction goals.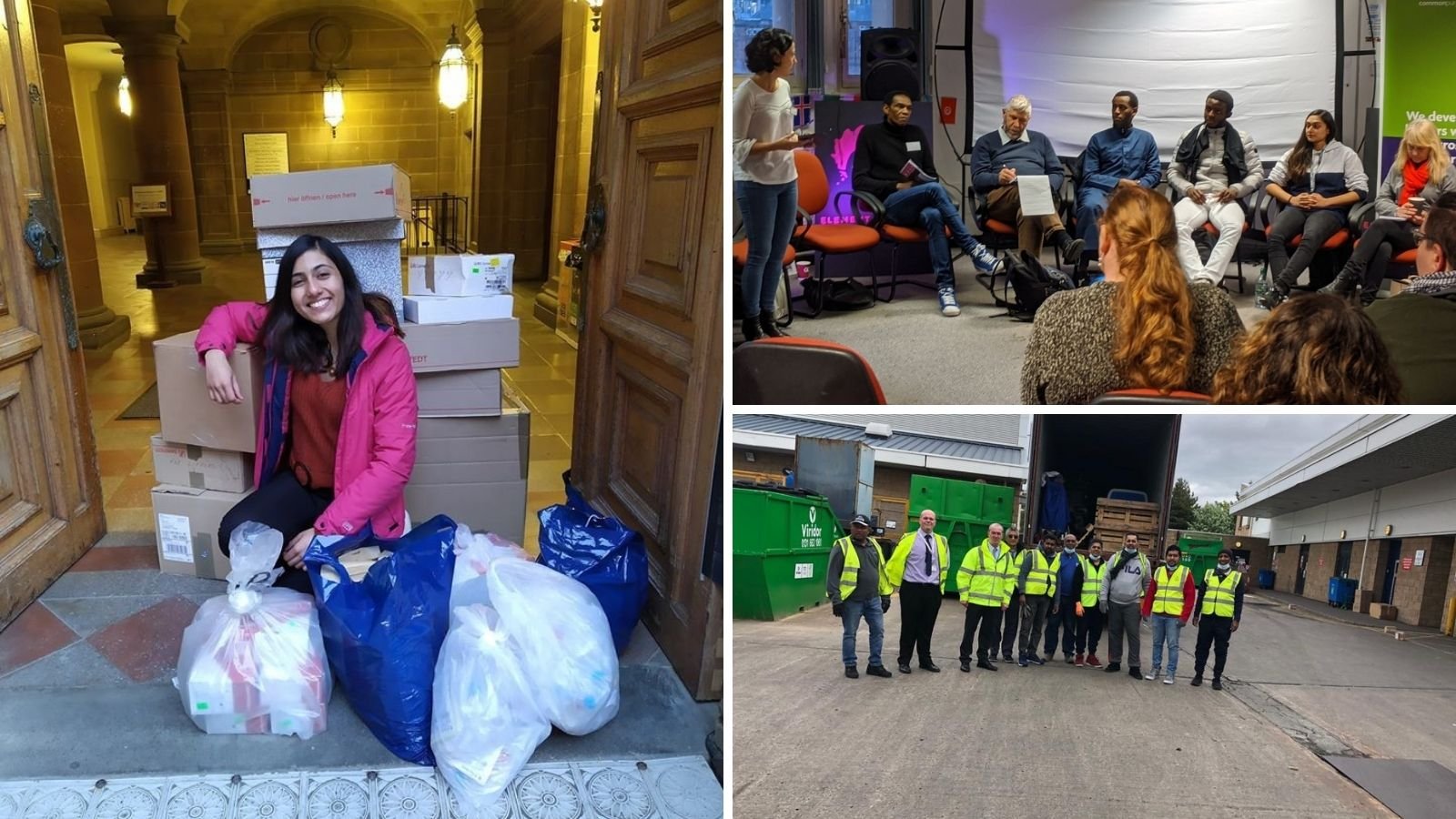 Above: over £3.7million worth of assets for reuse have been donated to good causes.
Increase your social impact. Help your local community and donate your unwanted furniture, equipment and stationery to charities and schools. Over £3.7 million worth of assets have already been redistributed through the Warp It system for good causes.