This is thanks to the growing Warp It community, which continues to take reuse action and shift towards a circular economy. Moving away from the 'Take-Make-Dispose' economic model is central to achieving net zero, which equates to a greener, safer, and healthier world.
As of June 2023, the Warp It community has
Saved £35,088,727

Saved 26,178,715 kg in carbon

Diverted 4,836,371of waste

Donated £ 5,855,566 to charity

Saved 11,382 days in staff time
This demonstrates the dedication in the fight to reduce waste, carbon and the strain on our planet is making a real impact. Read our report on why reuse is crucial to the circular economy.
The Warp It reuse service extends the lifespan of goods and products by creating a platform to reuse existing assets.
It makes it easy to swap surplus work items within the Warp it reuse community – within organisations and externally to other organisations, charities, and not-for-profits.
Everything redistributed is done safely, legally, and conveniently.
The Warp It reuse community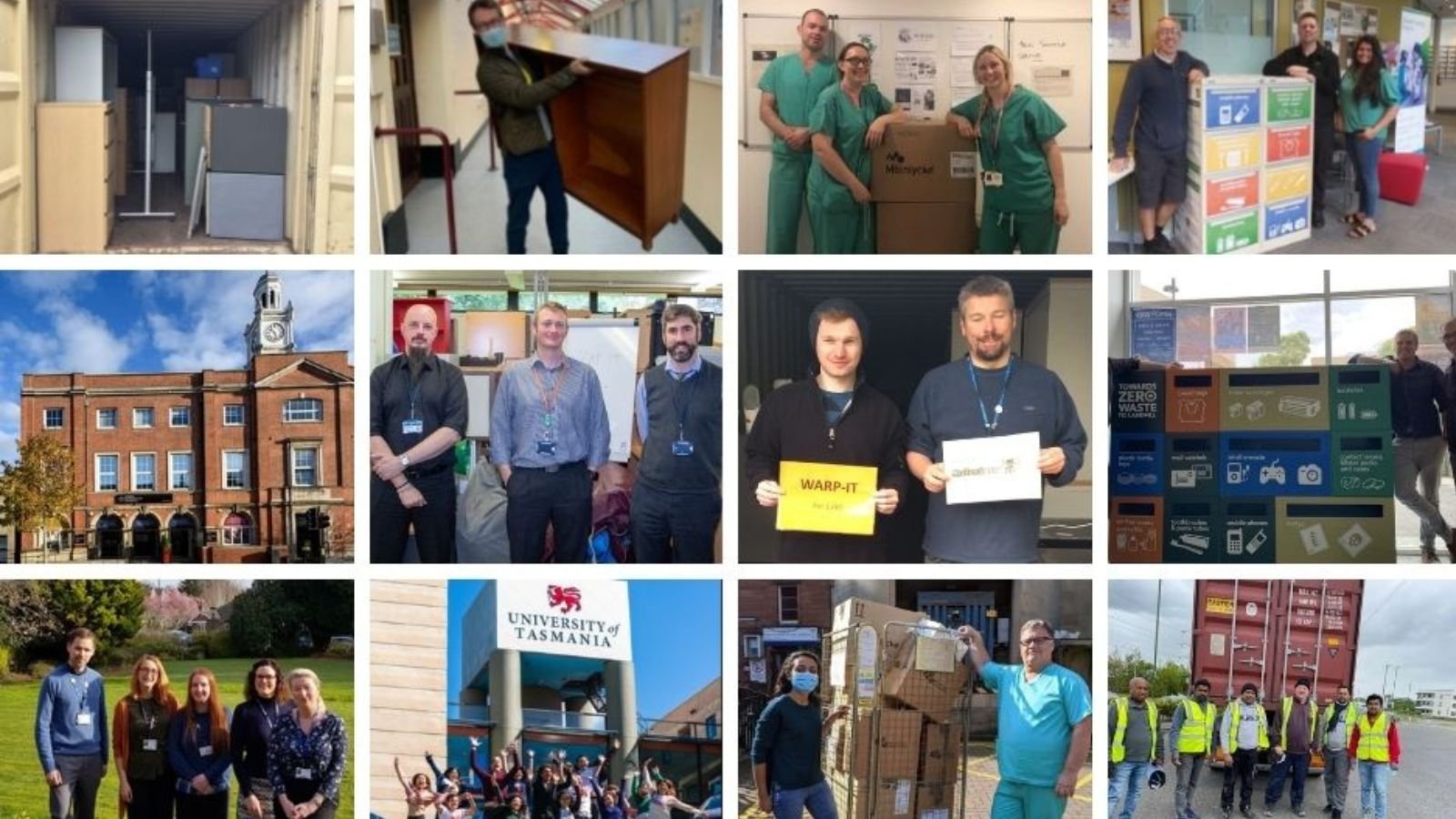 Warp It members comprises a wide range of organisations.
This includes NHS Trusts, universities in the UK and abroad, local authorities, and colleges. Read more about some of our reuse heroes.
And over 2,000 charities and non-profit groups in the UK and overseas are part of the community. See more about this here.
Our reuse heroes use Warp It to find, swap or rehome assets preventing them from being binned. Read about the benefits of reusing with Warp It here.
What can be reused on Warp It?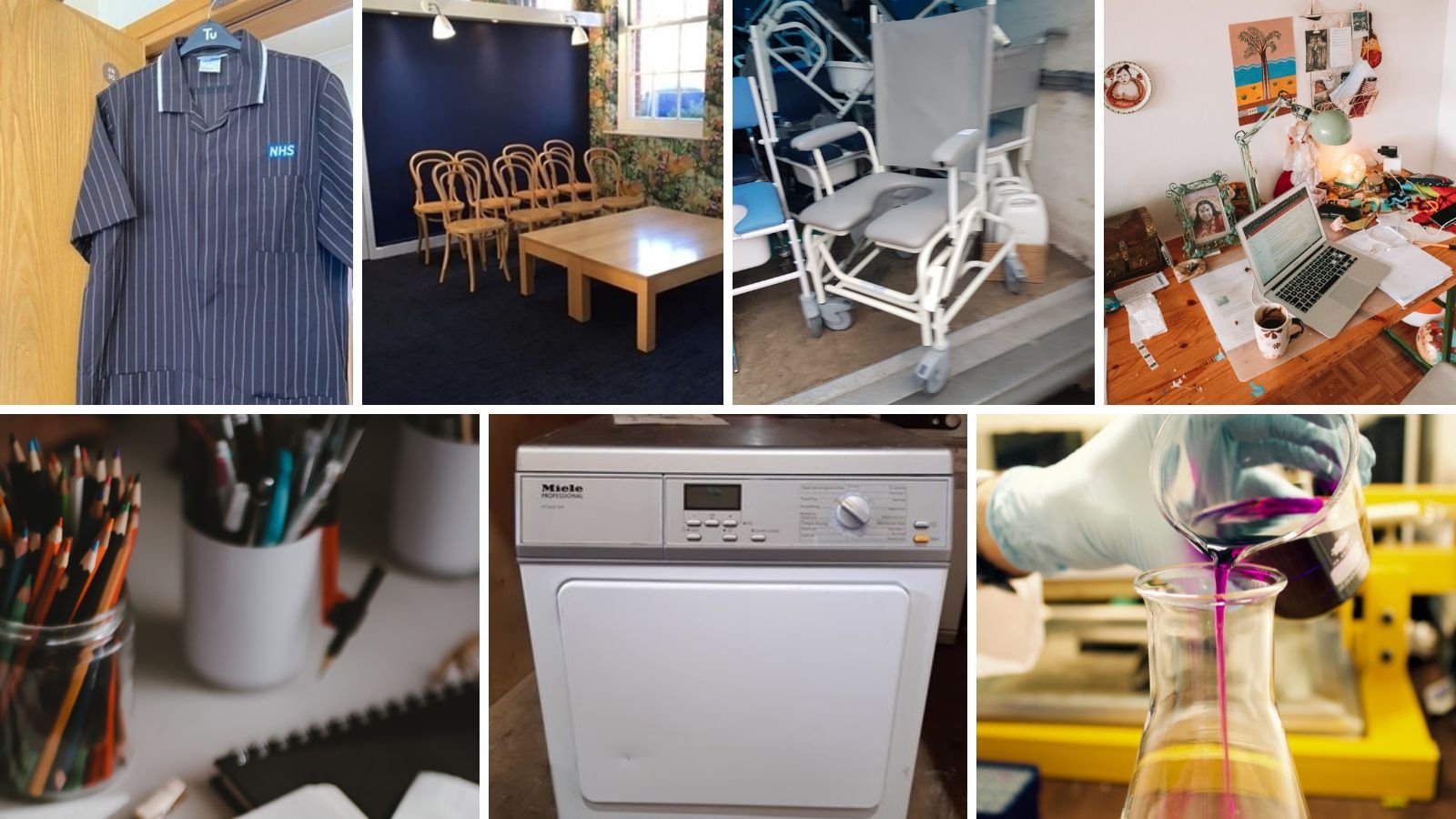 If it's safe and legal to do so, anything can be reused. The main types of items rehomed on Warp It include:
Furniture. This includes tables and desks, all sorts of chairs, coffee tables, filing cabinets, pedestals, whiteboards, magazine racks, shelving, and soft furnishings.

Stationery. There is a huge range of stationery that can be reused. This includes items such as staplers, pens, pencils, labels, folders, scissors, sticky notes, paper, notebooks, envelopes, binders, and clipboards.
Read more about reusing stationery.
See how to organise a stationery amnesty.

Medical, clinical, and lab items. This includes furniture such as birthing beds, cots, bedside cupboards, lockers, and overbed tables.
Equipment includes portable IV drip bag stands, inspection lamps, craniotomy sets, bone marrow biopsy needles, dialysis machines, analysers, medical freezers, and cardiology equipment.
Mobility devices can be reused such as mobility scooters, crutches, walking aides, wheelchairs, stairlifts, hoists, specialist toilets, commodes, walkers, and Zimmer frames.
Lab equipment includes: funnels; test tubes; bottles and beakers; flasks; lab stands; microscopes; burettes and pipettes; burners; rubber tubing, and a wide range of safety equipment.
Electrical and electronic devices. Appliances such as fridges, cookers, microwaves, washing machines, dishwashers, vacuum cleaners, irons, toasters, clocks, and games consoles, drills, saws, sewing machines, and lawnmowers.
Equipment including smoke detectors, thermostats, heating regulators, hot drinks dispensers, and money dispensers.
IT equipment including computers, copying equipment, cables, telephones, calculators, radios, televisions, music systems, and camcorders.
Clothing. Clothes are often redistributed for reused via Warp It. This includes uniforms, corporate wear, footwear, workwear, protective wear, and casual wear – for any organisation.
Read more about this.

And more! Other items reused through Warp It have included bleachers, pool tables, clothes horses, tuxedos, paper weights, and a brandy bottle.
If you have any clearances on the horizon, be sure to get in touch so we can help and read our clearance guide here.
Make circularity a priority for your organisation and start reusing today. Take the online tour and get in touch to join the Warp It reuse community.

Read our guide to reuse.
Why reuse? The benefits of reusing.
Read our reusing tips and tools.
Get tips to supercharge your reuse success.
Start reusing today and register with Warp It.