We are joined by Hannah Genders Boyd, Climate Change Intern at Historic Environment Scotland (HES).
As a public body in Scotland, HES must report on their carbon emissions and sustainability measures, as well as following waste regulations.
They recently appointed a Circular Economy Project Officer as part of a wider ongoing mission to reduce waste and carbon emissions across the whole organisation, which covers all of Scotland, including many remote areas. The organisation's commitment to sustainability is vital to their work and they have much recent success to shout about, not least their recent one year Warp It anniversary!
Hannah Genders Boyd
What was the problem that inspired your reuse project?
The idea at the start of working with Warp It was to try to tackle carbon emissions and reduce waste with one platform. Over the last few years we have been undertaking projects to increase recycling and reduce waste, however, we really wanted to increase reuse internally too.
Before Warp It, reuse here was ad hoc; for example, at the head office in Edinburgh some staff had designated a reuse station and were leaving excess folders and pens there. They knew that there was no need to throw things in the bin and fortunately there were some very engaged members. They understood the financial driver to reduce the cost of stationery too.
We also needed to think about the sheer size of the organisation and our Estate and accept that communication might be difficult, but that improving it would be a key opportunity towards seeing what assets could be available for reuse. It was our hope that Warp It would facilitate and streamline our resource efficiency dialogues.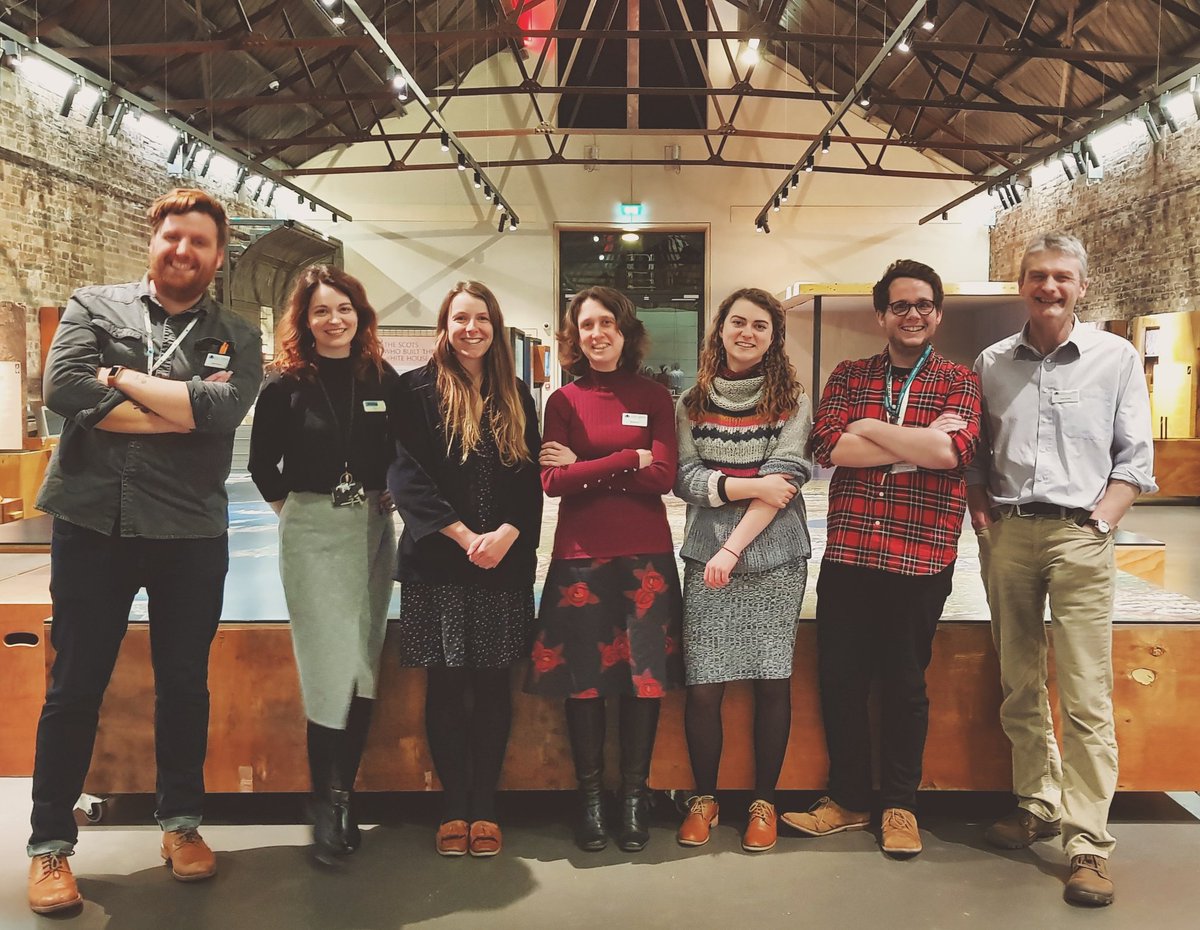 The reuse team at HES
What can you tell us about the journey the organisation has been on?
We joined Warp It in November 2017, so we have just celebrated our 1 year anniversary by renewing for another year. I joined the organisation back in January 2018 and I was given the task of really driving Warp It usage forward. I began publishing reviews and ideas in internal newsletters, trying to develop the embedding of reuse into HES.
It has been quite a journey in truth. Some of the key highlights would have to be in some of our more remote locations, where they are really engaging with the system and sharing specialised equipment and tools. Because of what we do in regards to looking after monuments, it's great to see that Warp It could have a large effect beyond office reuse. We are keen to ensure that staff at all levels and sites see it as a useful system.
Something that's really good about the Warp It system is being able to pull off the figures so easily, not only because we have to do carbon reporting, but also because the metrics are great for our internal communications and tracking the journey that we're on.
We've currently amassed 7,498kg of carbon savings and £7915 total financial savings, which comfortably covers our initial investment. This was a really important goal for us in this first year. We've also been amazed at some of the brilliant reuse stories that we've made along the way, with some surprising items (like an ancient and unwieldy electric hole punch - see below) finding new homes in local schools and charities. The saying 'one person's trash is another's treasure' has been proved time and time again! In this way, using Warp It has been a great opportunity to support charities and local community causes.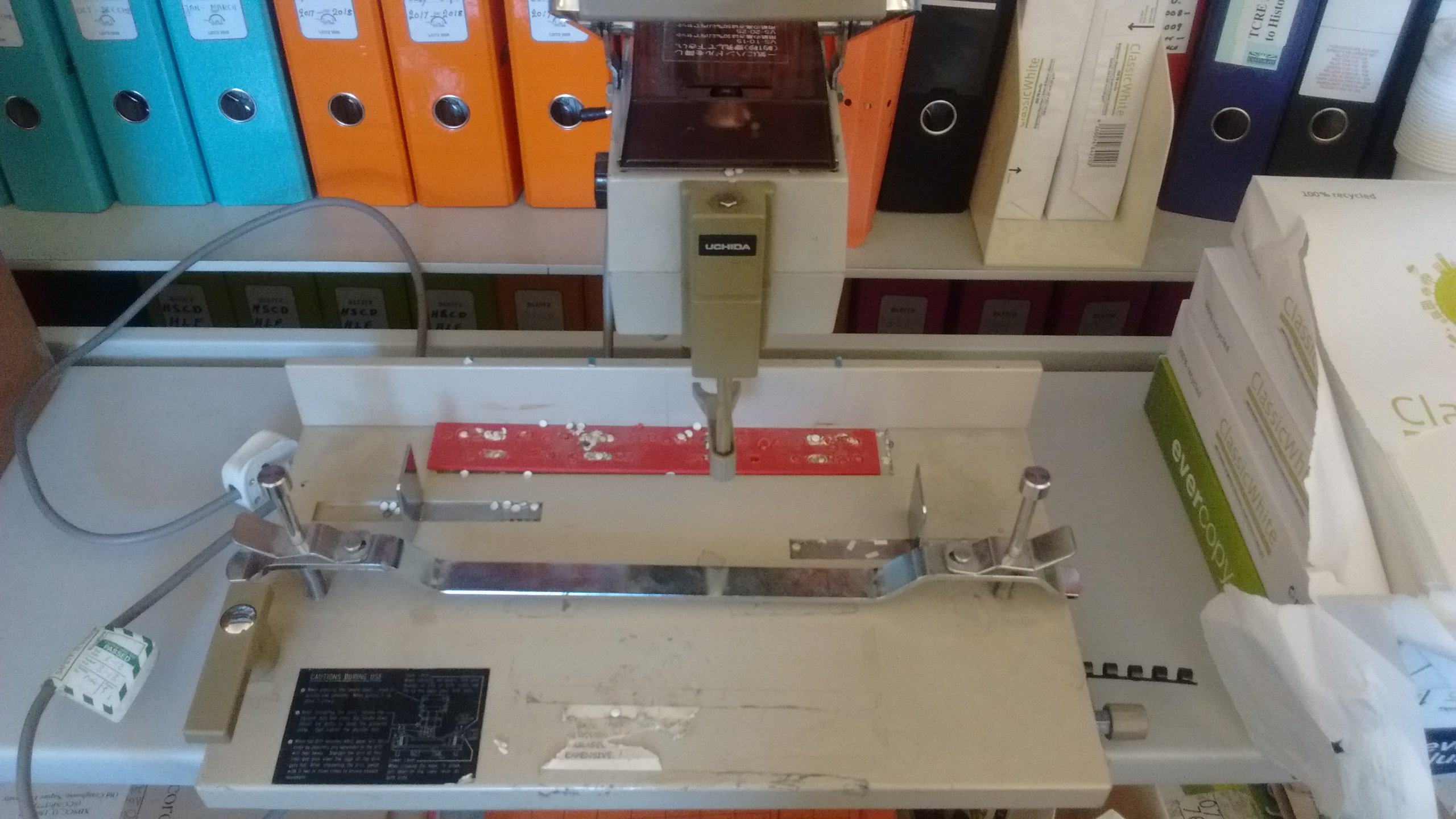 The ancient hole punch
What barriers and challenges were faced and overcome?
A lot of the challenges we've faced we are still working on. Some of the challenges are from the Warp It system and others are specific to our industry. We're all trying to act more sustainably, but embedding Circular Economy ideas into a linear system is not easy.
We've had challenges with items being claimed by external partners who were too far away to be able to collect, when we weren't able to cover transport costs. Internally, we've seen some ingenuity and staff making good use of the internal mail system. Transporting an item across the country can be challenging, but increasingly staff are communicating across departments to find out when people are making journeys and able to transport items at the same time. Hopefully in the future we'll see more of this, helping us to reduce travel and make our organisation's logistics more sustainable overall.
We've had challenges with people inside the organisation not engaging as much as we'd like. Getting the message out through our organisation about Warp It and the Circular Economy has been a challenge; however, the chocolate bar campaign has proved incredibly helpful. Actually, I wish we'd tried that sooner. We did it for Scotland's Climate Week and it had surprisingly good engagement. Perhaps it would have been a good way to launch or kickstart things, instead of being used to build and incentivise use later on.
Part of the reason people claimed chocolate bars is that they are something they want. That's the challenge. A lot of our users are not finding things that they want straight away and that's why they're not engaging, it's not because they don't want to. That's because they want to procure assets that are particularly high quality, the current listings are not quality enough, or that the things they want simply aren't being listed. Also, it takes people time to get used to a new system – people often think to procure through Warp It will be more time consuming than the previous system, a myth that needs to be busted! It's all a normal part of the culture change process, moving from a linear to a Circular Economy, but it's a tricky challenge to overcome.
What are your top tips for success?
I think setting goals and benchmarking is vital for public bodies, as it helps you draw up a realistic and clear plan for your launch. Every organisation, be it a council, university, or hospital, is different, and so there's no fixed model for everyone. Whilst we can't see the future, it is a good idea to make predictions about reuse, and use those predictions as the basis of how we will roll out a project. For example, we set initial targets based on our previous reuse rate of 0.9%, such as diverting 1000kg of waste from landfill in the first year, which we smashed!
Training is a great tool: we've trialled training sessions at our head offices and with our Green Champions (a network of staff members who promote sustainability across the organisation) which have worked well.
Getting people competitive is really effective: people get such a buzz from being at the top of the leaderboard! And being able to facilitate donations to charities adds a brilliant feel-good factor for staff.
Also, just give away free chocolate!
What are your plans going forward?
Of course, we've just renewed our Warp It membership for another year, which is really exciting, and we are planning to take Warp It training out to more of our sites.
We are keen to spread the Warp It message further throughout the organisation, at different locations and levels, and not just for people working on sites, but for all sorts of different roles. Once people are better trained on what Warp It can do, we can take it to the next level and move beyond stationery, into a whole new world of reuse potential.
In terms of our wider goals, we would like to demonstrate and showcase the importance of the circular economy for the heritage sector, and to encourage people to look more closely at their contributions to culture change. This might be beyond what we can achieve in the next year, but we are determined to embed these ideas in our organisation and encourage reuse amongst our employees so that they can take their learnings out into the world.
---
We love building case studies on our amazing members
Would you like to feature in the next one?
Get in touch!